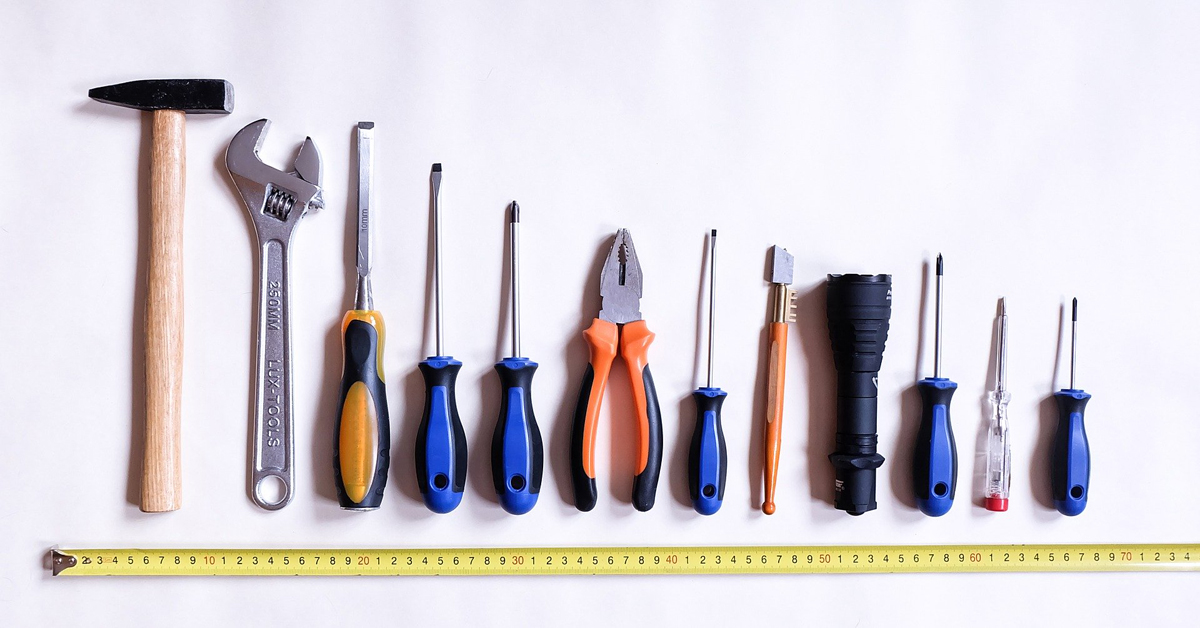 23 Dec

10 Tools All Homeowners Need In Their Toolbox

Learning to maintain your own home is a necessity for all homeowners, and it begins with having the right tools in your toolbox. Sure, there's likely "a guy" you can pay to perform whatever task needs to be done, but being able too rely on yourself is often much more practical. Having some basic DIY skills is also pretty budget friendly.

Many new homeowners need a little help when it comes to stocking a toolbox with those items specific to typical home maintenance. When a situation arises, whatever it may be, you want the peace of mind of knowing you're equipped too handle it. Take a page out of the Boy Scout manual and always be prepared by having the right tools in your toolbox.
10 Must-Have Tools in Your Toolbox
Here we've compiled a list for you of the 10 top tools every homeowner should have. These are the tools in your toolbox you'll need to perform all manner of typical handyman tasks. Of course, as you grow in your knowledge of home maintenance, there may be other tools you need which are more specific to the job, but this essentials list will get you started.
Tape Measure
This is a handyman's must-have, and you'll use it more than you may think. Hanging pictures and window treatment hardware, buying furniture, replacing boards, plumbing fixes, and so many other tasks will require exact measurements. And always remember the handyman's mantra:  "Measure twice, cut once".
Hammer
Invest in a good quality hammer and you'll be ready for all kinds of tasks. You'll use your hammer to hang pictures, fix loose boards, and even light demolition work. But, all hammers are not created equal. Test your hammer out. How does it feel in your hand? Does it have enough heft to get the job done? Purchase an all-purpose hammer with a claw on the back for easy nail removal.
Utility Knife
 A good utility knife will come in handy for cutting drywall and carpet, as well as opening boxes and removing grout and caulking. Get a good quality knife with replaceable blades and you'll always have a sharp cutting tool.
Flashlight
Most homeowners have more than a few flashlights easily accessible. However, for you toolbox ,a smaller flashlight is one of the best tools to have. This will come in handy when working in tight corners, in a dark basement, under the house, or on your vehicle. 
Insulated Power Cord
A good, heavy-duty drop cord is a necessity. A well-insulated power cord will handle your high-amp power tools outdoors as well as indoors. Make sure you get one that's long enough to reach potential work areas and one with more than one plug end is a plus as well.
Level
A level is a true necessity for hanging the aforementioned window treatments and pictures, and much more. It doesn't need to be a large level for most household uses. Even a bullet level can handle most small jobs.
Power Drill with Bits
Whether corded or battery operated, a drill with sturdy drill bits is a homeowners best friend. From simple repairs to big projects, your power drill and driver will become one of the most-used tools in your toolbox. Add some screwdriver and socket heads to a good drill and you can accomplish a lot.
Locking Pliers
Pliers are among a handyman's most reliable tools. You'll use your pliers when doing a variety of project around the house. From replacing that vacuum plug, to tightening a faucet, your pliers will come in handy. All-purpose locking pliers will always be one of the most used tools in your toolbox.
Wrenches
You'll use wrenches for many different projects inside and outside the house. Be sure to purchase a set of wrenches with a variety of sizes so you're ready for large and small nuts and bolts.
Socket Set
Many projects around the home will require the use of sockets to tighten down, or remove bolts and screws. A 3/8 drive socket set will meet most of your needs for the typical homeowner. An assortment of standard and metric sockets is also a plus.
Screwdriver Set
Every toolbox needs a selection of screwdrivers, or one with interchangeable heads. For most household projects, an assortment of large and small flat head and phillips head screwdrivers will cover just about all your needs. Make sure to purchase a set of sturdy screwdrivers as you will be applying pressure to these tools when you use them. 
Circular Saw
If you're planning on any projects including lumber, a circular saw is an absolute must. A good circular saw with an all-purpose blade can take down a wide variety of board sizes and types. From working on your deck to full room additions, this saw will be an essential component of your tool assortment.
You Never Have Too Many Tools
If you have this assortment of tools in your workshop, you'll be able to tackle the vast majority of household projects. You can, and probably will, expand your tool assortment as needed. Some of them you can get in combo packs like popular rechargeable drill, saw and light combos. There will still be times when only a licensed professional will do, but these will take care of most of the jobs you plan to handle.