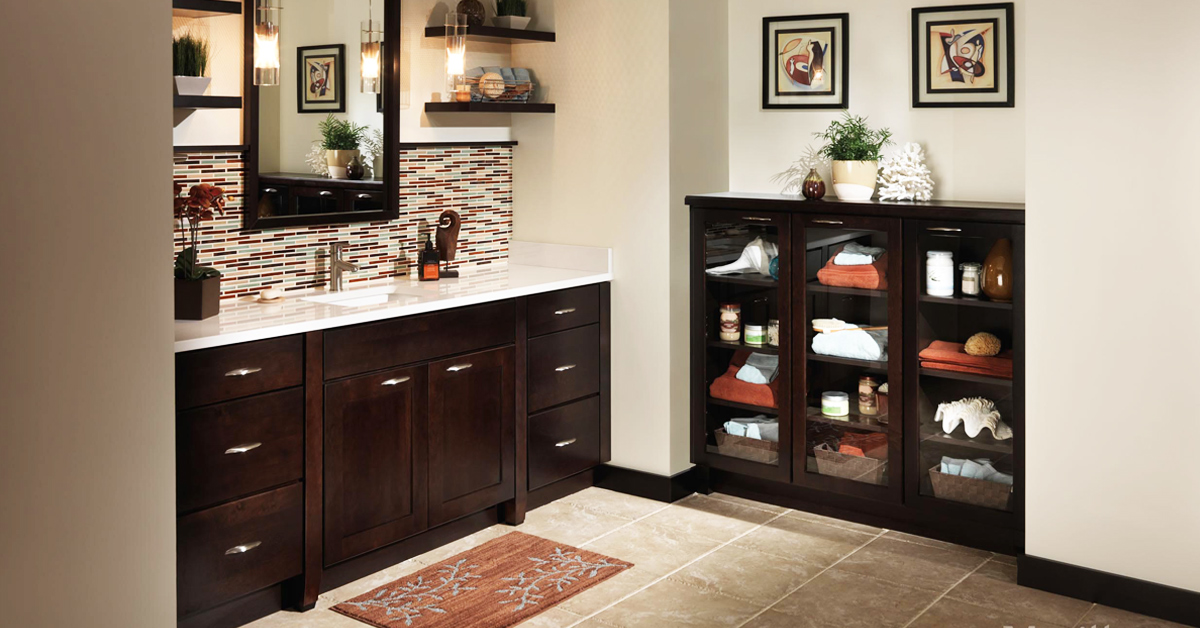 08 Jul

10 Ways To Increase Space in Your Cramped Bathroom

Do you want to increase space in your cramped bathroom? A wide open, airy and clean bathroom is one of life's little pleasures. If your bathroom is cramped it certainly loses its luster in your eyes. You want a bathroom you can enjoy and be proud and excited for your guests to see. Feeling as though you've entered a spa when you walk into your bathroom is a dream you can realize with a little help.

10 Ways You Can Increase Space in A Cramped Bathroom

Bring your bathroom up to its full potential by adding space through a remodeling project or simply a redesign. Here are 10 ways you can increase space in your cramped bathroom.
1. Bright and White
One of the easiest ways you can increase space in your cramped bathroom is by installing white everything. White is a non-color color and naturally recedes so your space appears much larger. You can make any space look bigger with white finishes but they are particularly effective in a small bathroom. Tile and Fixtures that are white (vanity, sink, tub, shower stall) along with white paint on the walls creates a seamless and open airy look. Accessorize with your favorite spa-like features such as greenery, light colored baskets and white towels for a relaxing, spa-like aesthetic.
2. Tone Layering
Tone on tone, or tone layering is a design affect that creates the appearance of more space. Soft grey, warm beige, barely-there hues of blue or sage green are popular palettes. Choose a designer tile and pick up a hue for complementing colors. The overall effect is serene and clean, with a bit of color for those who aren't fond of stark white bathrooms. The cleaner lines increase space in your cramped bathroom.
3. Opt for Large Format Tiles
With fewer grout lines and less interrupted sight lines large tiles (24"x24") open up the appearance of your bathroom. You could even opt for one large quartz slab behind your shower or tub, eliminating the grout line entirely. Depending on your taste you may even want the same tile for your flooring as you have on the wall.
4. Shrink Your Vanity
If you don't need the extra space of a cabinet-style vanity, lose it! Instead opt for a floating sink or pedestal sink. You and find mountable double sink floating sinks or install two pedestal sinks side by side. With a little poop of flooring beneath the sink or wall space behind the pedestal your bathroom feels more open. Use his design idea and increase space in your cramped bathroom.
5. Large Mirror
A large mirror behind your vanity visually doubles the space. A large mirror is an investment but it creates a dramatic look. If you don't haver the space for a wide mirror, go up! A vertical mirror creates a long line which opens the space to the ceiling. Increase space in your cramped bathroom with a large mirror for a powerful difference.<
6. Glass Panels
Replace your shower curtain with a glass panel door to open up your space. If possible replace your shower/tub combo altogether and install a large glassed in shower. A tub eats up space and looks bulky. Your new glass shower crates a clean, open and airy environment. Use white or natural tile to complete the look.
7. Increase the Space in Your Cramped Bathroom With a Quartz Vanity Top
Just as the clean lines of large format tiles or quartz slab provides an open, uninterrupted look for your wall the same is true of your vanity top. Increase space in your cramped bathroom with a new countertop for your vanity.
8. Turn On The High Beams
Good lighting is a design tool that's often overlooked in bathrooms. Use lighting in your bathroom for more than utilitarian purposes. Use grid lights at the ceiling along with strategically-placed sconces to open up dim areas, and even edge lighting around your mirror. Even if there is natural light in your bathroom the addition of well-placed lighting helps you avoid shadows and increase your space in a cramped bathroom.
9. Install a Skylight
Along with boosting the natural light in your bathroom a skylight will increase your space in a cramped bathroom by opening up the view to the outdoors. In the Quad Cities it's prudent for you to use a professional for installation of your skylight. This ensures a sealed fit and lowers the risk of weather degradation from rain, snow, ice and sun.
10. Enlarge Your Bathroom
Finally, if you have the square footage in your home to increase the space in your cramped bathroom, consider bumping out a wall and physically enlarging the space. Create the bathroom you've always dreamed of. You can get the design help you need and project support from the professionals at Seiffert Building Supplies. We offer options for everything from remodeling to redesigning the space you already have.