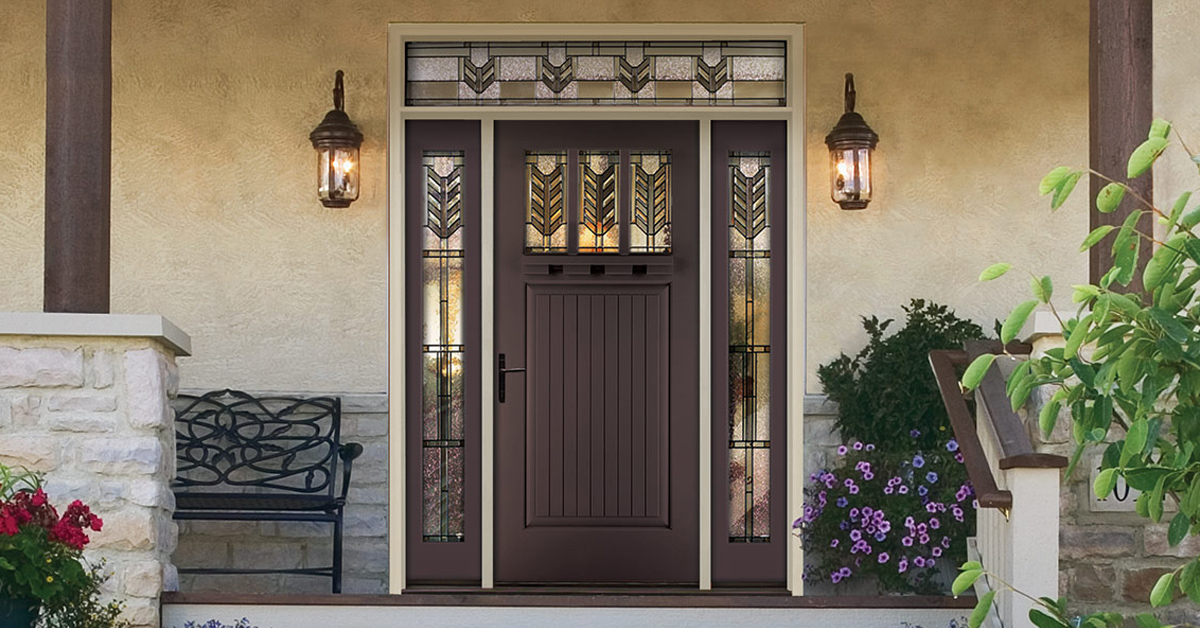 24 Feb

3 Materials to Consider for An Exterior Door

A new exterior door does so much to increase the beauty of your home. Your new exterior door provides a lovely refresh for curb appeal, improves the efficiency of your home and improves your homes aesthetic immediately. You can find a beautiful new door for your home in just the right material to suit your needs.

Each of the most popular materials available in home doors serves a specific purpose and benefit. Function and design are important in an exterior door but other things you should consider are level of light allowed into your home, security, energy efficiency and privacy. Here we take a look at each of the three most common door materials and their benefits.
The 3 Most Popular Door Materials for Exterior Doors
The material of your new door contributes to the energy efficiency and security your home. Wood, fiberglass and metal each provide certain benefits when it comes to your new exterior door. In addition to your home's security and energy efficiency, durability, maintenance and lifespan are things you should also consider.
1. Wood
Wood doors are naturally energy efficient and available in a variety of styles, from modern to traditional. When you choose wood door material you will find it is highly customizable  and available in endless color options. Today's wood doors are a display of beauty and craftsmanship with a classic feel. You have a wide selection as these doors are available in solid panel or windowed. 
Your wood front or back exterior door material is crafted from solid wood, meaning it is made of a single species of wood, or engineered wood, which has multiple layers of wood compressed to form the core. The engineered wood door is far more stable than solid wood and less likely to react to heat and humidity that may cause it to warp. Engineered wood doors have a wood veneer applied to the surface.
Although slightly less efficient than fiberglass door material or metal a wood door has the potential to be more efficient through proper installation, weather stripping and caulking. Many homeowners in the Quad City area further boost insulation of their wood door by installing a storm door. This also helps prevent weather-related degradation and the need for frequent maintenance. Although a wood door does require regular paint or finishing to protect it from the elements.
2. Fiberglass
Fiberglass door material material is highly durable and virtually maintenance-free. It's dent resistant, impervious to rust and doesn't corrode. Fiberglass withstands the abuse of harsh weather and does so without sustaining even minimal damage. When you opt for a fiberglass exterior door material you won't need to worry about cracking, bowing or insect damage.
The typical fiberglass door has a core made of extremely insulating polyurethane foam. The core is usually wrapped in a fiber polymer providing even more energy savings. Because the door is so well insulated you won't hear a lot of outside noise. The exterior material in used in making fiberglass doors is so similar to wood it often takes an expert to tell the difference. The wood look also lends style and curb appeal.
Fiberglass doors are strong with the solid construction rendering it much more secure than wood. You can add safety features to further reinforce the security of a fiberglass door. For maintenance and upkeep fiberglass typically requires no more than a thorough wipe-down with a damp cloth.
3. Metal
 Door Material
Exterior doors made of metal door material are naturally strong. They complement most all home styles but bring out the best in a modern or mid-century modern home. Metal doors allow for privacy and are supremely energy efficient. 
The polyurethane core is sandwiched between layers of metal door material, creating an exterior door that's highly durable and lasts for years. A metal door's surface is easily painted or stained to match your home's aesthetic. Metal doors are also a favorite architectural enhancement that provides character to your home. 
Metal doors are energy efficient due to the highly insulating core. You can add to the efficiency with weather stripping to ensure a tight seal. 
Homeowners will have an incredible sense of security just knowing their doors are not to impossible to break through. Aside from lubricating the hinges, which is necessary with all doors, the only maintenance required to keep your metal door looking great is the occasional cleaning with soap and water.
We're Here to Help You Find the Right Door Material
Considering a new exterior door for your home? Look no further than Seiffert Building Supplies. We have the right door to suit your style and your needs. Our selection is unmatched in the Quad City and beyond. Our design professionals are here to help with any concerns you have. Contact Seiffert Building Supplies today for your new exterior door or any of our other home improvement solutions.