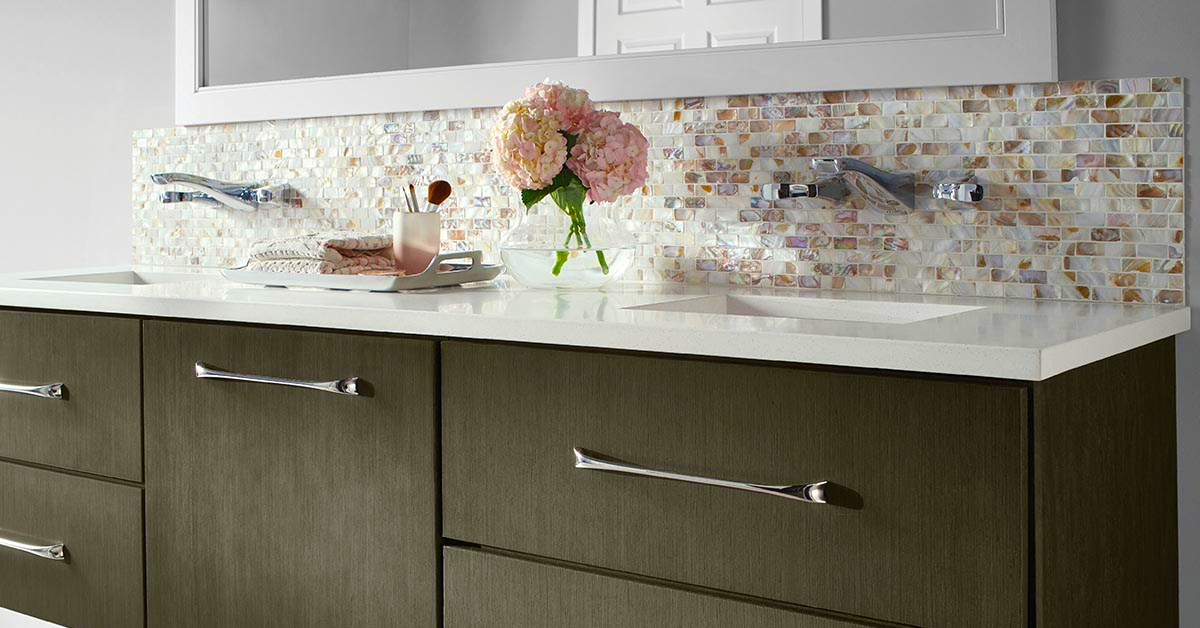 26 Nov

5 Bathroom Trends to Watch For in 2021

If 2020 has taught us anything its that our homes are our sanctuaries and we should do all that we can to make them so. Trends come and go but these 5 bathroom trends for 2021 are meant to be around for a while. Whether you plan to cocoon for most of the coming year, or put your home on the market for a more suitable nest, a bathroom renovation will bring you endless benefits and a return on your investment.
Bathroom Trends For Your Home
Here are the top five bathroom trends to watch for in 2021 and beyond:
The Feel Good Spa
As the world in general continues to spend more time at home bathrooms have become a place of sanctuary for many homeowners. After a rough day of digital learning with the kiddos, back to back zoom meetings and a stressful trip to the grocery store you deserve a little me time in a luxe atmosphere.
Turn any bathroom space into a tranquil and soothing spa with these spa-like updates:
Palettes Found in Nature: There's a reason psychologists advise those who are stressed to spend time in nature. Nature has a calming influence and the colors Mother Earth is so proud of-greens, browns, rust, grey and pale blue-immediately soothe the savage soul. Natural wood cabinets and quartz countertops add to the serene and spa-like experience.
Plants and Greenery: Many plants seem to thrive in the humidity of the bath and shower area. Low-maintenance houseplants grow very well in the bathroom environment. And plants pack a powerhouse of air-cleansing capabilities.

 
Lighting: Like color, lighting has the ability to relax us and provide a feeling of serenity and comfort. Leave the harsh and garish lighting to your workroom and go for softer mood lighting in your bathroom.

 
Accessories: When trying o create a zen-like spa you'll want to keep accessories to a minimum. A few plants, a candle or essential oil diffuser and that's all you need. Keep your bathroom looking open and relaxed by making sure there is a place to store your towels, products, hair dryer, etc. Natural wood cabinetry allows you to store your bathroom necessities without disrupting the soothing appearance of your home spa.
Textured Surfaces
The return of textured walls and wallpaper was bound to occur. By applying textured paint to your guest bathroom, personal ensuite or powder room walls you evoke a relaxed, inviting and rustic-chic vibe. Wallpaper, once decidedly formal, can provide a touch of whimsy or a sense of style to an otherwise drab powder room. Textured natural stone shower rooms are very much among the top bathroom trends to watch for 2021.
A Reflection of Earth and Nature
Incorporate the same serenity of your feel good spa as you update additional bathrooms in your home. Reflecting nature in the colors and surfaces, as well as accessories, is among the most popular bathroom trends to watch for 2021. You can't go wrong with a combination of wood and stone, such as a natural wood vanity topped with quartz. Repeat the theme with a natural wood mirror frame, stone tiles around the sink or bathtub, and textured paint in earth tones, or a simple off white.
Smart Bathroom Trends
For tech-savvy homeowners the top bathroom trends to watch for 2021 are "futuristic" smart bathrooms. High tech toilets, already in use in many Asian countries, are completely hands-free! Temperature controlled water with self spritzing wands and air dryers, motion sensing lids, self cleaning microbial toilet surfaces and seat warmers are among the technology-centered bathroom trends for smart toilets. 
Hands-free digital faucets use infrared technology to sense motion and can be preset to hand washing or teeth brushing modes which time out in an effort to help conserve water. You can use technology to control the temperature of your shower (a definite plus for winter in the Quad Cities) and your soaking-tub.
Minimalist
The theme for so long was "more is more" especially in bathroom trends.  But the top bathroom trends for 2021 embrace the minimalist attitude. Again, it is so important when creating a relaxed, clutter-free bathroom, to have the right amount of storage space. A double vanity, if space allows, with drawers and cabinets, is an excellent addition. 
For smaller bathrooms, powder rooms and guest bathrooms incorporate cabinets above the toilet or sink. Built in shelving is another option for a smaller bathroom, but be careful to avoid clutter. 
Make the New Year Exciting in Your Home
Boost your mood and lighten your spirits in the coming year by updating your bathroom. These 5 bathroom trends to watch for in 2021 are fairly easy to incorporate into any home. For more ideas on designs for your bathroom or any other area of your home, contact Seiffert Building Supplies today and ring in 2021 in style.