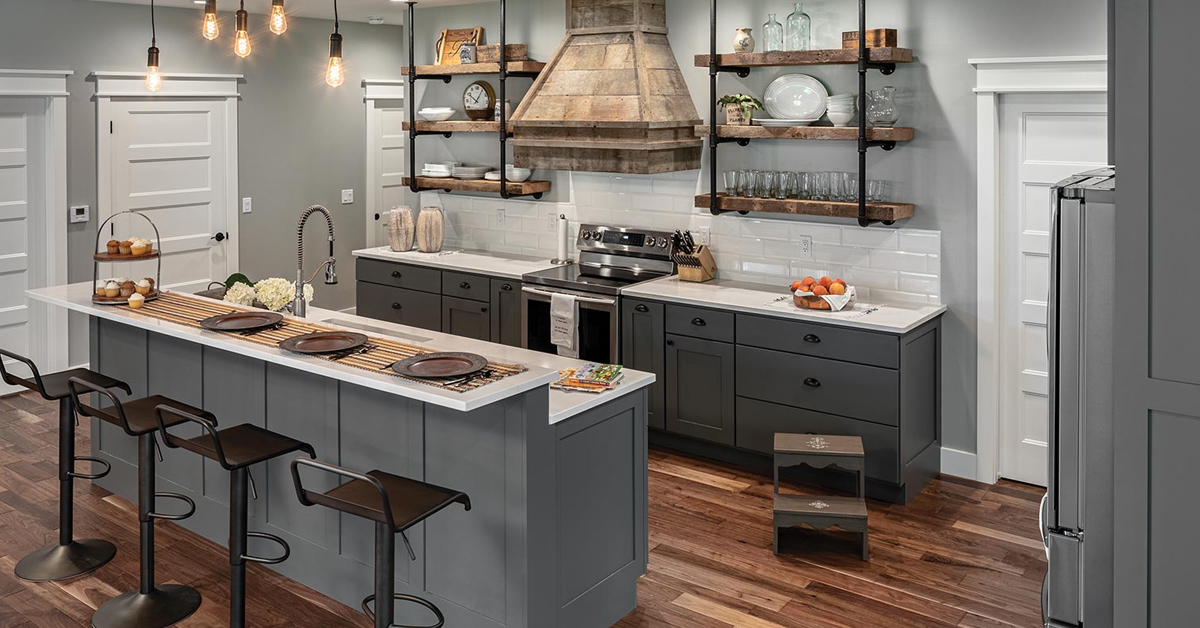 28 Oct

5 Cabinet Styles to Consider That Will Completely Transform Your Kitchen

As a rule your kitchen cabinet styles echo the style of your home in a big way. Of course it needs to be functional but it should also present a certain flair. Especially as it is the one place in your home where everyone seems to end up-and not just for meals. Whether you're hosting a holiday party or a weekday afternoon homework session your kitchen is the heart of your home. 
5 Cabinet Styles to Transform Your Kitchen
The trend today is bright, open and airy. Beyond that anything goes. If you're thinking of a kitchen remodel we have some suggestions for cabinet styles that will transform the heart of your home into a showplace while still being ultra-functional.
Shaker Style Kitchen Cabinets
By far the most popular cannot styles are the Shaker motif. With clean and classic lines and simple style you're able to incorporate Shaker cabinets into any aesthetic. The Shaker cabinet style is also known as a "five piece".  The shaker cabinet door is composed of a flat panel with a frame made up of two horizontal pieces (rails) and two vertical pieces (stiles). 
You can customize your Shaker cabinets to complement a wide variety of kitchen design and when you pair them with other components in your kitchen they blend very well. Customized Shaker cabinet styles may comprise edge detailing within the frame, a wider frame for a modern vibe, or wider yet for transitional style and more ornate frames to echo a traditional look. The easy Shaker cabinet styles pair well with flat-fronted drawers and come in a wide variety of stains and colors to easily transform your kitchen.
Beaded Panel Cabinets
Beaded cabinet styles are popular with Quad Cities homeowners who like the farmhouse look. However, beadboard cabinets work well in a variety of decor styles. Essentially, beaded cabinet styles are flat fronted doors with grooved panels, echoing the look of traditional styles that were popular for use on walls in the late 1800s. But the enduring beauty and style of this look found its way to kitchen cabinets today.
Similar to the Shaker cabinet styles, beaded cabinets can complement any kitchen design. These cabinets can often be stained or painted to your preference and are just as beautiful in a modern setting as it is in the farmhouse style.
Flat or Slab Cabinet Styles
This style of kitchen cabinet, flat or slab (used interchangeably) is the second favorite among cabinet styles in the US. Sporting a smooth, flat finish a slab cabinet offers a simple motif as adaptable in a modern kitchen as it is in a transitional or even traditional decor. 
Flat cabinets are great for bold kitchens. They're easily painted or stained but their simplicity makes them ideal for bright and deep colors such as emerald green, cherry red or cobalt blue. If you want a clean modern white or a pop of color in your kitchen or your like the two-tone trend go with these cabinet styles. A glossy finish is ideal in ultra-modern and mid-century kitchens.
But the flat cabinet isn't just for the on-trend modern kitchen. Because it is such a simple style feel free to go with a light stain to complement a danish modern style or stain and hardware for something a bit more traditional.
Arched Cabinet Design
Arched cabinets feature a deep groove in the cabinet front shaped in an arch. This style is offered in traditional single arch or the more ornate and elegant cathedral arch. As an element of design the arch ( embossed half circle or inverted "U"; the door itself is not arched) has an old world charm. If you have arched doorways or portals in your kitchen this stately style will lend a subtle echo to your architectural design.
The arched design is a great way to give the illusion of height in your kitchen. The appearance of your cabinets draws the eye to the arch. This design element extends the height without altering room dimensions. Cabinet styles vary depending on your preference. Arched cabinet styles are typically stained.
Glass Front Cabinets
Glass front cabinet styles provide a great way to break up a run of cabinets or to display a collection of your favorite dishes, knick-knacks or glassware. This elegant cabinet style also lends a feeling of openness to your kitchen and makes it seem larger and brighter. Install glass front cabinets adjacent to your kitchen windows and the light will play off of them.
Remember glass front cabinet styles mean guests can see into the cupboard. While an entire run of glass front cabinets magic be fairly impractical, especially for a busy family, they are a lovely touch. A few glass or mirrored cabinets are lovely when used to define a specific area of your kitchen. Perhaps where you store your seasonal pieces or those items you use less often. 
Reflect Your Personal Style
Choosing cabinet styles is highly personal and part of making your home a reflection of you. For more on specific cabinet styles contact Seiffert Building Supplies. We have professional design staff ready to help with anything you need.