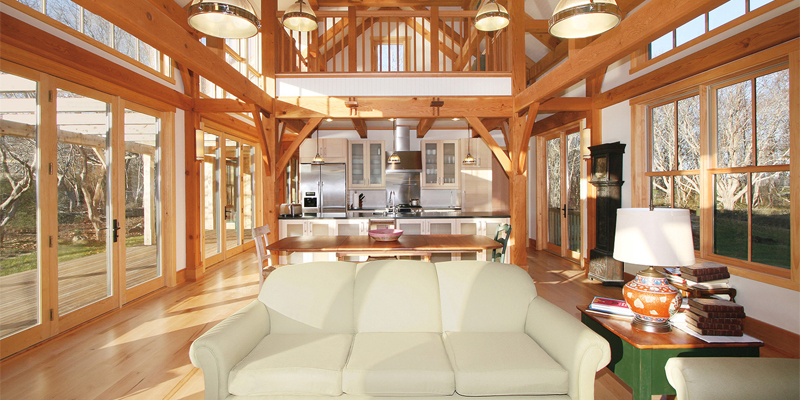 16 May

5 Things to Consider for an Open Floor Plan Remodel

The most popular design trend has been, and looks to remain, the open floor plan. And why not? With a clean, airy look, and easy flow from one room to the next, open living is much more inviting. The absence of doorways and hallways between, say, your kitchen and family room, can make a small area look and feel much larger, allow for more natural light, and give you a relaxed atmosphere in which to entertain. You can achieve this desirable, easy-going-yet-elegant style when you turn two rooms into one.

For those homeowners who want to enlarge a too-small bedroom, or take advantage of underused utility space by opening it up to an adjacent room, combining rooms has many advantages. Updating your existing home in this way can add to the value and the style of an existing home, and give you the space you've been dreaming of.

5 Things You Need to Know When Converting to an Open Floor Plan
Removing interior walls should never be approached haphazardly, no matter how "easy" some home improvement shows make it seem. There's much more to consider in a project like this than scheduling "demo day" and slinging a mallet. Here are the top 5 things to consider before  you undertake creating an open floor plan.
Understand Wall Placement:

 

Removing load-bearing walls, those walls which bear the weight of the structure so it remains sound, requires the knowledge and expertise of a professional.

 

This is simply not something you want to consider doing on your own due to the associated structural risks. For planning purposes, it's probably safe to assume that any load bearing wall that's removed will need to have a suitable beam or similar supporting structure installed in its place.
Approach Demolition in a Thoughtful Way:

 

In other words, don't just start swinging to knock down the walls you want removed. There is a whole infrastructure behind that drywall. When you begin your demolition of the existing walls find out where your electrical wiring is. Locate the ducts and vents for your HVAC, as well as plumbing pipes. Be mindful of things like switch plates and electrical outlets, smoke detectors, heating and cooling vents, and thermostats. These items will be indicative of what's within the walls. Proceed with caution and consult a professional as necessary.

 
Prepare to Fix Any Issues:

 

If you're familiar with the popular remodeling shows on TV then you know, at some point, the crew encounters some sort of setback, which requires extra time, extra patience, and, typically, extra room in the budget. Whenever you begin removing walls to open up your floor plan, there are bound to be some surprises in store. Those with an older home may find the electrical wiring isn't quite up to code. You may uncover water damage, or even mold, behind that wall. Depending on when your home was built, proper abatement of any asbestos or lead paint can be a significant added cost.
Transitioning to Fewer, Larger Rooms:

 

When you remove an interior wall, open up a hallway, or do other things that are necessary to open up your floor plan, you need to consider the transition. You may end up with gaps in the floor, in the ceiling or in the remaining walls that need to be addressed. It's possible the floors may not match and you need to replace all the flooring. Your ceiling and trim will need to appear seamless, which could entail some work. If the surface textures vary, you'll need to be prepared to live with the difference or do what it takes to make it all come together the way you want.
What You Will Lose:

 

If you're combining your kitchen with another room by removing certain walls, what are you giving up? Will you give up cabinets, closets or counter space? Even just the absence of wall space can disrupt your storage, decor, and work space. You may need to consider alternative ways to compensate for lost cabinets, closets, and counter space.

 
Don't Neglect Your Due Diligence
When making any changes to your home, it's necessary to check the rules of the municipality where you live. Some home improvements do require you to obtain a permit. It's always a good idea to partner with a professional for this reason; they have the know-how and experience to deal with these details. 
It's not uncommon with an open floor plan remodel that you would need to move, add to, or eliminate electrical outlets and circuits, plumbing, and HVAC components and ductwork,  and you will likely need a permit. Also, should you adjust or reposition any of those load-bearing walls, you'll need a special permit to do so. Of course adding to the footprint of any structure on your property will require permission from the appropriate officials.