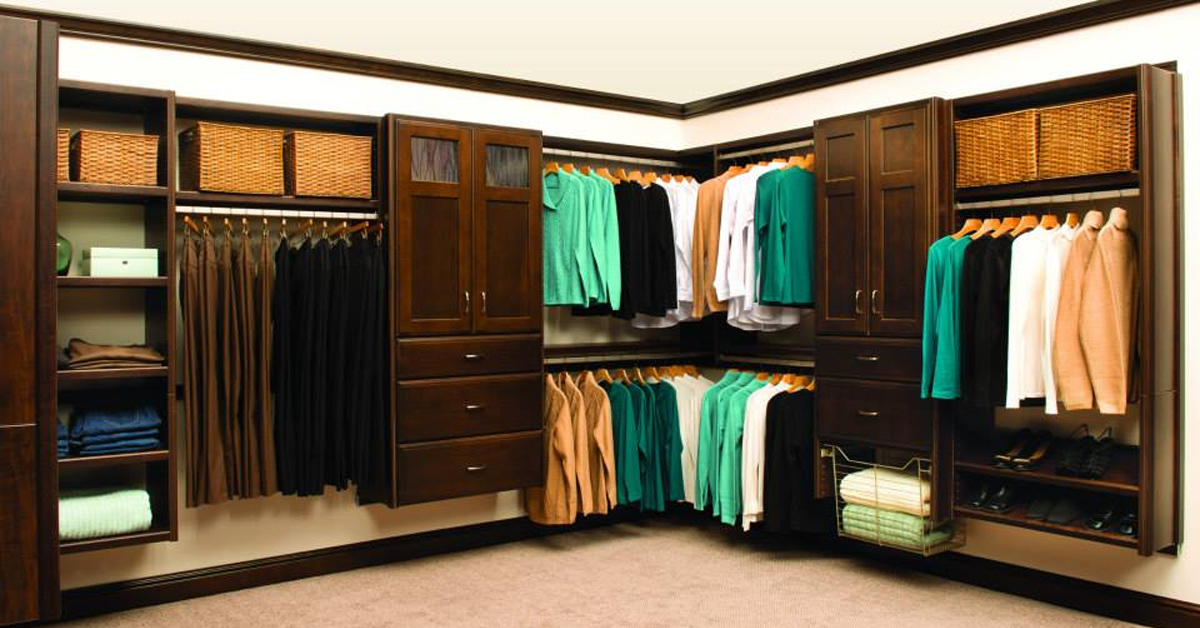 11 Feb

6 Brilliant Ways to Expand Your Closet Space

Expand your closet space, and you'll increase your home's value. Lots of closet space one of the main items people look for who buying a home. Of course it's a downright necessity in the master bedroom, but there are other areas of your home that could benefit from a little more than the basic closet space found in most homes. 
Why You Need More Closet Space
You kids' rooms, for instance, is easier to navigate when all the various and sundry kid-items are put away. By expanding the closet space, you can make it much easier for junior to find a place for everything and everything in its place. Expanding your closet space allows you to clear the clutter from the playroom, bonus room or family room. And who in the Quad Cities doesn't need a larger coat closet?
No worries, we've got some ideas to share with you for expanding your closet space. The majority of our suggestions are not only DIY but are easily accomplished in just a weekend. Here are ten brilliant ways you can expand your closet space.
To Expand Your Closet Space Begin By Decluttering
The easiest way to expand your closet space is by getting rid of those items unnecessarily taking up room. Clothes that no longer fit, have gone out of style or that that you haven't worn in over a year should be donated. Same for shoes, purses, belts and any other accessories that are just lingering about. If you like to keep your clothes in dry cleaning bags don't do it. The bags do little to protect your clothing and take up a surprising amount of space. 
Kids' closets are often a treasure trove of childhood. Games, toys, books and clothing your children have outgrown should be tossed or donated if in good shape. Utility closets may hold items you don't use or need any longer, along with broken and non-working tools of the housekeeping trade. Get rid of them.
6 Ways to Expand Your Closet Space
Now that you're down to the necessities, let's take a look at other ways you can expand your closet space.
Add A Set of Wire Shelving
Everyone has an area of their closet that's more of a hidden space or unused area. Think about your under-the-stairs storage or coat closet or the area of your closet where you stacked your clutter. That's the ideal place to install some inexpensive wire shelving. Wire shelving creates more real estate in your closet by offering a spot for items that don't need to hang, such as extra blankets, folded t-shirts and work out gear. Kids can easily access their favorite playthings, books and board games. And wire shelving creates a handy-dandy spot for extra toiletries, cleaning supplies and the like.
Second Story Shelves 
Do-it-yourself shelves expand your closet space tremendously. Install them above your clothing rods, and you'll be utilizing unused space and adding to your closet storage area. Second story shelves make a great place to store seasonal items and those things you only wear or use every so often. Best of all, you can build your own in less than a weekend.
Double Your Rods
This brilliant idea works great in a child's closet, or to keep your suits from taking up too much space. Add a second tier by installing a rod below, If your existing rod is at least 66" from the floor your second rod can be installed 35 inches and you'll have room to hang slacks and shirts below suit coats and blazers or your child's favorite go-to clothing.
Back of Door Storage
The back of your closet doors is prime real estate for those smaller belongings like shoes, belts, scarves or tools, dustpans, whisk brooms and the like. Attach plywood to the inner side of the door to hold hooks for hanging a shoe caddy, accessories organizer or other storage components. There are many great ideas that can be adapted to expand your closet space.
Closet Organizing Ideas that Expand Your Closet Space
You could hang a mirror inside your closet door for those last minute "wardrobe checks" before you leave the house. Attaching S-hooks to your closet rod will expand your closet space for hang-up clothing. Baskets to store accessories will prevent your shelves from becoming cluttered. They make a great place for hats, ball gloves, ribbons and headbands and just about anything else that gets lost in the closet.
Do-It-Yourself Custom Solutions
If you're at least somewhat handy, there are some high quality options for custom storage solutions that won't break the bank. We carry a line called Real Closet that gives you the look and feel of a full custom closet solution but without the same cost. This is a great solution if you're looking to make the most use of your space and want a more premium look and feel.
Professional Advice
If you'd like to expand your closet space and need to get just the right materials for the job contact Seiffert Building Supplies. We have everything you need for your DIY project to expand your closet.