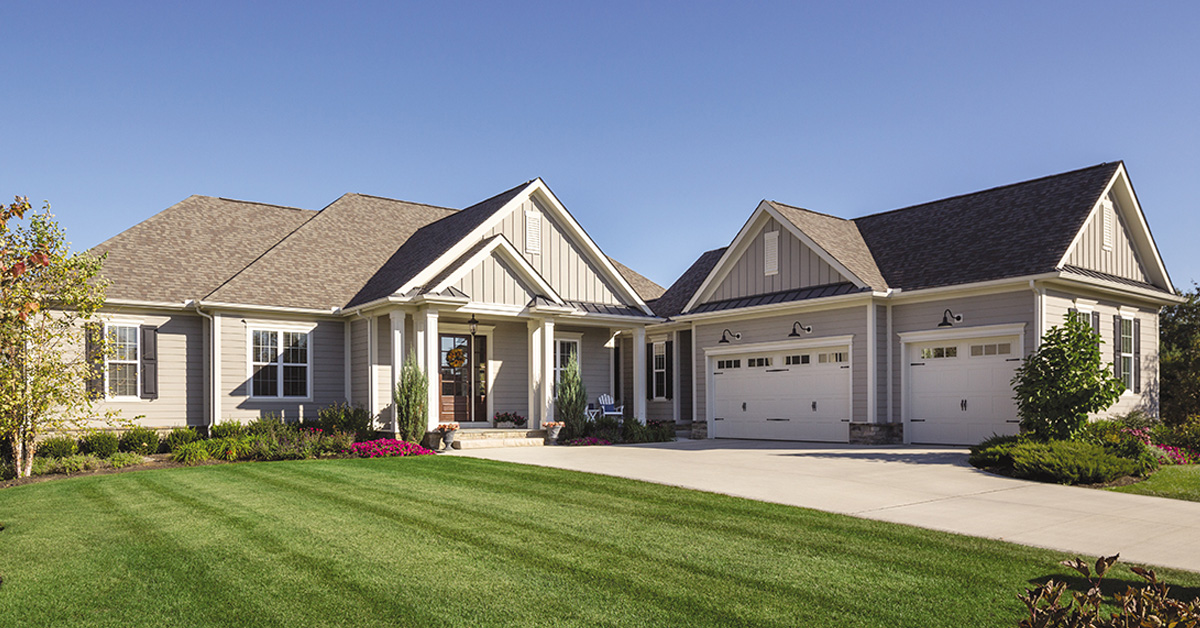 22 Apr

6 Main Benefits of Engineered Wood Siding

Engineered wood siding, such as LP SmartSide,  is a very durable eco-friendly siding for your home. This highly affordable and low-maintenance product is made by taking wood chips and scrap and binding them together with a resin material. The resulting mash-up gets compressed into a board. Each board, typically, is then treated to protect it from rot and insect damage.

After creating and treating the composite boards the manufacturer coats them with a moisture resistant overlay and embosses the boards to create an appearance of wood grain. The entire process is key to preventing degradation of your home siding and keeping your maintenance down to a dull roar.
The Six Main Benefits of Engineered Wood Siding
There are many remarkable advantages to engineered siding. The benefits far outweigh any of the downside and when compared to the industry standard, fiber cement boards or even the beautiful visual inconsistencies of natural wood, engineered wood siding comes out ahead every time, especially for homeowners in the Quad Cities. 
Here we examine the top six benefits of engineered wood siding.
Engineered Siding is Eco-Friendly: This type of wood product is an environmentally sound investment. By using scraps of wood engineered siding eliminates the amount of scrap wood headed to landfills. This siding emits fewer chemicals and VOC during installation.  This environmentally friendly product does not contribute to deforestation. Why? Because it's  manufactured using wood scraps. Your engineered wood siding adds to your home's insulation as well, which tamps down your energy usage-and lowers your heating costs.
 Minimal Maintenance: Because each board is protected against the degradation caused by water damage, fungal decay and insects you won't spend your time maintaining your home's siding and replacing damaged or warped boards. Your engineered wood siding is designed with low-maintenance in mind. While natural wood siding requires painting every few years this type of siding typically needs an exterior paint job once every decade.

 Aside from occasional cleaning, which you can easily do yourself, there's not much maintenance required with this product.
Easy Installation: The ease of installation of refinished siding will save you time and money. Once you selector siding in the showroom it will arrive to the job site ready to install, saving you money on labor costs and time spent on the finishing process.

 
Consistent Color Every Time: The factory finishes your engineered wood siding in house and not outdoors. You get consistent color with fewer irregularities. When you paint at the job site, you expose your siding to dust, debris, uneven drying due to humidity and heat and any number of weather-related interruptions that cause inconsistent color. The factory setting offers quality control to ensure consistent color and finish.
More Cost Effective: From the uncomplicated manufacturing process of creating this siding to easy installation this product is far more cost effective than other siding products. Because your boards are already uniform in size there will be less waste and less on-the-job trimming. Overall, this option is much more budget friendly. And the low-maintenance factor means you get a return on your investment, if only in free time!
Durability: When you live in Iowa, you expect to have a few weather extremes. The Quad Cities' snow and ice, wind and rain, heat and humidity all take a toll on your siding. You want a siding that will stand up to year-round weather. Highly durable engineered wood siding is the most durable. It's far less vulnerable to the elements than natural wood siding and up to 300 times stronger than vinyl siding. When you choose engineered wood siding you can rest easy that it will withstand anything mother nature throws at it, including hail. Your new siding is impervious to unsightly mold and mildew, wood rot, decay and even termite and pest damage.

 
Compare to Fiber Cement Siding
When you compare today's engineered siding to fiber cement siding, you'll find the engineered composite has some clear advantages. While both are great products, fiber cement siding is heavier and can be somewhat more difficult to install. It's also more vulnerable to certain elements that can cause warping and other damage. 
There are certain advantages to fiber cement siding over natural wood. However, these are some of the same advantages as you'll find with the engineered product. But, the composite siding is generally more cost effective as well as environmentally friendly. Fiber cement's main selling point is durability which is on par with the engineered composite. Like engineered wood siding, cement fiber is easy to clean, requires less maintenance than natural wood and comes with a generous warranty. 
We're Here to Help
Siding is essential to your home's curb appeal. However siding is more than appearance. A good quality and sturdy siding provides protection and comfort. It can often be a challenge to choose the best siding for your home. Trust the experts at Seiffert Building Supplies to provide you with the very best options for your home's design and protection. Contact our team today and rest assured you'd in good, knowledgeable hands.