25 Jul

6 Tips for Planning Your Bathroom Layout

If you're walking into a remodeling project, what's most important for planning your bathroom layout is how functional it is for you.  Does it have the storage you need? Are the vanities the right height?  Maybe the shower is currently too small for your liking. Here are six of our favorite tips to keep your bathroom design on track.

Tip #1 – Leave the Toilet

Relocating a toilet can get costly, especially if you're remodeling an upstairs bathroom because the ceiling beneath will make the contractor's job more challenging.  So, if possible, keep the toilet in the same general vicinity.

Tip #2 – Consider Who is Using the Bathroom

Children need lower vanities and toilets.  Girls need more cabinet and shelf space.  Elderly family members may require support bars near toilets and showers or even wider entry doors.  Along the same lines, if you expect your bathroom to grow old with you, you'd want to plan a layout now that won't require a major overhaul later in life.

Tip #3 – Matching Cabinetry

For an upstairs bathroom, the cabinetry really can be unique to the room.  It's away from most other rooms so there isn't a major concern to match up the hardware.  On the other hand, if you have a powder room closer to your kitchen, you'll probably be more conscious of keep the look of each room consistent.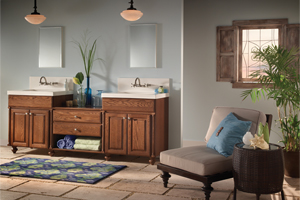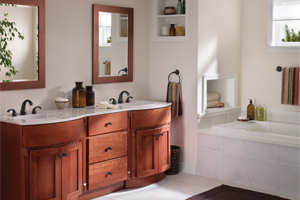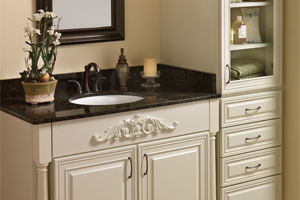 Tip #4 – Form Follows Function
Specifically referring to master bathrooms, 99% of the time you are going to be the only person who sees the room.  Sure, once you're done remodeling you might show it off to people during their first visit.  But, from then on most people will not have a reason to go in.  So think about the function of the room layout first, and then you can worry about the design.
Tip #5 – Ventilation
Be aware of how much airflow your bathroom has to avoid a lot of moisture build-up.  Are there windows you can open? Is there a vent on the ceiling? Although it isn't very common, some people are even wary of putting a master bathroom too near their bedroom closet due to the moisture and dampness that could affect their clothing.
Tip #6 – Laundry Space
If you have the luxury of surplus (maybe because you combined two bedrooms to create a master suite), installing laundry hookups in your master bathroom is a beneficial addition to your layout.  Bathrooms already have water lines so hooking up the equipment shouldn't be difficult.  Plus, you won't have to carry your laundry very far around the house ever again.