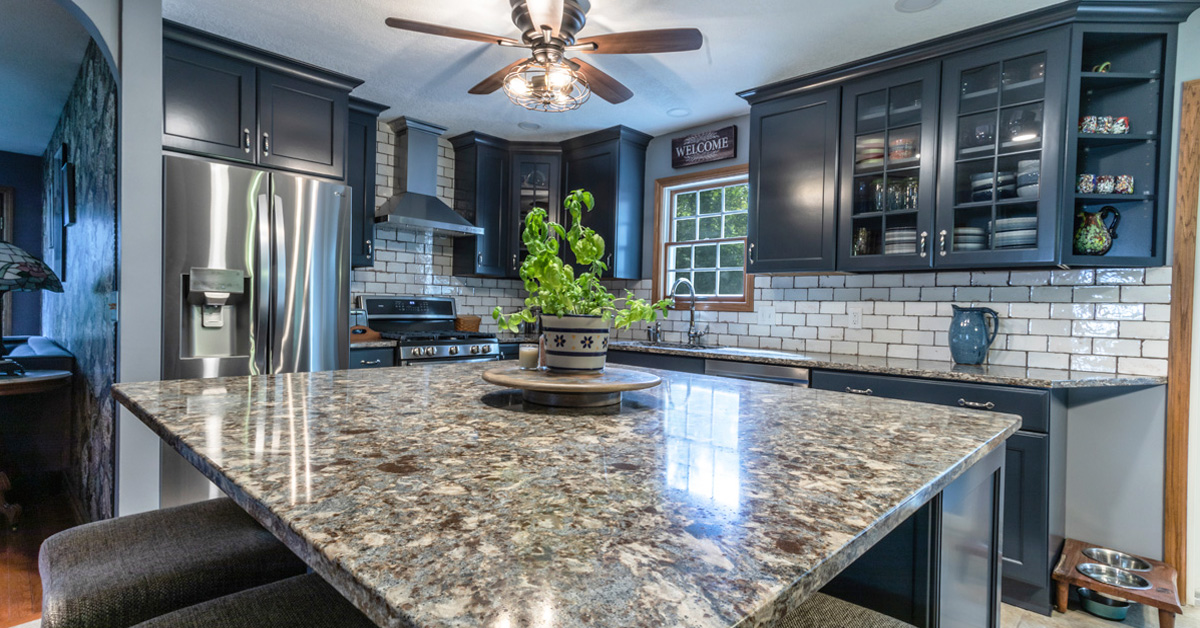 27 Jan

7 Durable Countertop Materials Your Kitchen Needs

When choosing a countertop for your kitchen there are many factors to consider. Color and design are chief among these factors. Also you want a countertop that reflects your personal taste. Most of all, however, you want a a durable countertop that provides a return on your investment. After all, you don't replace a counter surface every whipstitch. 
The Most Durable Countertop Materials
There is a vast array of durable countertop materials available today. Much more than even a decade or two ago. Here we take a look at the most popular materials used and weigh their benefits and drawbacks to help you decide on the most durable countertop for your kitchen.
1. Quartz
Inarguably the most popular and durable countertop materials on the market is quartz. It requires no sealing, no polishing and has double the impact resistance as natural stone products. This durable countertop material is made by mixing quartz particles with polymers and resin. The result is stronger than natural stone and stands up to household cleaning products. There are more than a few options so it's easy to find the right look for your home. There is one  drawback to quartz however. Quartz counter surfaces are sensitive to heat so you will need to avoid setting cookware directly on it. 
2. Granite
Granite is one of the hardest natural stone surfaces making it one of the most durable countertop materials available. Each slab of granite is one of a kind and your counters are heat, scratch and cut resistant when properly sealed. The look of granite is luxurious and high-end, and remains so even in a busy family kitchen. Periodic resealing and special cleaning is necessary and any serious damage likely requires replacement of the counter slab. 
3. Solid Surface
Similar to the way quartz counter material is produced, solid surface takes natural material such as stone and mixes it with a bonding agent like resin and polymer. The result is a beautiful natural looking stone surface that stands up to stains and nicks and scratches are easily repaired. This durable countertop creates a seamless look when used for backsplashes and counter joints. Solid surface counters will show wear over time unlike natural stone.
4. Butcher Block
For those who like a warm, friendly and rustic look in the kitchen butcher block is a wonderful 
option. Food can be prepped directly on the surface and any nicks and scratches are easily sanded out. Choose from a variety of varnishes to increase stain resistance and create a highly durable countertop. The only drawback to butcher block counters? They are a very specific in terms of style and decor.
5. Wood
If butcher block isn't your style but you favor the look and durability of wood surfaces this is a classic choice. Wood is timeless and easy to maintain. Like butcher block the level of protection depends on sealing to make these counters durable. Wood counters are not entirely indestructible and they tend to show their age over time.
6. Stainless Steel
 Makes a  Durable Countertop
If your tastes run to modern, clean lines or you're an accomplished home chef, a stainless steel option is a highly durable countertop. Although stainless steel is less popular than the other options on pour list it is resilient and can withstand anything you throw at it, including mold and bacteria. Which is why you see stainless steel in professional kitchens. They don't burn or rust and, as the name suggests, this durable countertop material is impervious to stains. And stainless steel is an earth friendly option as it is 100% recyclable. The only drawback is they can scratch and dent so opt for the higher grade product.
7. Laminate
This is definitely not your mother's countertop. Today's technology makes laminate a tough and hearty choice. It's available in many different patterns and colors making laminate a great choice for homeowners who want to incorporate color in fun new ways. Laminate is definitely very affordable and a budget-friendly option. While modern laminate is less prone to damage than the earlier version you still need to be careful. It doesn't stand up to hot pots and pans like other options and it can chip or peel.
Wide Selection of Durable Countertop Materials
For homeowners in the Quad Cities area an investment with staying power is a top consideration. If you're replacing your old, outdated counters and looking for durable countertop materials that are as beautiful as they are strong look no further than Seiffert Building Supplies. 
Our design professionals help you find the right materials to create the look you've been dreaming of. With a wide selection of products and experienced design services you can't go wrong. Contact Seiffert Building Supplies today.