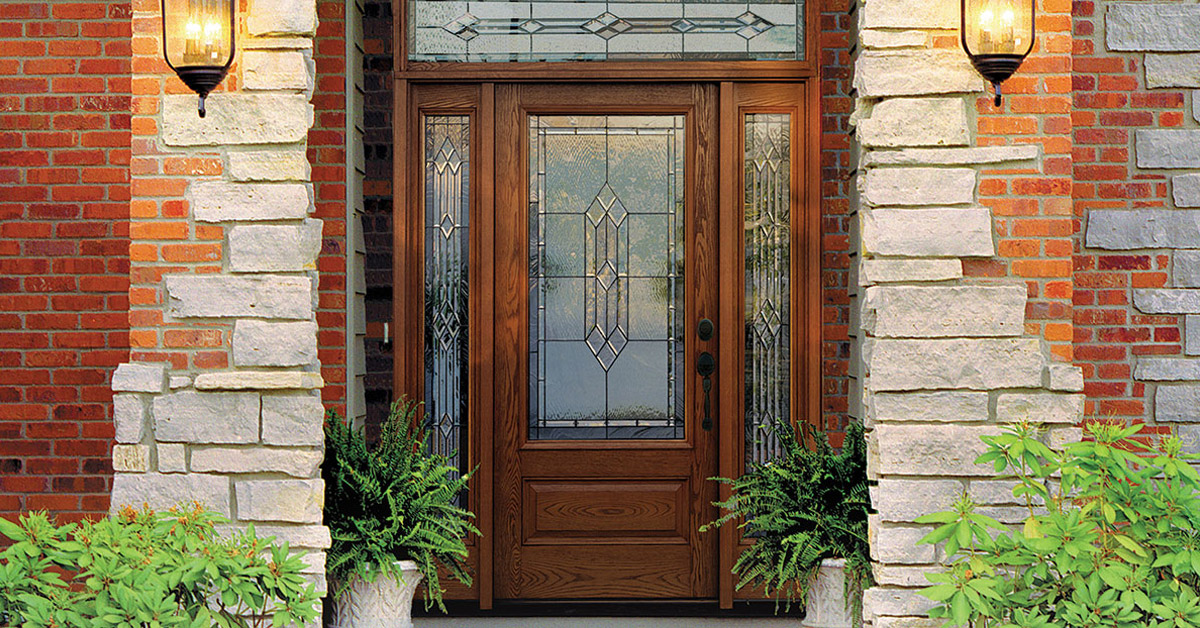 14 Jan

7 Tips for Hanging a New Entry Door Safely

Nothing brightens up your entrance as quickly and easily as installing a new entry door. An updated door can change your home's entire appearance and it's one of the top ways to add value to your home. Here we offer tips on hanging a new door yourself, safely and much easier than you might imagine.
7 Tips for Hanging a New Door
First, Gather your tools and materials. You will need:
Carpenter's pencil
4' level
Drill
Hammer
Utility knife
Pry bar
Tape measure
Solid core door
Cement screws
Deadbolt
Doorknob
Doorknob hardware
Caulk (latex)
Pressure treated lumber

 

Wood shims
Wood trim
Fourpenny nails and cut nails
Now you're ready to begin hanging your new door!
Remove Old Door, Frame and Molding
Remove hinge pins using a flat screwdriver and hammer. Lift out old door and remove hinges from the door. Now unscrew the old hinge leaves and remove them from the door jamb. Keep all the old hinge hardware and screws together and set aside for now.
Break the caulking seal using a utility knife and peel away the old caulking. You may need to use your pry bar for this. Remove molding, old door jamb, threshold and frame. Scrape away any remaining caulk debris before hanging a new door.
Calculate Exact Dimensions of Door Opening
To ensure proper fit you will need to calculate exact measurements of the door opening before hanging a new door. Measure the width between the side jambs, the head jamb to the seal beneath the threshold and the thickness of the wall. The opening should be at least one inch wider and taller than the outside frame dimensions of your new pre-hung door. Measure carefully as these measurements need to be exact.
Dry Fit Your New Door
Leave shipping brackets in place and carefully set your new door into the opening. If you need to add shims do so under the lower side jamb. Using your pencil mark a line at the top of the door on the lintel. Carefully remove the new door and set aside.
Measure Plumb Lines Around Door Opening
Use your level to mark plumb lines along both the sides of the door opening. You will use these lines as a guide when you install your new molding. To make sure your door opening is clean remove all debris, such as pieces of paneling.
It May Be Necessary to Install Additional Framing
If your rough opening has cement or cinderblocks as the jamb you will want to add lumber to frame it out. Cut the board to the measurements for the side jamb, check to make sure it is plumb, then, using the cut nails (designed for attaching to masonry) to fasten. This is the additional framing for your new door.
Hanging a New Door
Run a thick bead of caulking along the bottom of the old door opening, at the sub-seal. Lifting your new pre-hung door position it against the bottom seal and tilt into place. Check the fit to make sure it is plumb. If necessary shim the frame to ensure your new door is plumb.
Use cement screws to secure your new door at the shims. For the wood frame use your casing nails. Trim off any of the excess shim using your utility knife.
After removing the shipping brackets test your new door to see that it operates as it should. If so, you may now attach the anchor hardware through the hinges and into the framing of the door.
Seal Your New Door, Add Insulation and Paint
You want to make sure your door is well sealed, especially with our weather in the Quad Cities. To do this you will begin by running a bead of caulk (the paintable kind) around the exterior of the entire door. Use wood filler to fill in screw holes.
On the inside of your door you will want to use simple fiberglass insulating material. Insert this around the space between the door frame and opening. Then attach wood trim using your fourpenny nails. 
Now attach your door handle and deadbolt.
Once the wood filler and caulk have thoroughly dried (overnight) you can paint or stain the door and trim to match your house. 
Wasn't hanging a new door easy? And the best news of all? You did it yourself!
Add Value to Your Home
Adding a new exterior door adds value to your home. Hanging a new door provides the highest return on investment of any home remodeling; a whopping 91%! Your front door is the centerpiece of your home and a beautiful new door ups your curb appeal instantly. 
For the finest in front doors, and all your building supply needs, contact the professionals at Seiffert Building Supplies. Our project management can help you with all of your home improvement needs.