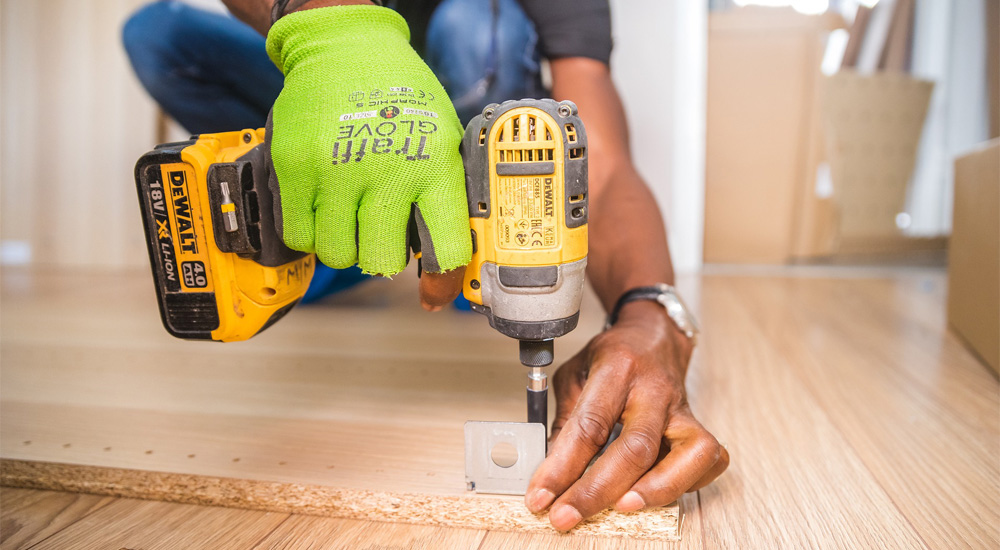 22 Aug

Best Home Projects For A Long Weekend

You come home from a long day and look around your nest and feel slightly overwhelmed. There are so many home projects begging to be started, but you need time to make sure they're completed before your busy life interrupts again. What better time to tackle those fix-its that haunt you, or make changes to increase the value of your home and your life, than a long weekend?

No one wants to use their precious vacation days to tackle a to-do list around the house, especially when the weather is nice, and the river beckons. But, once you take on, and master, a home project, your accomplishment brings on a new feeling of pride in your home. Here are some of the best home projects to consider for the upcoming long weekend.
Replace or Repaint Hardware
One of the easiest, fastest, and most economical ways to update a weary home is by replacing, or even painting, doorknobs, cabinet pulls, hinges, and other hardware. The gold, antique brass, or polished silver knobs and door handles look pretty dated these days. You'll be amazed by how this small, and easy-to-do home project can freshen the look of your house.
Update Interior Doors
Why stop at replacing just the hardware? While you're replacing or repainting doorknobs and handles, consider repainting those interior doors, or replacing them altogether. This can be one of the more fun home projects, and one that makes your interior look updated and fresh. New doors also add value to your home. If you're considering replacing an exterior door, it's best to consult with an expert.
Create a Space to Function As a Mudroom Area
Mudrooms are gaining popularity as an efficient way to keep the kid-clutter out of view. Book bags, sports equipment, smelly tennis shoes, and soon enough, wet parkas and boots, seem to multiply and take up a lot of real estate in the entryway of your home. And they're just plain messy. For those homeowners who don't have an actual mudroom, do the next best thing. 
Designate an area for your children to deposit their outdoor, sports, and school day, belongings. Hang some molding and hooks for coats and jackets, paint the area with a durable, easy-clean paint, add a cubby to keep book bags out-of-sight, and voila! The bonus is no more scrambling to find an errant book bag, jacket, or cleats. Everything is right there. 
Decorate Your Laundry Room
If you're a fan of HGTV (who isn't?) you may notice today's laundry rooms are high on many home buyer's "must have" lists. With that in mind, why not turn your laundry area into a laundry sanctuary? It's one of the easier home projects and totally doable over a long weekend.
Take down those wire shelves and hang some cupboards, or wooden shelves, to store detergent, fabric softener, dryer sheets, and the like. Refinish an old table in a soothing (or bold, if you prefer!) color and designate it for folding, if you have the room. Install some hooks to hang your ironing board, and even hang some artwork, or photos, to personalize your laundry space.
Home Projects to Re-imagine Your Closets
One of the biggest home projects homeowners dread is cleaning out closets. If you're like most people, your closets seem to be a gathering place for anything and everything you want out of sight. Why not re-imagine especially your master closet as a well-organized, and clutter-free zone?
Begin with creating a "donate" pile and get those items out of the way. Now empty your closet and clean it well, patching holes, and tightening down the hanging rods. A new coat of paint does wonders to freshen your closet. 
Consider adding built-in shelves and drawers to hold accessories like belts and purses. Update your closet door, or replace the light fixture. As home projects go, a freshly painted, well organized closet will improve your life in so many ways!
Put a Frame Around It
Give your bathroom some appeal by framing the mirror. This home project involves some paint, wood, and a few common tools. You can turn basic and boring into extra special and unique, all for a minimal investment and in just a few hours time. Tone of the more timely home projects, framing your mirror allows you to update you bathroom and still have time to…work on that closet!
Granted, home projects aren't as exciting as spending the day on the river, or lazing around the house. But, being able to tackle some of those projects that plague you everyday gives you a sense of accomplishment and reduces the stress of having a long to-do list.