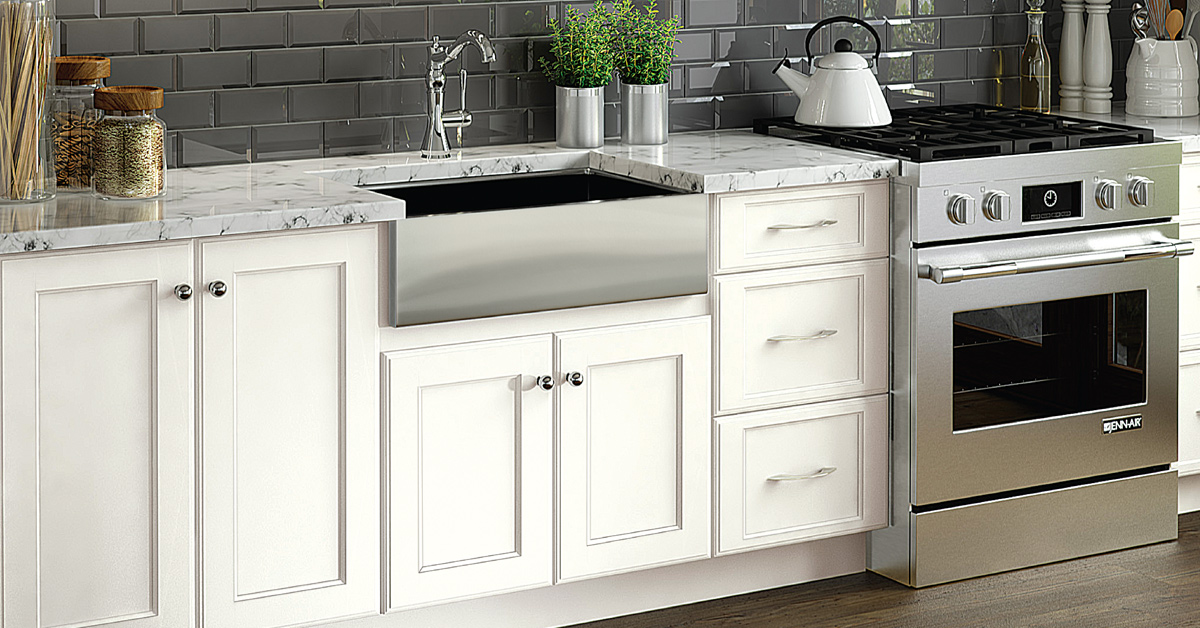 24 Jun

Caring for Your Kitchen Backsplash

A kitchen backsplash may seem like a small part of the overall design when you're building or remodeling. Don't be fooled, however. Your choice of backsplash brings together your countertops and cabinets and sets the tone for your entire kitchen. State of the art appliances, high-end cabinets and countertops may elicit compliments but your backsplash sets the stage for the show that is your kitchen. 

Today's selection of backsplash materials is bigger than ever. From patterned tiles to metallic finishes, glass and mirrored mosaic, stone, travertine, marble slab and good old subway tile the combinations are seemingly endless. Even slate is making its way into the backsplash arena. Your kitchen backsplash may be functional but it's surely not boring.
The Purpose of A Kitchen Backsplash
Your kitchen backsplash is supposed to be utilitarian. No matter the material, its primary function is to protect the wall behind the sink and food prep areas from water damage and stains from food splatter. A backsplash behind your cooking surface guards against grease splatter or a bubbling pot of spaghetti sauce (Who hasn't experienced that?). 
But you want your backsplash to act as more than a splatter catcher. You want your kitchen aesthetic to shine through this beautiful addition to your kitchen. And you want your kitchen backsplash looking its loveliest for years to come.
Care of Backsplash
Caring for your kitchen backsplash depends on the material you've selected. Not unlike the surface of your cooktop, the backsplash succumbs to spills and splatter. But your stovetop is in regular use and cleaning up after spills is usually immediate. Not so with a kitchen backsplash.
Spills and splatter, grease and grime may go unnoticed for days, attracting dust and more dirt to your backsplash surface. It's essential to the appearance and cleanliness of your kitchen that you clean and care for this major player in kitchen design.
Depending on the material you choose for your backsplash you may need regular maintenance to keep it looking its showpiece best. Porcelain, metal, glass and ceramic materials are non-porous and virtually maintenance-free. Natural stone, unglazed tiles, travertine and marble require specific care and maintenance requirements. Natural stone, in particular, requires regular sealing to protect from stains and other damage.
Intricate tile designs also require specific care. In order for your grout to maintain a stain-free and clean appearance, avoid degradation and preserve the overall beauty that caught your eye sealing every two to three years is necessary.
Cleaning Your Kitchen Backsplash
When it comes to your backsplash material, there isn't a "one size fits all" cleaner. Marble, travertine, metal and natural stone have specific cleaning requirements. Subway tile and glass are slightly easier to clean, but you will need to watch that grout. 
First and foremost get in the habit of spot cleaning and addressing splatter as soon as it happens. The longer stains and splatters remain the greater the risk of permanent or hard-to-remove stains. Blot grease instead of wiping to avoid grease spots on your tile grout. 
Daily, or every few days, cleaning of your kitchen backsplash is easily accomplished using warm water to loosen debris, then follow-up with soapy water or manufacturer approved cleaning product. Never use steel wool, caustic chemicals or abrasive cleansing products.
Cleaning Natural and Porous Materials
For natural stone, slate or textured products use a soft bristle toothbrush. This will loosen any debris or grease gathered in the divots which are characteristic of these materials. A gentle dish soap that's been heavily diluted removes most of the regular gunk that gathers on your backsplash. For more stubborn stains and food debris soften with hot water then gently scrub with a non-abrasive rag. Finally, rinse with clean water. 
Clean and Maintain Regularly
The best approach to cleaning your kitchen backsplash is to make it a part of your regular cleaning schedule. That way you avoid any buildup of dirt and grime and take care to remove spills that could stain your grout or porous material. Deep clean once every few weeks and repair the grout when necessary before a small problem becomes a big and costly one.
Find the Perfect Kitchen Backsplash
For more on choosing the right backsplash for your kitchen, contact the kitchen design team at Seiffert Building Supplies. We have plenty of good insight on choosing the perfect kitchen backsplash for your home design aesthetic and lifestyle.