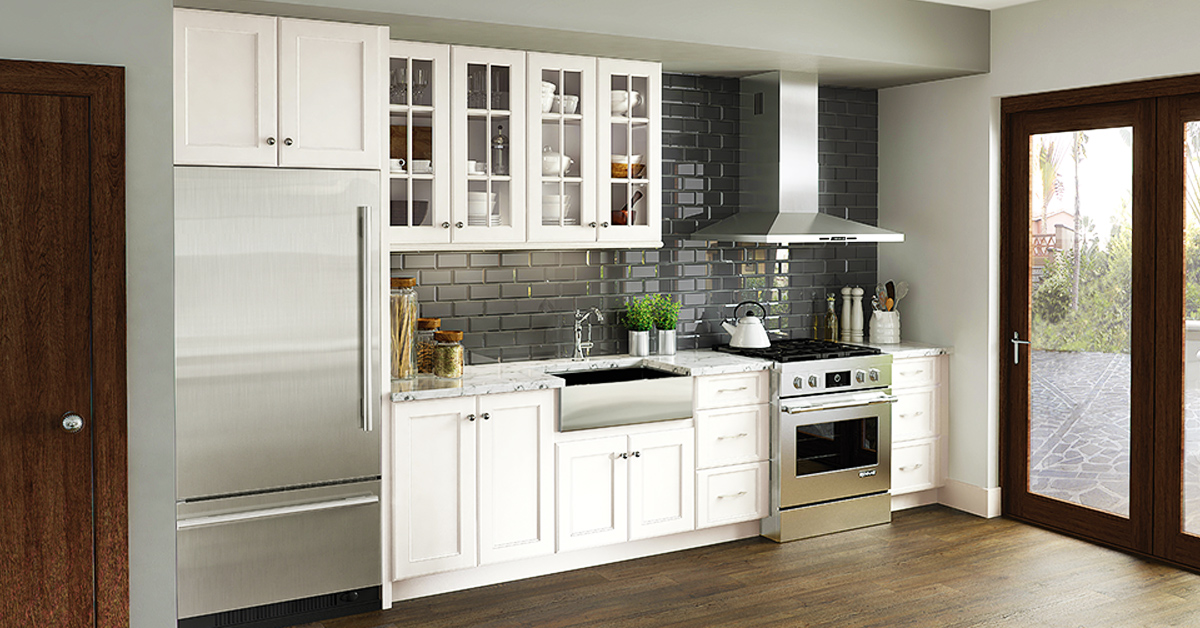 22 Jul

Change Your Fixtures for A Whole New Kitchen Look

You can change your fixtures and give your kitchen a whole new look. Many homeowners in the Quad Cities area focus on the big picture when it comes to changing up their kitchen. New appliances, new cabinetry and gorgeous new countertops all make a huge impression but it's said that great design lives in the details. Incorporating new kitchen fixtures into your existing kitchen you can achieve a whole new look.
What Are Kitchen Fixtures
Before you change your fixtures it's a good idea to define what kitchen fixtures actually are-and aren't. For the purpose of this article, items such as faucets, lighting and cabinet hardware are considered fixtures. Other fixtures are islands, carts, sinks and ovens. Cabinets, countertops, flooring and backsplash are not considered fixtures.
Change These Fixtures
For those who want a change and aren't ready to demo and replace kitchen cabinets, counters or the like, it can be more budget and time friendly to change your fixtures. Often it's not a difficult DIY project, either. Here are some ways you can change your fixtures for a whole new kitchen look.
Change Your Hardware
Upgrading your cabinet hardware is an affordable way to change the look of your kitchen. Give your old kitchen a trendy mid-century modern vibe with some new cabinet pulls and hinges. Maybe the farmhouse look is more your style. Try rubbed bronze hardware or classic black cabinet hardware. Insert some elegance into your kitchen with stylish brass, ceramic or even crystal accented knobs and pulls. You can add a touch of whimsy with painted pulls in bright colors. You'll be surprised what new cabinet hardware does for your kitchen. And don't forget your pantry as well. Have a pantry door? Change your fixtures such as the door knob and any other hardware.
Faucets
Replacing your kitchen faucet can make the whole room take on another vibe. Modern touches or LED lit faucets that indicate water temperature are popular upgrades to the standard stuff. And going touches keeps your kitchen much more sanitary. Pullout spouts expand your range of motion and allow you to accomplish tasks such as filling a large pitcher or pot that doesn't fit in your sink basin. Todays faucets also come in a full range of styles. Minimalist for a modern flare, old-school in black to reflect farmhouse style and faucets with a distinctive "space age" mid-century style.
Faucet Knobs
As far as knobs you could eliminate them and go with a sleek and simple one piece with hot and cold knob attached, or two separate knobs for hot and cold, a stylish choice for the farmhouse look. You have the option today of selecting a water filtration system that's integrated into your faucet. Faucets in particular have so many options today that when you change your fixtures you can change the look and make your life easier too.
One thing to remember; if you're changing your faucet but not your sink you will need to replace with like faucet and knobs. The sink is fitted for those particular kind of fixtures.
Sinks
Some of today's trendy sinks come in granite, quartz and copper. The copper is very striking in appearance, antibacterial, and long-lasting. Quartz and granite composites are durable and easy to clean. You can even find kitchen sinks made of slate, soapstone or wood. Functional and beautiful materials offer an opportunity to change your fixtures in spectacular ways.
While white porcelain and stainless steel are classic and fairly durable, a pop of color may be more to your liking. You can find sinks in a huge selection of colors to coordinate with your kitchen. Hammered stainless steel or copper sinks are quite lovely, especially for that farmhouse look. Rimless sinks integrate into your counter and can be installed to fit any counter surface. You can even find sinks that are complete work stations with built in colluders, utensil holders, drying racks and cutting boards, especially useful for the home chef.
Change your Fixtures for Lighting
If you want to change your fixtures in a dramatic way install new kitchen lighting. Under cabinet LED lighting illuminates kitchen work and prep areas and are easy for the "do-it-yourselfer". Rope lights and puck lights are very simple to install. For more involved lighting projects you may want to hire an electrician to change your fixtures.
Flush mount light fixtures are a standout way to update your kitchen's personality. If you have a breakfast bar or large island pendant lights add style to that space. In-cabinet lighting is a handy addition. Track lighting is an excellent way to brighten a small kitchen and provide the illusion of space.
Go Ornate
One of the newest trends is putting ornate chandeliers in spaces where they aren't expected. Replace your standard over-the-table fixture with an elaborate chandelier if you like. Don't be afraid to go ornate if it suits as simple and functional kitchen elements provide balance.
Freestanding Kitchen Island
A freestanding kitchen island is a functional and beautiful way to change your fixtures. Design options for an island that's stationary are as numerous as they are lovely. Incorporate elements that are unique to the style of your kitchen if you like. You can custom build an ornate piece that's truly stunning. You can go functional and have a counter that's separate material from your countertops. Butcher block and soapstone are both popular options. Freestanding kitchen islands offer options the built in islands don't have.
For More Ideas to Change Your Fixtures
For more ways you can change your fixtures or to renovate your present kitchen for a whole new look, contact us for a free consultation. Our design team works with you to find exactly how to turn your present space into the kitchen of your dreams.