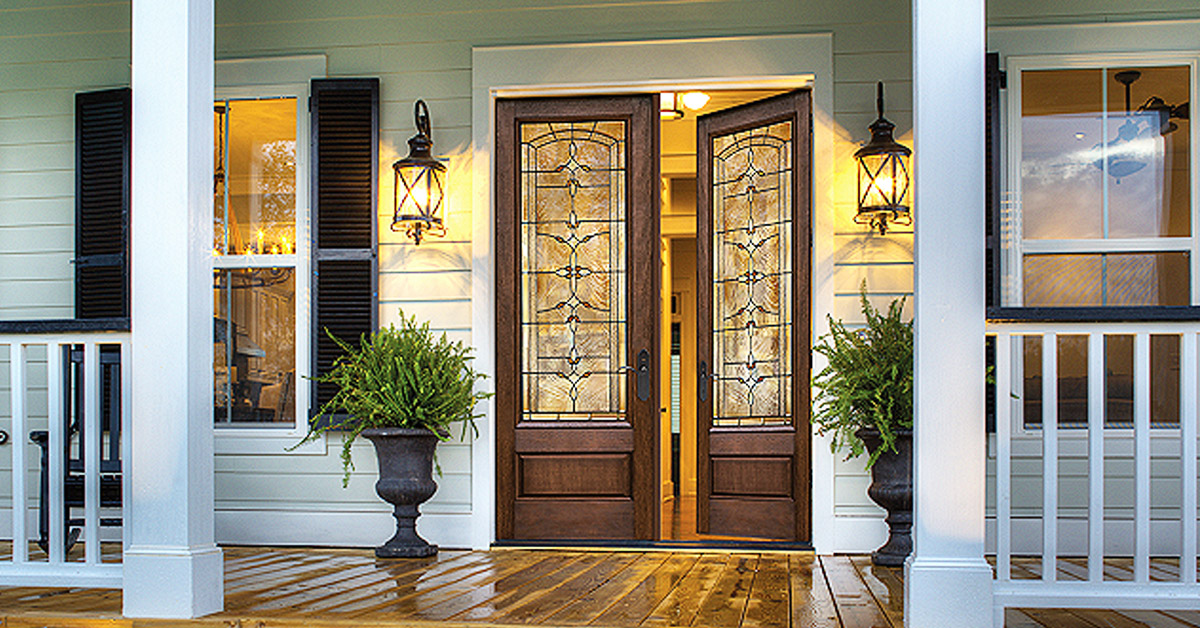 13 Aug

Choosing the Best Entry Door Material for Your Home

Choosing the best exterior door for your home's entryway isn't as simple as one may think. There are plenty of things to consider including style, color, safety and, most importantly, your budget. However, one factor that is foremost when choosing the best exterior door for your home is the material from which it is made.

The main choices fall into three basic categories: wood, fiberglass/composite, and metal. While these choices may seem pretty straightforward, each have some significant variances that are likely to influence your decision. We've broken down the details on each to help you in choosing the best door material for your home.
Exterior Door Materials for Your Home
In the Quad Cities area the insulating quality of your door is essential to the overall comfort of your home, and it makes a difference in your utility bills as well. But you don't want to sacrifice your personal style, and initial investment is also a big consideration. Here is a breakdown for you to consider when choosing the best exterior door material for your home.
Wood
Wood is the number one choice in material for exterior doors. Homeowners tend to select wood for its undeniable natural beauty, as well as wood's traditional appeal and simple elegance. Wood is also highly versatile as far as appearance. Wood can be stained or painted to complement the style of your home, and, with the right amount of maintenance, your wood exterior door can last for many years.
While wood is certainly a beautiful and versatile choice, it isn't the most durable. The porous nature of wood means it can warp, and wear easily.  It may not be ideal for you when choosing the best exterior door material for your home. With the seasonally changing weather in our area it's preferable to install a wood door in a protected area, such as an enclosed porch or the addition of a storm door to help limit direct exposure to the environment.
Exterior wood doors are not made from a single slab of wood but are typically a solid core of composite wood wrapped in a wood veneer. Staying on top of maintenance by staining and painting regularly will help your door look beautiful and remain durable.
Fiberglass Composite
Fiberglass composite doors are much more durable than wood exterior doors. These doors can be formed to mimic the aesthetic qualities of traditional wood doors, and stained to your choice. Fiberglass composite doors are offered in a wide variety of colors, or can also be customized and painted to your particular preference. 
The durability of fiberglass composite means this material will stand up to nicks and dents, and requires little maintenance. When choosing the best exterior door material fiberglass composite is a very worthy contender, especially in areas where the weather can be a bit more harsh. 
Fiberglass composite entry doors have an insulated core which creates a barrier to extreme temperatures. You will definitely notice a return on your investment when it comes to your utility bills. Over time, this durable and good-looking material will virtually pay for itself in energy savings.
Metal Doors
If security is a big concern metal should definitely be high on your list when choosing the best exterior door material for you home. Choosing the best exterior door material to keep you and your family safe often means opting for metal. That's not to say your home's entryway will resemble a bank vault. Far from it! 
Metal doors are available in a variety of styles and can mimic the look of high-end wood doors without the maintenance. These doors are very affordable and come in styles which reflect the look of just about any home.
Today's metal doors are comprised of a highly insulating foam sandwiched between steel panels on either side. Unlike the steel doors of a few decades ago, the new engineering interrupts the metal from acting as a conductive material when the temperatures outside are too hot or too cold. Metal doors are fairly energy efficient.
The only downside to metal is the tendency to dent. Also, metal doors often come with a baked on poly-finish. This may chip in extreme weather situations, or when exposed to the elements over time. While you won't need to maintain your metal door as often as wood, you will need to repaint every so often to keep your metal door looking good.
Need Help Choosing the Best Door Material for Your Home?
Seiffert Building Supplies offers a wide variety of exterior doors, including deck or patio doors. For help in choosing the best exterior door for your needs contact a member of our team today. Or professionals have the experience and knowledge to answer your questions and help you find the right door for years of comfort, pride, and peace of mind.