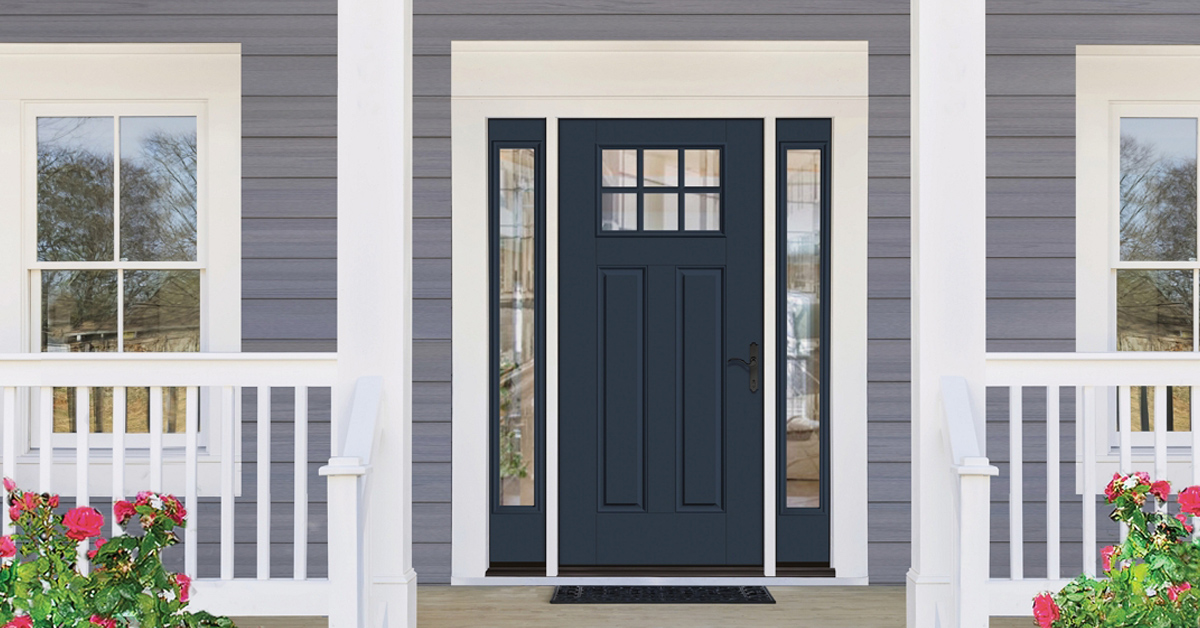 28 Jan

Entry Door Features That Help Keep Your Home Secure

Home security is a big business these days. The interconnectivity with things like smart locks, video doorbells, security cameras and lighting makes your home security as easy as downloading an app. While investing in any of these additions help to keep your home secure there are more cost effective safety features that prove to be just as valuable when it comes to your home security. 

Trying to keep your home secure begins at your main entry point. Your front entry door need not look like you live in a fortress. Today's new entry door features are designed to keep your home secure while complementing the look of your home. Here are some features you should look for in a new entry door to keep your home safe.
5 Entry Door Features That Help Keep Your Home Secure
Entry doors come in a variety of styles and materials. Of course in the Quad Cities, you want to be sure your entry door helps keep your home secure and insulated as well. Energy efficient exterior doors provide an extra level of security along with preventing escalating utility bills.
Solid Core Doors
For home security and energy efficiency choose an entry door that's constructed with a solid core. If you opt for wood, make sure it's solid and not simply veneer over foam. Take care in choosing a metal door as they do require maintenance. Solid core doors are largely impervious to brute force. In other words, it makes it much more difficult for an intruder to be able to knock down your door. You should opt for a solid core door for each entry point as a burglar who is a seasoned pro looks for an easy entry point.
Metal Door Frame
Metal frames provide an extra bit of reinforcement. If you choose another type of entry door besides metal a metal frame provides a stronger barrier against break-ins. Reinforced metal frames create a stronger attachment point for deadbolts and other locks so busting through your locked door is nearly an impossibility. 
Security Hinges
Nearly all entry doors are constructed to use inside hinges. You want to avoid exterior hinges at all cost. Even exterior hinges with security or locking pins are not a sure bet to keep your home secure. 
Cylinder Guards
Without cylinder guards around your doorknob lock it's frighteningly easy to kick in your entry door. Metal cylinder guards provide a secure and stable base for your doorknob lock. In addition to cylinder guards on your entry doors, you should also install strike plates to your deadbolt, doorknob and lock. 
Strong Locks and Jambs
The strength of your deadbolt relies on two important features. One is the length of the bolt itself. Make sure you have a lock that has a long bolt, and a jamb reinforcing plate. And second, you will want to install a deadbolt lock to keep your home secure that is rated at least a grade 1 or grade 2. Ideally you should install a deadbolt on each of your exterior entry doors, but most importantly install the strongest deadbolt on your front entry door as this is the most visible. 
Your entry door should keep your home secure and not pose a risk. If your door isn't all that it should be contact Seiffert Building Supplies for a new entry door. Our door specialists can help you find the right door to keep your home secure and boost your curb appeal.
More Ideas to Keep Your Home Secure and Safe
Here are some other ideas to keep your home secure and safe in addition to installing a new entry door:
Wi-Fi Doorbell: while installing a video doorbell is an investment it provides a deterrent to bad actors and gives you eyes on your home's entry point.
Visible House Numbers: For safety's sake you should make sure your house number is highly visible for fire and rescue personnel.
Large Boots: This may sound funny but if you place a large pair of boots just outside your front door it could deter a daytime invader when you aren't at home.

 
Security Sign: If you have a security system, let people know. Order extra security system signs to display at the back and front of your property as well as decals for your doors and windows.
Cover Up Those Sidelights: Don't give anyone a view into your home. Wether a nosey neighbor or potential thief, no one needs to know when you are or aren't at home. Put curtains or blinds over your sidelights or invest in some cling film to block the view.
Door Brace Security Bar: Available at most hardware and big-box stores, a security bar will give an added measure of safety as it prevents even the most determined home invader from gaining access by busting in.