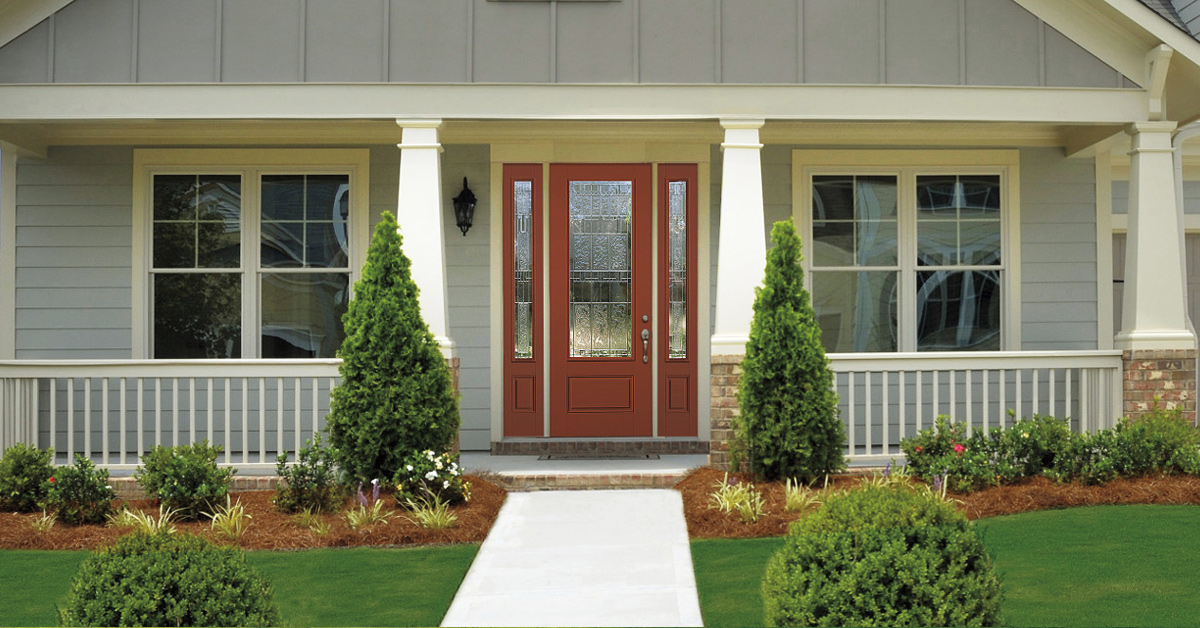 23 Jul

How to Give Your Front Entrance Lots of Curb Appeal

Just as the right garnish makes a plate more appetizing and good grooming is essential to a neat and tidy appearance, your front entrance benefits from a little garnish and grooming as well. Curb appeal is that special quality that gives your front entrance an inviting charm, an attractive air. 

If you feel your home has grown weary-looking curb appeal is the remedy. Overgrown shrubs, out of control flower beds, broken pottery, or a front entrance that just looks too plain are all symptoms of lack of curb appeal. The good news is with a little attention, minimum amount of elbow grease, and some minor investments your front entrance will turn heads for all the right reasons.
Flower Beds, Borders and Shrubbery
The best place to begin when boosting your front entrance curb appeal is in the flower bed. Plant some colorful perennials like irises, peonies, daffodils, and the always-delightful black-eyed Susan's. As the weather begins to warm up you'll have a burst of springtime color with very little effort, year after year. 
You can add the annuals of your choice to boost your curb appeal even more. Petunias, begonias, and impatiens are always a favorite. Or try something different. Annuals are a great way to experiment as there is only a seasonal commitment. 
Border plants like hostas, liriope, and phlox provide a more finished appearance to your beds, and work well along walkways too.
If you don't have a flower bed, or have no room to expand, consider window boxes or planters on your front porch.
Make sure you keep your shrubs trimmed, and if they become overgrown, stop blooming, or just look tired, replace them. An overgrown shrub can really rob you of curb appeal.
Stay on top of hedge-trimming, edging, and weed-eating. Make it part of your lawn mowing chores.
Add mulch to your beds. This will keep the weeds down and keep your front entrance looking neat. 
Solar walkway lighting is also a great way to boost curb appeal and make your front entrance safer.
Your Lawn
Your lawn is an integral part of your homes curb appeal and a source of pride for many homeowners. The bonus is it really doesn't take much effort to keep your lawn looking great. Keep it watered and fertilized. Pre-emergent applied in the spring will prevent weeds and crabgrass from taking over your lawn. 
Curb Appeal for The Front Porch
Is your front porch lacking in pizzazz? Sometimes all you need to do is make a small investment in paint. Posts and pillars look refreshed and your front door will pop-especially if you use a trendy bright color.  Stay on top of the painting and make sure you don't have peeling, faded, or flaking paint on your porch.
Replace your front door with a newer, eye-catching style. This one investment alone adds so much.
Do you have porch chairs? A swing? Consider an upgrade in cushions or chairs themselves. 
Container gardens make a lovely addition to your front entrance. One rule of thumb? Always include "thrillers, fillers, and spillers" in your planters and window boxes. Here's a handy guide.
If you have sconces or lighting on your porch that have been around awhile it's a fine time to replace your front porch lighting. Upgrade all your front entrance hardware and give your house  an instant face lift.
Add an all-season wreath to your door for a dose of extra allure.
Do you have a front porch mailbox? A mailbox makeover adds style and curb appeal. Are your house numbers displayed on your front entrance? Consider replacing them. There is a trend toward the modern look in house numbers, however always reflect the architecture and style of your home.
Replace the decking or railing on your front porch if it has started to sag. Not only does a saggy-looking porch detract from curb appeal, it can be unsafe for your friends and family. 
Paint and Pressure Wash
The weather in the Quad Cities takes a toll on your home's brick or siding., Wash away years of grime, mildew, and dirt build-up with a power washer. You'll be amazed how much brighter and newer your home will look after a thorough power washing. You'll also want to power wash your walkway and porch. Just be careful not to damage plants or greenery.
Pressure washer not enough? It might be time to paint. If you have it in your budget painting refreshes the look of your house and gives amazing curb appeal. Don't forget the trim around your windows. 
Speaking of windows repair any tears in your screens, replace soggy shutters, and recall if need be. Clean out your gutters and downspouts. Replace splash blocks if necessary.
Curb Appeal Experts
Whether you want to give your home's front entrance a pick-me-up for your own enjoyment, or you're getting ready to put your house on the market, you will certainly benefit from curb appeal updates. Whether you're looking for an updated entry door or need some wood for planter boxes, talk to the experts at Seiffert Building Supplies.