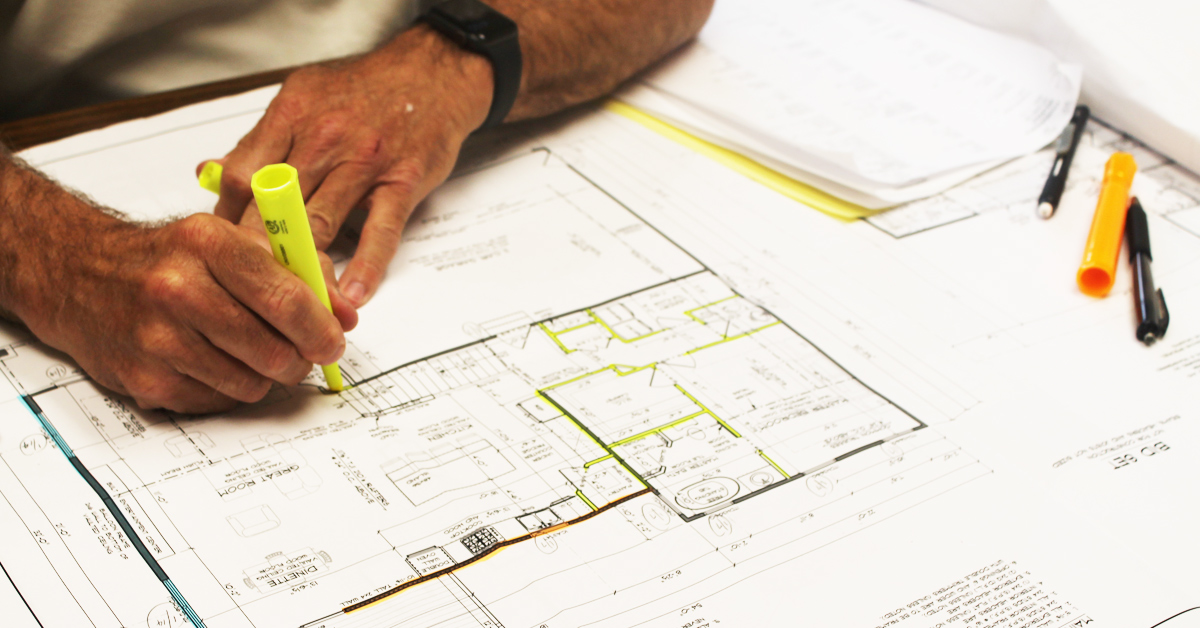 14 Oct

How to Turn Your Idea Into an Actionable DIY Remodel Plan

It seems you can't watch five minutes of a home renovation show on TV before your mind is flooded with one DIY remodel idea after another. But, turning your vision into an actionable DIY design isn't always as easy as the show's hosts would have us believe. Not to mention it's impossible to flip from drab to fab in under an hour!

Here we lay out a plan for you to turn your idea into a DIY remodel design you can handle. By breaking down your overall vision into steps a DIY remodel design project is doable. When you  prepare, plan, prioritize and pack your patience it's not as overwhelming as it seems. 
Prepare: A Few Caveats
Understand that your DIY remodel will take a good amount of time to complete, probably much longer than what you envision. Know there will be hurdles along the way. For example, supply chain issues are a big hurdle right now and a key component to your project may not be available right away. Weather, permit hold ups, and unexpected costs also throw your timeline off. Be prepared.
Before you begin to plan your DIY remodel design you need to be honest with yourself. Unless you're a professional builder or contractor you probably have some limitations. The key to a successful DIY remodel is understanding what you can handle and what you need to leave to the pros. Most homeowners who tackle a project of this kind don't realize their limitations until they arrive at a task that's beyond their skill set. That can lead to huge problems. Which is why you need to…
Plan: Begin Your DIY Remodel With A Professional Design Consultation
You already know the goal for your remodeling project and have a vision for the outcome. That is what everything else is based on. You can't begin without a plan and when you consult design services they will turn your vision into an actionable design. A professional design service understands things like structural limitations, how to reconfigure, when necessary, and a whole host of other factors. 
Plan Some More
Now that you've had your reality check by meeting with design services you know some of what to anticipate. With your timeline in mind it's necessary to determine how long your household can tolerate the disruption that accompanies a DIY remodel. 
Is your design project the kitchen? How much of your kitchen will be out of commission and for how long? Can you eat take out and sandwiches for three months? What about a bathroom DIY remodel? Do you have another bathroom in the home? Finally, anything that opens up your home to the outdoors needs to be timed in accordance with weather conditions, especially in our area.
And Some More
Plan your materials and purchase what you need for the initial first steps. Talk to a project management team to help figure out special orders and hard-to-get items. Order accordingly.
Now consider any equipment you'll need to accomplish your DIY remodel project. Can you borrow from someone? Should you rent? Will you use this tool in the future and does it make better sense to purchase? A tile saw, for example, may be something you only need for the few hours it takes to retile your bathroom floor. It makes more sense to rent something like that. Make sure you set aside the time to complete the task for which you need the rented tool. Rental fees can add up!
Prioritize
As you break down your DIY remodel design into actionable "bites" you'll begin seeing where your priorities lie. There are "must haves", "would be nice", and "can live without" pieces of the project. Identifying each of these is essential to managing the work and the budget.
There are so many moving parts to any remodel. Even a basic finished basement DIY remodel may require professional input from an electrician and plumber. If you want to contract out some of the other tasks you'll need to refer to your design, your budget, your time line and most of all, your skill set. A DIY remodel gone wrong is simply disastrous. 
The Best Partner for Your DIY Remodel Design
Not all Quad Cities homeowners are comfortable with a DIY remodel project and that's OK. But, for those who have the knowledge and confidence to forge ahead, DIY remodel projects, done right, are a great way to stay within your budget and, best of all, earn you bragging rights. 
For those DIY projects that look professional and bring your remodel idea to life you need a partner you can count on. That's where Seiffert Building Supplies professional design department comes in. We offer custom design services using the latest in CAD technology, as well as immersive virtual reality tools that allow you to experience you new space in a way blueprints and drawings cannot. 
If you have an idea for a DIY design and want to get started, begin with Seiffert Building Supplies design services. Your vision for your home is too important. Contact us today and let's get started turning your remodel idea into an achievable DIY design.