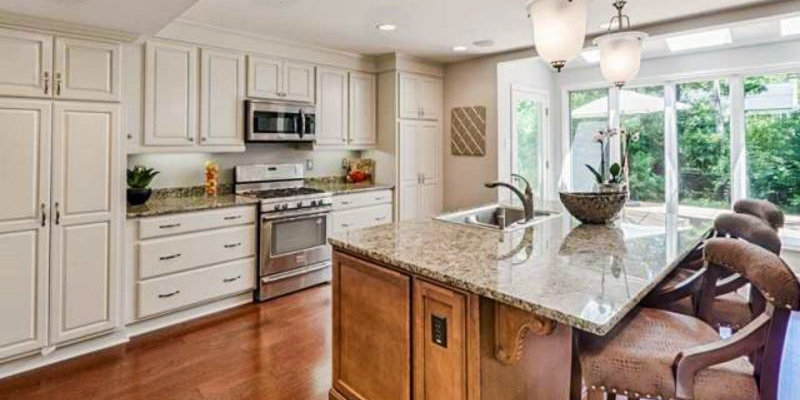 07 May

Beautiful New Kitchen Trends to Transform Your Cooking Space

A beautifully designed kitchen is a major draw for nearly all potential and current homeowners. Whether on the ever-popular home renovation shows, or at an informal gathering at the neighbors, an artful, on-trend kitchen transformation garners the most "ooohs" and "ahhs", bar none. And it's more than likely at the top of your own wish list right now.

Some kitchen trends leave just as quickly as they appear. And then there are those to which designers and homeowners alike, gravitate again and again, certain to become classics. The clean look of a quartz countertop, the sleek appearance of stainless appliances, and the little touches that make your kitchen an organized space you love to be in, withstand the test of time. These little-and big-trends can transform the heart of your home and make your cooking space as elegant and inviting as it is functional.
Enjoy the Process
Any home remodeling project, no matter how big or small, can be overwhelming. Partnering with a design specialist is the best way to know and understand how your sense of style, desire for trends, and efficiency of your kitchen workspace can all be realized in the most stunning way.
Trends for 2019 and Beyond
Here are some of the top trends we are seeing in 2019. Many of these trends have become classic kitchen must-haves, and some have evolved over the years, changing to meet the demands of busy families.
Colored Cabinetry: While white cabinets work magic to open a cramped-looking kitchen, the current trend is favoring a splash of color in your kitchen's custom cabinetry. Deep blue, washed grey, hunter green, and even black are flanking some, or all, cabinetry in many homes. Breaking from classic all-white   kitchens offers everything from a touch of warmth, to a bit of whimsy.
Mixed Textures: High shine quartz countertops with matte painted cabinets, satin brass drawer pulls, with stone back splash, are just a few of the combinations repeated in today's modern kitchens. The idea is to give your kitchen space some depth and variation, while maintaining a complementary vibe.
Natural Components: Open shelving made from rough-hewn, chunky wood pieces, jute rugs, stone tiles, natural hued wood accents, a touch of nature, in its most basic form, is always an eye-catching addition, and one that's popping up more and more n today's fabulous kitchens.
Quartz is Here to Stay: Quartz countertops are still the top choice in kitchen counters, and with good reason. Quartz offers easy maintenance, compared to other materials, requiring nothing more sophisticated than soap and water. Quartz is antimicrobial, and boasts a very long life. Today's quartz is available in a multitude of styles and colors, making it easy to obtain the look you desire for your beautiful, new kitchen.
Tile: There are so many places in your kitchen where tile shines. Homeowners have been incorporating tile into backsplashes for some time now. These days, the trend is leaning away from the classic subway tile and leaning toward bigger, bolder-colored, or natural stone, tiles. The same applies to flooring. While hardwood is still the top choice, more and more frequently, flooring in the kitchen cooking space is being replaced with tile. It's easy to clean, and requires little to no special maintenance.
Easy and Efficient Storage Options: From sliding waste basket storage, to  pull-out spice racks, to trays for pots and pans that are easy to access, and  deep drawers, with built-in dividers, kitchens in 2019 are all about ease and comfort, efficiency and organization. No one has time to root through cavernous cabinets trying to find the right lid for a pan, or fumble with the wastebasket, creating a mess in the process. Meal-prep shouldn't be a stressful endeavor and being able to retrieve what you need to get the job done makes preparing dinner much easier. Kitchen storage, drawers, and cabinets utilize specific hardware to make your tools-of-the-trade accessible, and your kitchen streamlined and sleek.
A Reflection of You
Ultimately, a successful kitchen transformation is one that reflects your unique tastes and the personality of your home. If you are more farmhouse than mid-century, that's fine. If you find you're less than thrilled by the "latest trend", then maybe it isn't for you.
Transforming your kitchen into a beautiful and functional space adds value to your home. Not only for resale purposes, but for your own enjoyment. Find those popular trends that appeal to you and make them your own as you incorporate them into your beautiful, new kitchen, for today, and the future.