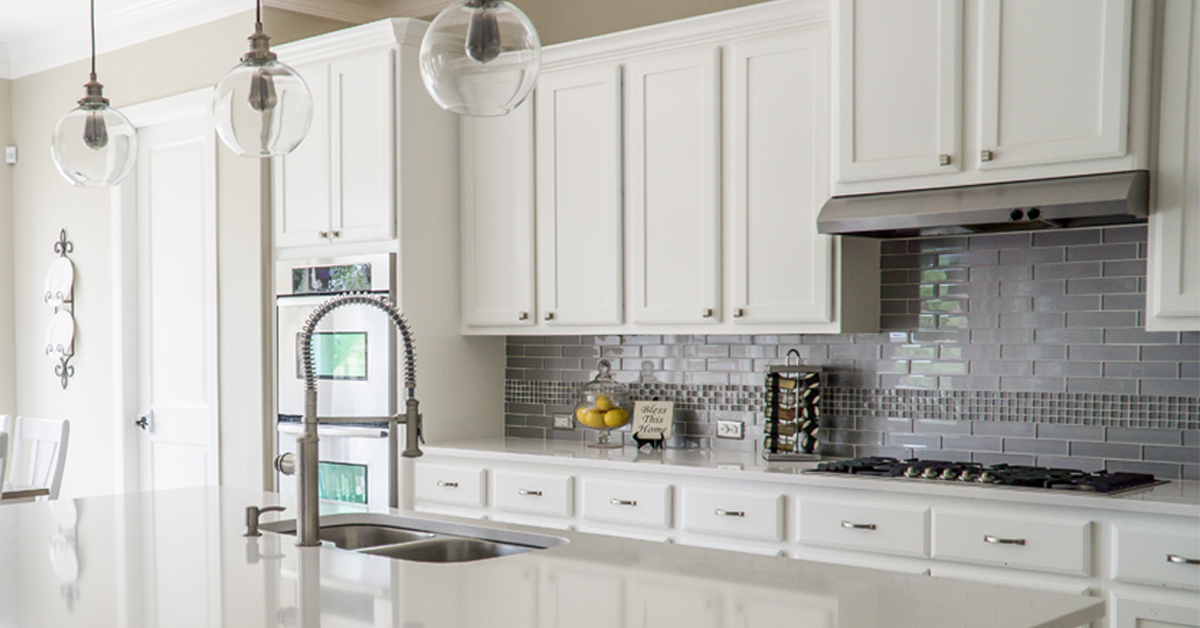 06 Feb

Kitchen Reno-How to Make Old Tiles Look New Again

Old tiles in your kitchen can make your favorite room feel worn and tired. Restoring the appearance of old tiles seems like a daunting task, something best left to the pros. You may even feel it's just easier to just replace those old tiles, taking another chunk of your kitchen renovation budget, or do away with tile altogether.

Ceramic tile in your kitchen offers a beautifully finished look. Tile lends itself nicely to all modes of decor, especially the current popular trends of mid-century modern and farmhouse. Tile counters and backsplash are non-porous, easy to clean, and require very little maintenance. When installed properly, tiles can last for years to come. There's often no need to replace tile that's showing it's age. It is possible to refresh and renew old tiles in your kitchen.
Why Your Tiles Look the Way They Do
Like most things, old tiles start to look that way due to wear and tear. Years of dirt and grime take a toll on the finish of ceramic tile, and stains in the grout tell the tale of a busy kitchen. Even the most fastidious housekeeping can't deter the ravages of age and use from old tiles. 
Many people consider the kitchen the busiest room in the house. In addition to meal-making, the kitchen is where your family likely gathers to snack, finish homework, and reflect on their day. All of the activity that goes on in your kitchen can take a toll on your kitchen's surfaces. 
Tile floors are trampled regularly, countertops serve as the stage for prepping meals, backsplashes are designed to keep the walls above your counters from the errant splash of tomato sauce, or blueberries leaving their permanent mark. A life well-lived is evident as your old tiles show their wear; glazes dull, scratches appear, grout gets stained and your kitchen begs to be shown a little love. Time for that kitchen renovation!
Ways to Make Old Tiles New Again
Almost all old tile can be made to look new again-even those which are chipped, cracked, discolored, or terribly outdated. There are many ways to give old tiles a refreshing face lift and save some of your budget for an upgrade on appliances. Here are some easy, and budget-friendly ways to make old tiles look nw again.
Deep-Clean Your Tiles
Over time, tile countertops and backsplashes accumulate dirt, grease and grime. Surfaces are dull due to a buildup of residue. Clear your countertops and begin a deep-clean. Spray down your tile with a degreaser and wipe with a clean cloth. Now, scrub the old tiles with a mixture of cleaning agent (dish soap will do) and warm water. Use a brush or sponge. Don't use any caustic chemicals or highly abrasive cleaning agents or cloths. They will damage the glaze on your tile. Finish with a bit of rubbing alcohol on a clean cloth to make your aged tiles sparkle like new.
Clean Your Grout
Sometimes it's the grout making your toes look old and weary. You may even find, after cleaning your tiles as above, and restoring them to all their sparkling splendor, stain and worn grout detracts from their beauty. Cleaning your grout will help.
Because of the porous nature of grout (and the reason it shows age sooner than tile) it can be difficult to clean. You need to use a light touch and a gentle cleaning product. A mixture of lemon juice and cream of tartar create a natural bleaching agent which can brighten your grout. For deep stains, try mixing table salt with baking soda and warm water. Rub this mixture into the grout to remove unsightly stains. A toothbrush makes a handy grout device with which to clean your grout.
If these methods don't do the trick, it's still not necessary to replace your old tile due to stained grout. There are plenty of commercial grout cleaners designs to make your tiles look new again. 
Refinish Dull Tiles
Sometimes all the cleaning in the world can't restore the beauty and luster of tired tile. If the glazing is worn off, or damaged you will need to take another route to making your tile look new again. You could replace them at this point, or you could go with a more budget-friendly fix and refinish them. You can easily accomplish this as a DIY project, if you are so inclined. 
For those who don't feel up to the process of refinishing, a professional tile re-glazing is still going to be less expensive than replacing your old tiles.
Caring for Your Renewed Tiles
Once your tiles are refreshed you'll want to keep the appearance. Preserve the look of your newly renovated kitchen tiles by following a few simple rules:
Clean spills immediately.
Use placemats, cutting boards, and silicone mats when working on tile countertops.

 

For tile floors, always use rugs in work areas, and mats at doors leading to the exterior of your home.
When possible encourage people in your home to remove their shoes. Make sure everyone wipes their feet before entering your home. The dirt and grit that gathers on the soles of shoes poses a serious threat to your tile floors.
Restoring the original dazzle of your old tiles can be accomplished. It's not always necessary to replace old tiles when you do a kitchen renovation. Try these easy-to-do fixes in your kitchen and you just might preserve your old tiles-and your budget!