01 Nov

Seiffert Lumber Company Celebrates 125 Year Anniversary

Posted at 15:33h

in

Media

Local retailer and distributor continues to build on legacy as one of oldest Quad Cities companies

Davenport, IA – Seiffert Lumber Company, a leading local supplier of building materials in the Iowa and Illinois Quad Cities, has reached a major milestone in their history this year. 2017 represents their 125th anniversary, making them one of the oldest continuous local businesses in the Quad Cities. Since 1892, Seiffert has proudly supplied and supported thousands of successful construction and remodeling projects throughout the Quad Cities area.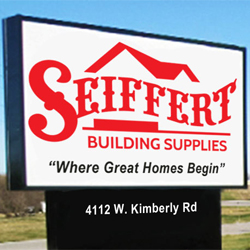 Originally focused on basic building and construction supplies, Seiffert has expanded over the years to include many types of products for home improvement and remodeling. Today, Seiffert offers a wide variety of products including cabinets, countertops, windows, doors, deck materials and railing systems in addition to their traditional lines of lumber and building materials.
"We're proud of our long history supporting construction and development in the Quad Cities," said Bill Burress, President, Seiffert Lumber Company. "As the needs of builders and homeowners have continued to evolve, we've added quality products and services to grow and support those needs."
H.O. Seiffert Lumber Company  was established in Davenport, Iowa in 1892 to supply building materials  to settlement communities in Eastern Iowa and Western Illinois. In 1972, Seiffert Lumber Company was purchased by Wilber Burress. His son, Bill Burress, owns and operates the business today. Seiffert remains one of the Quad Cities' leading retailers and distributors of lumber, building supplies and home improvement materials to contractors and homeowners.
If you'd like to see the official press release, you can view it at Online PR News.