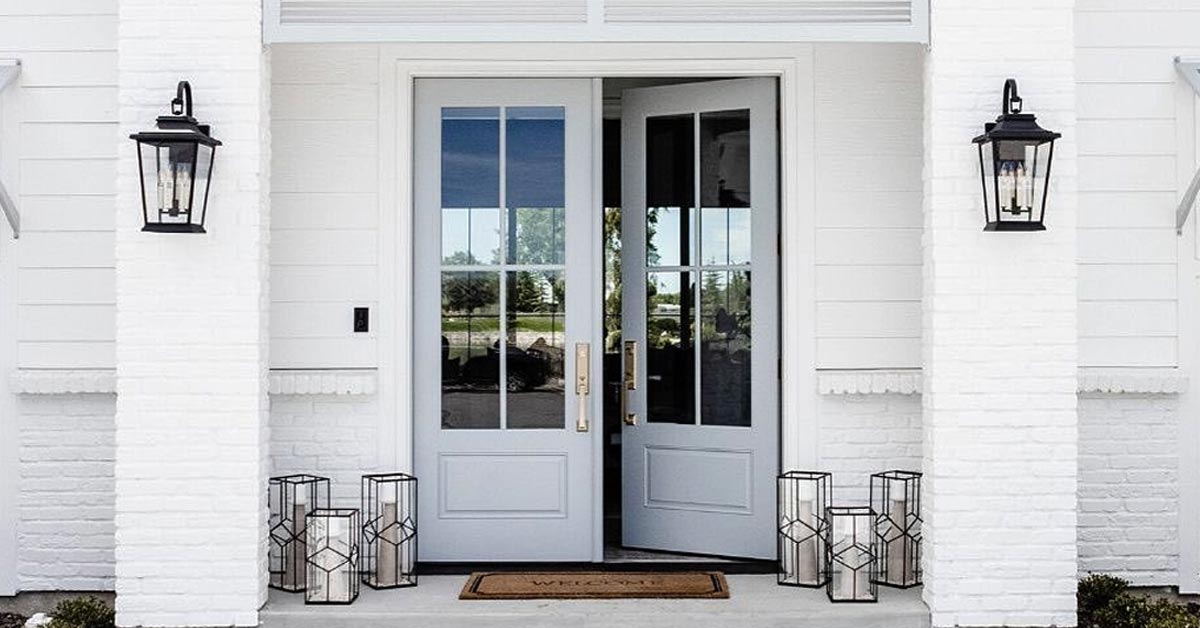 12 Jan

Storm Doors: Explained

Today's storm doors are not your parents' storm doors, for sure. What once was a utilitarian addition to the home's exterior is now a lot more decorative. The doors available today complement the style of your home and add to your curb appeal. Mid-century modern? Victorian? Traditional?  Craftsman? We've got a door for that! Here we explain everything you need to know about storm doors.
What Are Storm Doors?
The short answer is they are a second outer door that typically has glass and screen inserts which you install depending on the weather. Installation of storm doors has many benefits such as insulation, light and ventilation. 
Some people equate storm doors with screen doors but there are major differences. First and foremost a storm door utilizes glass to protect and insulate. Screen doors are simply screens. Storm doors are much more durable and withstand a lot more abuse from mother nature. And you can replace your removable glass panels with screens as the seasons dictate.
Uses of Storm Doors
The primary purpose of a storm door is to preserve the integrity of your main entry doors and prevent weather damage. Salt, ice and water are corrosive and quickly take their toll on your exposed door. Wood, fiberglass and even metal show signs of damage if exposed t the harsh elements of a Quad Cities winter. A good entry door is an investment and the extra protection from your storm doors helps keep your doors looking great and operating as they should for decades. 
And these doors have an added advantage when it comes to your energy costs. Many homes in the Quad Cities area have storm doors installed to help maintain a comfortable temperature within the home. In the winter the insulating glass door prevents warm air from escaping, thus lowering your monthly heating bill. Install the screens in the spring to allow airflow, or leave the glass and keep your cool inside when its hot outside.
Another crucial benefit of installing storm doors to your home's exterior is the extra level of security they provide. A locking storm door is one more way to keep out uninvited intruders. According to the security company ADT, roughly 34% of burglars enter through the front door. Your extra layer of protection may thwart that attempt.
Plenty of Options
Storm doors are made from wood, fiberglass, PVC or aluminum. Wood is the least popular as it isn't quite as durable as the other materials. Synthetic and aluminum doors commonly include a core layer of hard foam insulation. When coupled with a well-chosen insulated entry door the outside weather isn't a concern. You are well protected.
The glass in storm doors is tempered so it will not pose a risk for injury should it break. When shattered tempered glass crumbles. You select the type of glass you want in your door based on insulating factors and UV protection. 
From the color, design and material they're made from to the combination of glass and screen you have so many options for your storm doors. But first and foremost there are three basic styles from which to choose.
1. High View
This style of storm door offers the traditional look of glass or screen in the upper portion but a sold panel on the lower half. A high view door is great for homes with a lot of foot traffic. They make great back- or side-entry doors if you have kids coming in and out. The bottom panel of the high view door is great for pets too. A pet door is easily installed. 
2. Mid-View Storm Doors
A mid-view storm door features a 3/4 glass design and allows for more light and ventilation opportunity than a high view door but with the added durability of a bottom panel. A mid-view door works well for homeowners with a lot of foot traffic through the front entryway. 
3. Full View Design
The full view storm door features a full glass design that allows light to enter, provides insulation and shows off your entry door. This style tends to enhance the view of your front door and is ideal for the homeowner who wants to add to the curb appeal by showcasing a stylish entryway. 
Once you've selected the basic style of storm doors you like then it's time to choose color,  material and design. As you may imagine there are countless combinations. The knowledgeable staff at Seiffert Building Supplies are more than happy to help you choose your storm doors.
Additional Features
In addition to the three basic types there are features to choose from as well. These include such amenities as a retractable self storing screen which disappears into the body of the door when not in use. When you want to take advantage of the screen's ventilation you simply pop out your glass panel and raise the screen. 
Another feature is the ventilating storm door. This type of door offers a fixed screen and you slide the screen up or down to cover the window opening when the glass is removed.
Installation
For those who trust their DIY skills, installing your storm doors is not difficult. Most are pre-hung and include all the necessary hardware. Ask a buddy to help and it shouldn't take longer than an afternoon. Alternatively, professional installation is always available.
Ask the Professionals
For more on why you need storm doors contact Seiffert Building Supplies. With a full line of quality doors and decades of experience, we are the Quad Cities go-to for all things home improvement.