14 Jul

Timeless Styles and Colors for Kitchen and Bathroom Cabinet Hardware

Unless you decide to install some wildly designed, ceramic drawer handles, you really can't go wrong with too many options in terms of "Timeless Hardware".  There are so many variations to choose from including knobs, bin pulls, and bar pulls. For the most part, they all even come in diverse materials such as stainless steel, bronze, and wood.  The place to start when making your decision is noting what style cabinets and appliances you already have in your kitchen. From there, you will have a good idea of what style and color of hardware will complement the rest of the room.

This isn't to say you have to perfectly match though.  Contrasting the look and feel of the cabinets themselves could actually provide significant 'pop' to your kitchen's appearance.  Even mismatching the hardware on the top cabinets compared to those on the bottom could provide unique diversity.

Factors to Consider

Since many options are timeless in terms of style trends (other than those one off, handmade ceramics from the flea market), let's consider some other factors that will resurface over time.  Take durability for instance.  Ceramic and wood are relatively easier materials to damage than steel, iron, or bronze.  Just think how easy and frustrating it would be to drop a dish and chip, or break, a knob.  The number of screws is also relevant when discussing durability.  Single screw hardware is less anchored to the cabinet than hardware with two screws. So, naturally it will loosen faster over time.  On the other hand, single screw hardware is easier to replace if need be.  Since all hardware ranges in size, the two screw wholes associated with your first set of bar pulls may not perfectly line up with your next set of bar pulls.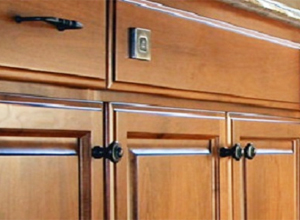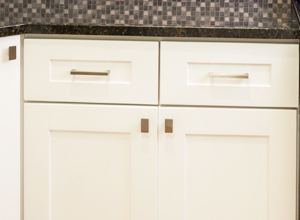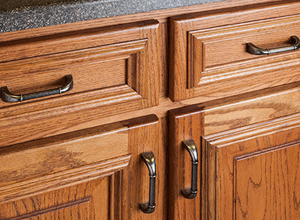 Then come the children, playful as they are.  Something that could dramatically impact the durability of your hardware is your child's propensity to climb and hang from the handles.  If this were a concern of yours looking long-term, a possible solution would be to opt for bin pulls as opposed to bar pulls or knobs.  Bin pulls are also becoming more popular as of late because you are less likely to catch your clothing on them as you walk by.  I know it would drive me crazy if my pockets constantly yanked me back because they were catching on a drawer year in and year out.
However, if you still prefer bar pulls to bin pulls, there are other solutions to prevent catching your clothing.  Perhaps you could choose an arched bar pull instead of a square bar pull.  Or, you could orient the pull vertically as opposed to horizontally.  One last idea would be to mismatch your hardware as discussed earlier.  Using bar pulls on your upper cabinets and bin pulls on your lower cabinets would allow you to incorporate your favorite design while reducing the chances of children climbing and clothes catching.