12 May

Top Kitchen Design Trends for 2017

Kitchen designs fall into many categories: Traditional, Modern, Rustic, etc.  In 2017, there are new trends that can often be seen across all styles.  Kitchens are becoming more and more open, multi-functional spaces.  To meet that end, we've come up with a few specific ideas that you might want to consider in your kitchen!

Cabinetry

Keep your cabinets simple – nice straight-line, flat panel doors.  One neat way to spice up your cabinetry without losing subtlety is to include a short, 15-18in, cabinet above your normal shelves, have a glass panel door, and then light the inside so that you can place decorative pieces up there as a sort of showcase.  This stacking concept makes your kitchen appear taller and also maintains the straight-line simplicity better than staggering cabinets would.

As far as colors go, we are seeing a shift toward navy blue and other dark stains.  If you recall from our blog "Most Popular Countertop Styles and Colors", we discussed that neutral colors were trending up.  So you'll notice the opposite is this case now with your cabinets and islands.  The reason being that the 2-tone contrast between these features really makes your kitchen pop!

The interior of your cabinets is where we're seeing a bigger change in trends.  In the custom lines, the most popular style is a corner drawer unit as opposed the formerly common Lazy Susan.  The corner drawer unit is a 90-degree, pull out unit that provides a more optimal use of your space.  You might also see this design with pull out waste disposal units.  Another neat interior trend is the use of pegboards in order to stand up your dishes instead of stacking them.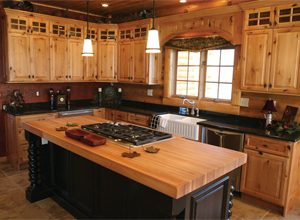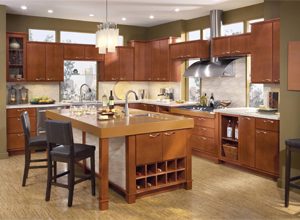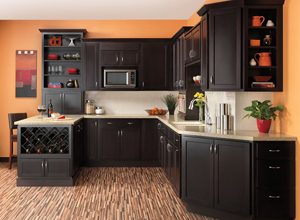 Islands
Like we said before, kitchen areas are opening up.  People want the space to be multi-functional and accompanying for larger groups.  That frequently leads to walls being taken down before the kitchen and dining areas, which leaves room for an island.
The biggest trends for islands, besides including them in your layout, are to have one continuous surface and to extend the ledge outward from the cupboards.  Having one continuous surface allows for greater work, eating, and meal preparation space.  You could be chopping up vegetables while your kids do their homework on the extended ledge!  And, if you're going to be cutting fruits and vegetables at your island, it's useful to have an additional, smaller sink built in.  You'll still have your beautiful farmhouse sink behind you against the wall, but a smaller unit on the island will help with rinsing produce and wiping down the area.
A Great Investment
Keep these in mind as you plan for your building or remodeling project. Kitchen upgrades can have a great impact on the overall feel of your entertaining area. They're a great way to improve the value of your home as well as your overall satisfaction.