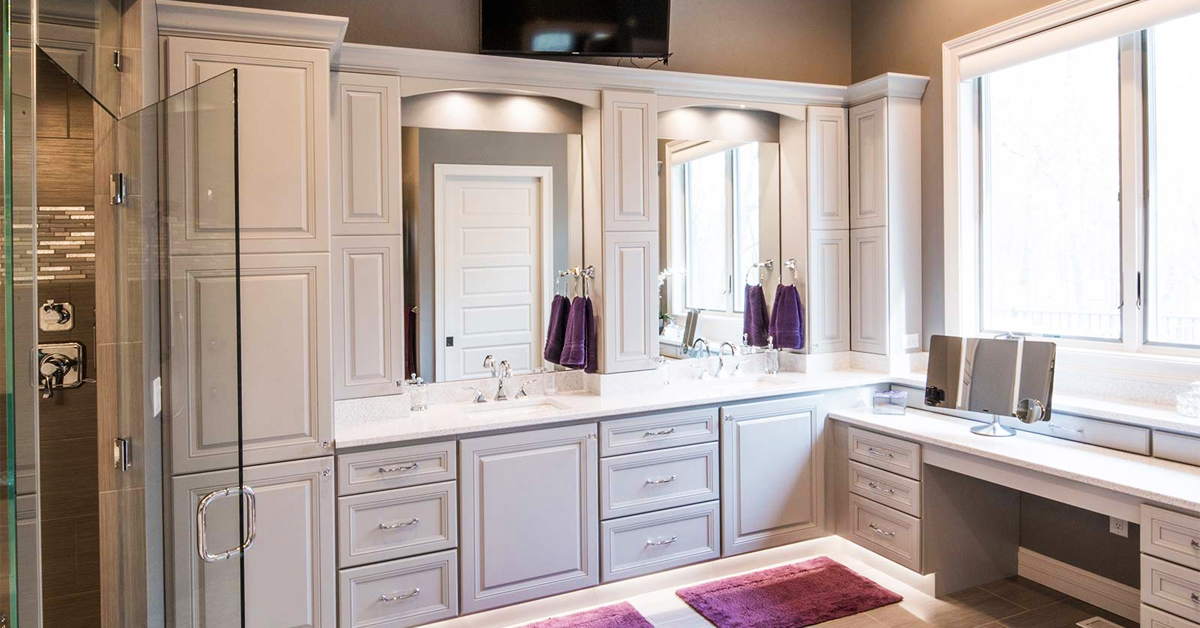 28 Nov

The Ultimate Bathroom Renovation Checklist

A bathroom renovation can be a bit of an inconvenience but the end result is totally worth it. Whether you plan a powder room do-over to reflect your personal panache, an inviting guest bathroom with all the comforts of home, or a soothing master bath that mimics the finest spa, you're sure to be delighted with your bathroom renovation. After all, it is one of the most popular rooms in your home!

When planning your bathroom renovation you can keep the stress at bay by mapping out your project down to the last detail. Begin with a clear vision of your end result, and meet with a designer who can help turn your bathroom renovation dream into reality. For your part, it's wise to consider those details that tend to slip through the cracks so they don't pop up later and stress you out.
Tips For The Ultimate Bathroom Renovation
Functionality
Think about the bathroom you're renovating. Is it a powder room or half bath for the convenience of visitors? Is it mostly a spare bathroom for overnight guests? Is it used primarily for your children? Maybe you're crafting your own en-suite that provides an efficient way to get ready to go, as well as a place for you to unwind and escape the day.
For a bathroom with multiple users (you and your spouse, for instance) you'll likely want a double vanity with two sinks. A children's bathroom will probably need a bathtub/shower combination for more general use. Your overnight guests may enjoy a larger vanity so they can spread out their toiletries. For your powder room you'll probably want some under-the-sink storage for items such as toilet tissue.
Vanity
Your vanity is one area of your bathroom renovation on which you do not want to skimp. Beyond their basic function, and useful storage space, you vanity sets the tone for the bathroom decor. Consider a vanity part fixture, part furniture, and 100% statement piece. Seek the best quality vanity you can afford. Additional cabinets are another consideration for a full bathroom. 
Of course the size of your bathroom is a big determinant for your vanity. Smaller bathrooms are a challenge when it comes to storage, so choosing a vanity with drawers and under-sink storage space is a good idea. You may be tempted to opt for a simple wall mounted, or pedestal sink in a powder room, but you will need to add additional storage. There are many options of cabinetry vanities which will suit smaller spaces.
For your master bathroom renovation you can and should pull out all the stops. Consider a custom vanity with a countertop that complements your decor and your lifestyle. There are any number of color combinations for your countertops and cabinetry.
Lighting
Of all the rooms in your home, your bathroom is one that demands plenty of lighting. Recessed lighting fixtures, tucked into your ceiling, help maintain clean and classic lines. A light or two in the shower area is always a good idea. Vanity lighting is important for putting on makeup and shaving. Avoid fluorescent lights, though, as they can be unflattering.
Toilet and Placement
For a larger bathroom renovation you may want to think about a toilet room separate from your bathing and vanity area. This will allow for both functionality and privacy. Your toilet can be either a traditional style, or a wall hung toilet. Many homeowners today are opting for a toilet with bidet, for comfort and to lessen their carbon footprint.
Shower or Shower Tub Combo
Trendy freestanding bathtubs are en vogue right now, however you need to consider your lifestyle before installing such a dramatic statement piece. Do you like to luxuriate in your bath? Freestanding bathtubs aren't as insulated as traditional tubs, which means the water will chill quickly. Cleaning around and behind your freestanding tub is necessary, and getting in and out of the bath can be somewhat risky for petite individuals and older folks. 
Large showers with multiple shower heads, waterfall heads or rain shower heads are very popular. Luxurious showers have replaced the garden tubs of a few decades ago as a priority among home buyers. Other comforts to create a luxury shower are heated floors, a shower window, and deep shower sills to accommodate toiletries.
If your bathroom renovation has limited space but requires a bathtub, consider the traditional shower/tub combo. That doesn't necessarily require the boring prefab combo. You can find many styles available, or consider a custom tub/shower combo.
Additional Accouterments
The delight is in the details when it comes to a bathroom renovation. Include plenty of outlets for hair care and other grooming appliances. Make sure to have storage so that towels are within reach, as well as easy-reach hooks for bathrobes. Make sure your HVAC ductwork is sufficient to keep bathers warm on those frigid Midwest mornings, and you might even consider lighted, no-fog mirrors for your vanity.
Bathroom Renovation Points to Consider
There are a few factors that ring true in every bathroom renovation, no matter the size. Make sure you have a solid design plan so that you and your contractor are on the same page. Plan your budget, but anticipate that unforeseen issues often arise that can stress your budget. Keep in mind that you'll rarely regret building in extra storage space. Finally, go with the building supply experts you can trust with your bathroom renovation.