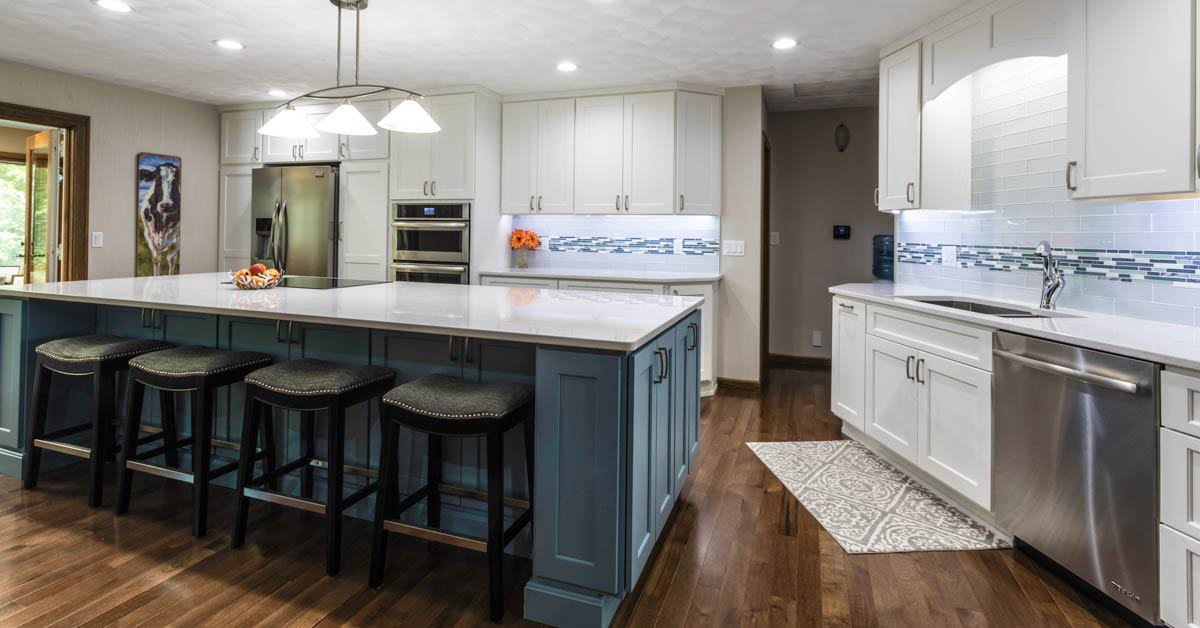 29 Jun

10 Design Trends to Look For in 2023

There are design trends that come and design trends that go but the latest trend predictions for 2023 and beyond point to elements that will be well worth the investment. We've put together our list of the 10 trends in home design elements that we predict are the new classics. 
10 Top Home Design Trends for 2023
If there was a word to sum up the top favorite styles and looks for the coming year it would definitely be nature. Natural elements are woven into todays preferred design by way of natural stone, mixed metals, rustic wood and, to show it all off, statement lighting. Here are the most popular design trends for 2023.
1. Bring the Outdoors In, Naturally
Biophilic is a term you're sure to hear plenty from now on. It means bringing nature into your indoor space. Use natural surfaces like stone and wood and utilize greenery in design. Plants are a popular way and there are plenty of ways to use plants as art. And plants clean your indoor air. Today's biophilic design trend is natural, healthy and fun!
2. Love Your Mother (Earth)
Playing off the natural and green theme Quad Cities homeowners today are embracing sustainable design. Earth-friendly design elements that also promote energy efficiency are among the top design trends in 2023. Smart home technologies, energy saving appliances and sustainable materials like bamboo are a great way to make a difference in your carbon footprint.
3. Repurposed and Sustainable Design Trends
Natural and organic materials for furniture, flooring, and design create a warm, easygoing and unique vibe in your home. Consider using reclaimed wood for doors, bamboo flooring, jute rugs and rattan furniture. Shop earnestly for décor that comes from ethical sources. Support small, local businesses.
4. How Smart is Your Home?
The above-mentioned smart home technology is only getting more popular and more savvy. You can use your voice or an app on your mobile device  to control various aspects of your home such as your HVAC system, lighting inside your home as well as the exterior, your security system and cameras and your entertainment systems. 
5. Live Simply
The minimalist aesthetic is the big design trend these days. Gone is the overdone country style or even farmhouse clutter. You don't need a statement wall with various items displayed in random order. Less truly is more. One beautiful piece of pottery on the mantle, a few simply framed and special-to-you pictures on the wall is really all you need. Not only is the simple way the more authentic way, it evokes a feeling of calm for you and your guests.
6. Warm and Earthy
The palette going forward is a war, earthy blend of calming colors and easygoing comfort. Think colors found in nature; azure bees, sage and olive greens, terra cotta, soft beige or muted gold tones look very much on trend whether on your walls or in your furniture and décor, comfort tones are in.
7. Get Personal
Gone are the days of copying décor straight from a magazine, catalog or TV show. The design trend for 2023 is anything that echoes your personal style. Handcrafted furniture from a nearby artisan, unique pieces you've found in your travels, custom artwork or one-of-a-kind heirlooms are all part of keeping it personal. Your home aesthetic should be unique and a tangible version of your story.
8. Multifunctional Spaces
One thing the recent pandemic taught us all is we need our space to serve many functions. An open concept is a great way to move from one room to the next seamlessly but where do you go when you need some separation from the activities in the kitchen, family room, dining space? You can still maintain an open floor plan when you want by installing sliding walls or use other rooms in the house for your down time. Multifunctional design, in a room or its furnishings, means it serves more than one purpose. Maybe your family play room can serve as a homework spot or digital classroom.
9. Make a Statement with Your Walls and Ceilings
Textured finishes, wallpaper and custom paneling help make a statement on your walls as you know. All of these design trends remain popular though the fundamentals of color and design may change from year to year. One new trend is the statement ceiling. Such surprising and bold ideas like painting your walls and texturizing or wallpapering your ceiling are becoming more popular among homeowners. Using millwork to create a design on your walls is among the top design trends these days but how about using millwork on your ceiling. Or accentuate your natural vibe and incorporate a rough-hewn beam on your ceiling. One word of caution; make sure you have ceilings that can handle your design elements. Especially in the case of wallpaper or millwork. Vaulted ceilings and 10 foot or above keep you and your guests from feeling a little overwhelmed or claustrophobic. 
10. The Functional Home Office
Remote work from home and flexible office schedules create a need for a designated office space. You want a room that's both functional and aesthetically pleasing (think zoom calls!).
To that end it's best to keep it simple but make sure there's ample storage space, ergonomic furniture, excellent lighting and a window to the outside for your own mental wellbeing. And your home office must support your technology.
The Design Trends Professionals
Whatever your style and whatever aesthetic you wish to convey in your home count on Seiffert Building Supplies. For home improvement, renovation, remodel and updating Seiffert Building Supplies has been the Quad Cities go-to for more than a century. We understand our neighbors and we look forward to helping you find the ideal design trend for your home. Contact Seiffert Building Supplies today.