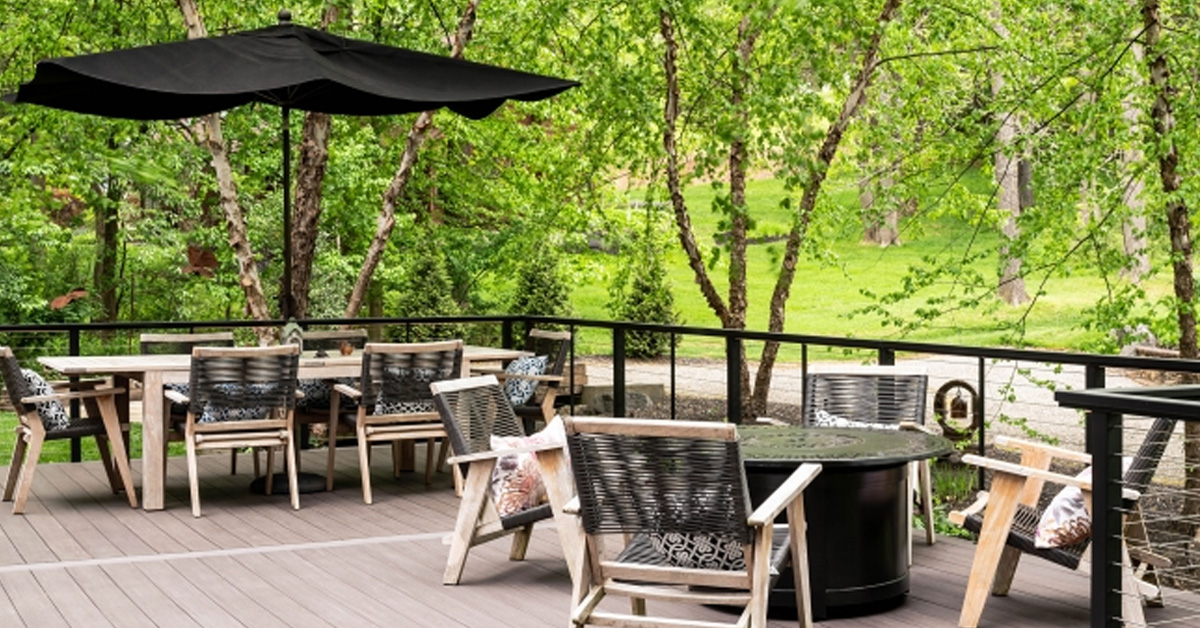 28 Apr

5 Trending Deck Materials

Posted at 10:00h

in

Decks

Let's face it, after months of cold Quad City weather we're all eager to get outside. Adding a deck to your home lets you spend as much time dining, playing and just relaxing when the warmer weather arrives. Of course your deck is an extension of your home and the deck materials you choose can make a big difference in your enjoyment.
Decking to Suit Your Life
No matter the trend, your lifestyle plays a big role in choosing the right deck materials for your outdoor entertainment area. But no matter how busy you are a durable, low-maintenance and good-looking deck is everyone's goal. The key deck materials for a hassle-free and lovely deck that you can enjoy season after season are the composite deck materials. From boards to railings and posts composite deck materials are a very worthwhile investment. 
That's not to say you should rule out other deck materials. Pressure treated lumber, redwood, cedar and other hardwoods are also great options. Although slightly more demanding maintenance-wise the exotic imported tropical hardwoods make a bold statement. For those who have the budget to support it, aluminum decking is durable and virtually maintenance-free. Just like home design of any kind there are trends in deck materials. Staying on trend isn't just a style statement, it offers a resale value too.
5 Trending Deck Materials
The platform of your deck isn't the only area where decking matters. Consider the posts and railings as well. Here we take a look at the five top trending deck materials homeowners in the Quad City area and across the country are using.
Bamboo Decking
Bamboo is closing in on hardwoods as well as redwood and cedar as a very popular option in deck design. What's driving this interesting trend? Bamboo is renewable and among the most earth-friendly deck materials available. Lightweight bamboo is an excellent choice for low platform decks. It won't rot or warp so it can maintain contact with the ground. Bamboo looks good but it requires some dedication to keep it that way. There is a fair amount of maintenance involved in having a bamboo deck that looks good and lasts.
Pressure Treated Lumber
Pressure treated (PT) lumber still trends as number one among deck materials today. It's affordable and fairly durable, easy to come by and can be stained virtually any color you like. Pressure treated wood is made from southern pine that's been chemically treated to resist wood-boring bugs, rot and fungus that would degrade and weaken the wood. 
That's not to say it's impenetrable. PT lumber tends to swell, warp, crack and shrink when exposed to the elements. The lifespan of PT lumber is actually nit that long. In fact it isn't uncommon for the boards to need replaced after just a few seasons. It also requires more maintenance than the other options. In order to extend the life of your PT deck  you need to pressure wash, stain and apply wood preservative regularly-usually every 2-3 years.
Redwood and Cedar
Next in trending deck materials? Redwood and cedar. These two woods are prized for their unrefined beauty and rich color. They are also naturally rot-resistant, won't decay and insects won't destroy either of these natural woods so there's no need for chemical treatment. That is, as long as you are sure to obtain heartwood from the center of the tree and not sapwood which is closer to the exterior. 
Maintenance is necessary. You'll need to pressure wash the wood every year and apply a water repelling wood preservative every three years. The wood n naturally ages to a silver hue and should you want to stain either of these deck materials you'll need stain for redwood and cedar.
Composite Deck Materials
Composite decking is gaining rapidly on he other popular deck materials sold today. This type of decking is manufactured using recycled plastic and wood dust or scraps that's molded into long, dense boards. That makes composite decking fairly earth friendly. Composite decking is ideal for this region as it is highly weather resistant. Composite deck materials are easy to maintain, and never splinter, cup or warp. There's no sanding, no staining and a quick mop every once in awhile is all you need.
The look of composite decking can easily fool all but the most trained eye into thinking its natural wood. Balusters, handrails and fascia boards all come in composite materials to match your decking. Slightly more of an investment than PT lumber, when installed properly composite decks easily last 30 years or more. A wise investment indeed.
Cable Railing
Among the popular trends in deck materials is cable railing. Cable railing offers sleek and unobtrusive components that keep your view in focus and air circulating freely, all in a modern minimalist design. Cable railing is fairly easy to install, resistant to mother nature's worst and virtually maintenance-free. Your cable railing will last for years.
Let Us Help You With Your Deck-Building Needs
If you're planning a deck addition your source for inspiration in design and deck materials is Seiffert Building Supplies. With over 130 years experience of helping our Quad City neighbors with their building needs we've got you covered. For more on how you can use the top trending deck materials to create your favorite space contact Seiffert Building Supplies today.