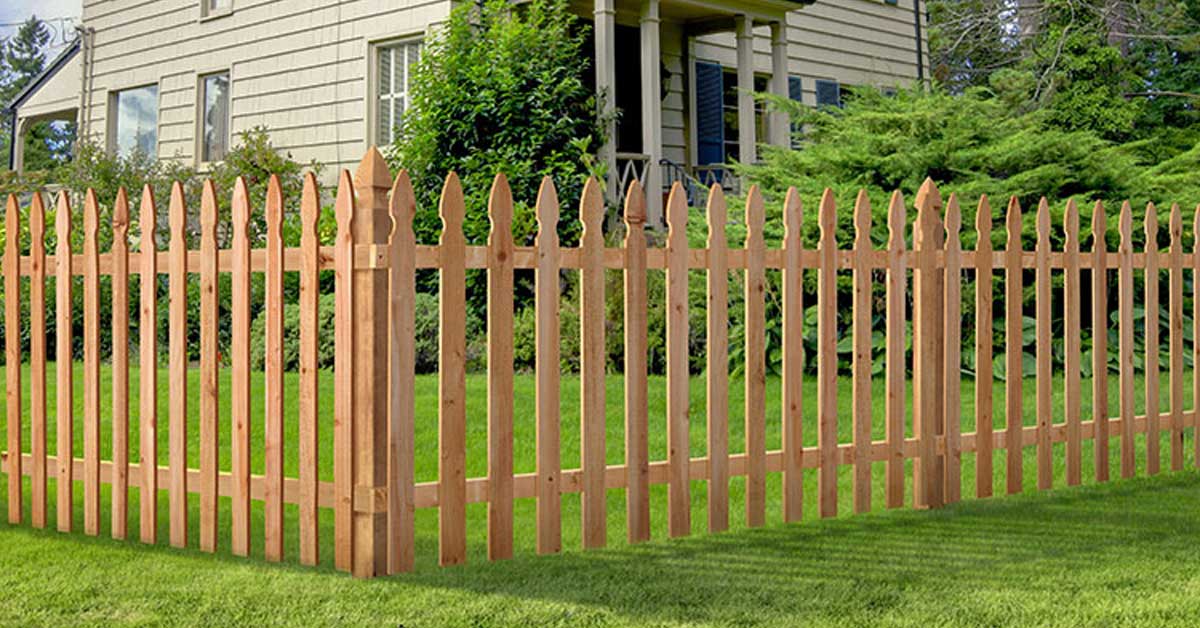 27 Jul

5 Types of Wood Fence Perfect for Your Backyard

A fence is a perfect addition to any home. Surround your backyard space with a wood garden fence for privacy, aesthetics and that extra-added measure of security and your investment will pay off in peace of mind and resale value. Here we look at the five types of wood perfect for your new wood backyard fence.
Find The Right Wood Fence Material For Your Backyard
When choosing the type of wood for their backyard fence many Quad Cities homeowners let aesthetics be their guide. And, while a good-looking fence is a primary concern it isn't the only thing. Before you decide on the wood that's perfect for your backyard fence you need to consider other factors. Maintenance, durability, function and, not least of all, budget all play a role in your decision.  Here is a breakdown of the top five materials for your new wood backyard fence and how they stack up.
1. Cedar
Cedar is a type of softwood that's quite aromatic. It comes in two varieties, red and white, and each have their own attributes. The red is eye-catching while the white is both less conspicuous and less aromatic. The oils in cedar emit an acidic quality which is a big turn-off to insects. 
Cedar is in it for the long-haul with an average lifespan of 30 years. Cedar requires very little maintenance and maintains it's appearance throughout it's lifespan. 
The downside of cedar? It can discolor, over time, to a silvery grey which some homeowners may not care for. If you decide to paint cedar it may take several coats as it is a softwood and, as such, very porous. 
Using cedar wood for your new backyard fence is a good choice. It's priced in the midrange but with the cedar's low maintenance and long lifespan it pays for itself in no time. For fence wood, cedar used to be a favorite of the southern states like Florida and Texas as it repels termites and other pests but there's been a surge of interest in cedar in the midwest of late.
2. Pine Wood Fence
Pine is another softwood that might just be perfect for your backyard fence. It works with many different styles of wood fence including picket or stockade. Pine has a natural stiffness which makes it highly durable and more resistant to shocks and blows from weather, among other things. However pine is easily scratched and can be dented by an errant pitch when the kids are playing a game of baseball in your backyard.
Pine is easy to maintain. A single coat of stain or paint and some sealant and your fence will look brand new. The lifespan of pine is about half that of cedar but the cost is also much less than with a cedar wood fence.
3. Oak
Oak hardwood is a much hardier option than softer woods. It's available in a huge variety of natural colors from beige and brown to a reddish hue, due to the many different species of oak. Another aesthetically appealing quality of oak is the natural grain which is more pronounced than other woods. 
As you might imagine, oak is quite durable and long-lasting, under the proper conditions. In areas of high humidity, rainfall and snow oak must be treated in order for it to be as weatherproof as necessary. If not the oak wood fence boards may warp. Oak also lacks the insect-repellant nature of cedar, but it can last more than 20 years with the proper maintenance. 
4. Redwood
Even though redwood is among the higher end wood fence materials it is also among the most popular. It's sturdy and heavy and lasts nearly as long as cedar. The higher grades of redwood bear a deep red color that ups the curb appeal and value of your home immediately. 
Redwood is insect repellent as well as rot resistant, although your wood fence may require some treatment to help weather any inclement weather. With a tight grain pattern redwood truly makes for a great backyard privacy fence. This highly-prized wood fence material is easy to clean with a simple house wash, which is about all the maintenance it will need. Avoid using any chemicals on your redwood fencing as that may alter the beautiful color.
5. Cypress Wood Fence
With nearly the same properties as redwood-rot-resistant and highly durable with a long lifespan-cypress is an excellent choice for your backyard fence. Cypress also carries extreme pest-repelling properties. However the rough hewn nature of the fence boards that's characteristic of cypress most people either love it or simply don't care for it. And the rich and somewhat acidic aroma of this wood may irritate the sinuses in sensitive people.
Naturally lovely cypress wood typically starts out as a yellowish color then deepens to a honey gold as it ages to grey. You may recognize cypress as the type of trees popular in the deep southern bayous. This only serves to make cypress a highly water repellent wood that doesn't twist or warp when we experience any unusually rainy weather. 
Cypress is very low-maintenance and lasts about 30 years. For all of it's amazing properties cypress is priced slightly above pine, which makes it an affordable option as well.
All You Need for Your Dream Backyard
Whatever wood you prefer count on Seiffert Building Supplies as your go to source for all things wood fence. We have a large selection of fence wood as well as railing and deck and patio supplies to make your backyard dreams come true. Contact Seiffert Building Supplies today.