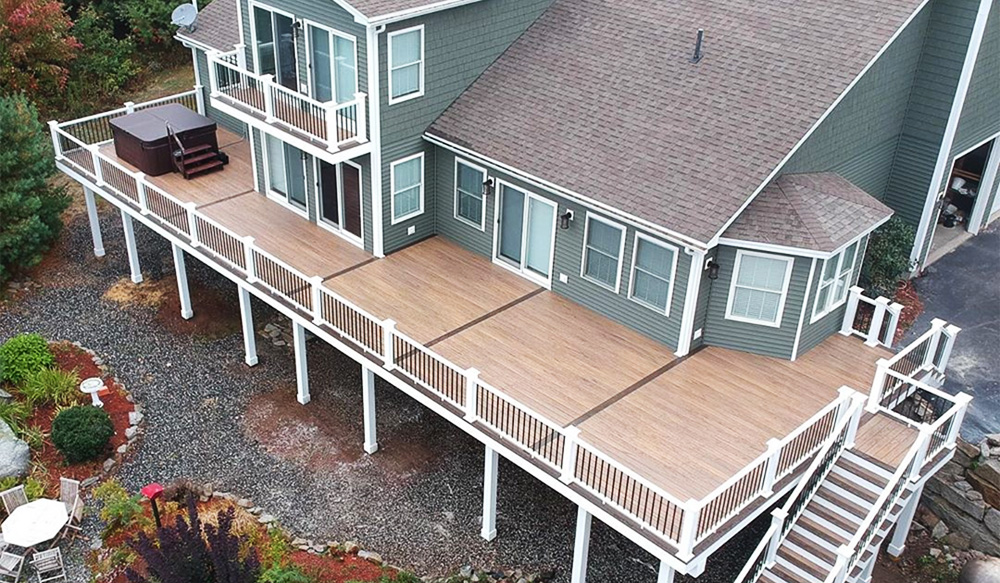 09 Jan

8 Steps to Building An Amazing Outdoor Deck

Posted at 10:00h

in

Decks

Building an amazing outdoor deck will add so much to your home both in resale value and enjoyment for you and your family. Whether a simple DIY design, or something a bit more extravagant, your outdoor deck opens up a whole new area ideal for entertaining friends, or simply relaxing after a busy day. 

While the prospect of adding a deck to your home may be somewhat daunting, its not impossible. With some thorough planning and the trusted professionals here at Seiffert, you can have that amazing outdoor deck to use and enjoy for years to come. 
12 Steps to Follow When Building Your Outdoor Deck
Building a basic outdoor space begins with planning. The following steps are the basics of building an amazing outdoor deck. Leave no stone, or board, un-turned and you'll have an outdoor deck you can be proud of.
Determine Placement

 

Your deck should be at the site of your door from home to outside, for easiest accessibility. Landscaping that's already in place will also help you determine deck placement. Finally, consider your view. You don't want to be looking out on the neighbor's house, or a less-than-lovely view.
Decide on Your Personal Preferences, Wants, and Needs

  

How do you see you and your family enjoying your outdoor deck? Will you be hosting get-togethers with family and friends? You may want built-in benches to extend the seating. Do you have, or anticipate, very small children? You should think about installing gates to prevent falls. Do all you need to in order to make your deck your own. You can also get a rough idea of pricing using this handy decking cost estimator.
Consider Traffic and Stair Placement

Depending on the elevation of your deck, you may need stairs. Your stairs will be the point at which your friends and family enter your deck from your yard. Where do you see the grill, or main conversation area? Steer your deck stairs away from these areas as you don't want constant interruptions, or traffic near a hot grill.
Apply for Permit

Make sure you have all that red-tape figured out. Check with your municipal building department and county agency, as well as your home owners association, if you have one. Usually all that's required to apply for a permit is your information as homeowner and possibly a sketch with dimensions of your deck placement.
Check Your Soil

If you have a clay soil foundation you'll need to take steps to allow for expanding and contracting of the soil with the weather. When no allowances are made for this quality unique to clay soil, the results may be a deck that falls apart within a few years. Making allowances involves creating an area around the base concrete piers to allow for friction and prevent movement of the structure. Check with our project support team for more information. It may be to your advantage to consider professional drilling if the soil is especially hard.
Choose Your Materials

The materials you use to construct your outdoor deck will make a difference in both your time, and the lifespan of your deck. In our area of the country the elements can be rough on your decking materials. Consider using composite decking for this reason. The initial investment will pay off over the years as minimal maintenance is required to keep your composite deck looking its best. And this durable material will last a lifetime. For a deck with a view, consider cable railing. This unique in-fill railing won't obstruct your lovely view.
Size Matters

A standard rule-of-thumb dictates your deck should be no larger than 20 percent of your home's square footage. In other words, a home that's 2000 square feet should not have a deck larger than 400 square feet. This rule is typically followed so the deck size doesn't overwhelm the home; It's the old "Don't build a front porch bigger than your house" adage come to life. However, if your lifestyle requires a larger outdoor deck for your enjoyment, consider different levels, or adding some angles and curves that blend with your home's architecture. Landscaping is another way to incorporate your deck without having it appear to overwhelm the home.
Consult With A Design Specialist

  

Before you begin, consult with a professional design expert. They can help you determine the best design for your outdoor deck so you can gain the most benefit from it. The professionals at Seiffert Building Supplies can help you know what to anticipate, whether it's a job you want to take on yourself, or if you need to hire someone to build your outdoor deck. 
More Ways to Make Your Outdoor Deck Amazing
Once you've made that stunning outdoor deck a part of your home, it's time to decorate. The right touches will dazzle your guests and ensure you and your family get every ounce of relaxation and enjoyment out of your amazing outdoor deck. Much like decorating a room inside your home, the furniture and accessories you select for your outdoor deck will set the right tone, and reflect your personal style.