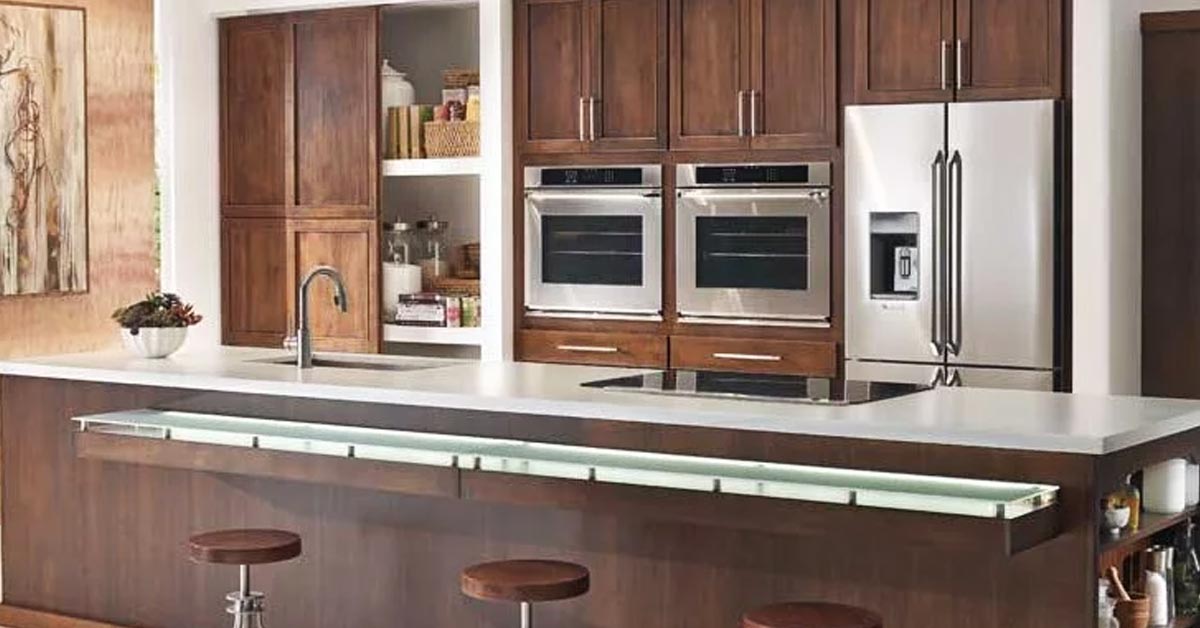 11 May

8 Types of Wood Perfect for Kitchen Cabinetry

Stained or natural wood cabinets standout and look beautiful addition in any kitchen. Wood is the classic choice for kitchen cabinets and remains the most popular over the many wood alternative options. There are many different types of wood perfect for kitchen cabinetry, each with its own aesthetic and structural benefits. 

While wood is a lovely and functional choice for your kitchen cabinetry a lot goes into determining which wood is the best for your personal taste and budget. Not all woods are created equal. Were we offer our top wood recommendations for your kitchen cabinetry. 
8 Ideal Types of Wood for Kitchen Cabinetry
Kitchen cabinets are more than just a storage space. No matter the current trend or style you have in mind wood is a classic and a constant in the world of kitchen cabinets. While color schemes and style go in and out of fashion choosing natural or stained wood is always in fashion. Whatever wood you choose be aware untreated and unfinished wood can warp very easily, especially if your home tends toward humid. Make sure you discuss your choices and concerns with our design and wood specialists before you make your final selection.
Kitchens are and always will be a primary space in your home. As such you want your kitchen to be as aesthetically pleasing as it is efficient and functional. Here we offer a primer on the different kitchen cabinetry wood materials. 
1. White Oak Kitchen Cabinetry
White oak cabinets are durable, strong and exceedingly lovely. The subtle grain and golden tones of white oak make it an ideal option for arts and crafts style homes as well as mid-century modern and most everything in between. White oak is a timeless wood for your kitchen cabinetry. This durable wood holds up well in even the busiest kitchens. Although this choice of wood is a classic that doesn't go out of style, it is easily refinished when you want to update your kitchen down the road. 
2. Red Oak
While not quite as durable as white oak, red oak is still a mighty strong selection for your cabinets. This wild features the most pronounced grain patterns if the oaks and is a standout for traditional kitchen spaces. As trends come and go many Quad Cities homeowners return to their ever-classic and timeless choices: oak.
3. Maple Cabinets
Maple cabinets are typically fashioned with hard maple. Hard maple is a light colored, fine-grain wood and most homeowners go with a clear or natural coat to preserve the beauty of the wood. Maple cabinetry is at home in a traditional setting or a contemporary kitchen. The light color of the wood is truly lovely and, though not as dense as oak, maple is considered a stronger wood holds up well even in the under busiest of kitchens. 
4. Hickory Cabinets
Hickory is considered a higher-end option than oak or maple. It's beautiful warm tones lend a homey, rustic quality to your kitchen cabinetry. Along with hickory's durability it is also one of the most moisture resistant selections in cabinet wood materials. Hickory, when naturally finished with a clear coat, reveals beautiful blond tones and a uniform grain pattern. Hickory isn't as popular as maple or oak however that only adds to its unique appeal for your one-of-a-kind kitchen renovation. 
5. Cherry
Strong cherry retains its strength and beauty for years. Gorgeous cherry is one of the most elegant choices for wood kitchen cabinetry and often used in high-end traditional kitchens. However, under the right circumstances, cherry ups the appeal of a kitchen that has a contemporary personality. Smooth and fine grained cherry bears a red to reddish brown color and can be stained for all-over uniformity. 
6. Birch Wood
Fine-grained birch is a durable wood, slightly darker in color than maple. Properly finished the less-expensive birch is difficult to distinguish from the more expensive cherry or maple. Because birch is known for having irregularities in color its recommended that it be stained when used for cabinets. 
7. Ash
Ash wood is lighter in color than even white oak but has oak's strength and durability. Straight grained ash bears a more pronounced lumber look. When clear coat finished ash is the ideal wood kitchen cabinetry to use in your contemporary home, whether modern farmhouse or mid-century vibe. 
8. Pine Wooed Cabinets
Pine is the least durable and softest of the popular cabinet woods. It's pale yellow coloring and natural knotty grain give pine the right amount of character for a farmhouse or traditional country kitchen. Pine can be stained to suit your kitchen style as well. It's often the most affordable option for wood kitchen cabinetry.
Your Hometown Kitchen Cabinetry Experts
At Seiffert Building Supplies we have a wide variety of custom and semi-custom cabinets in a full range of wood options. Come see our selection and let our design professionals help you find the right kitchen cabinetry to suit your taste, style, and budget. Contact Seiffert Building Supplies today.