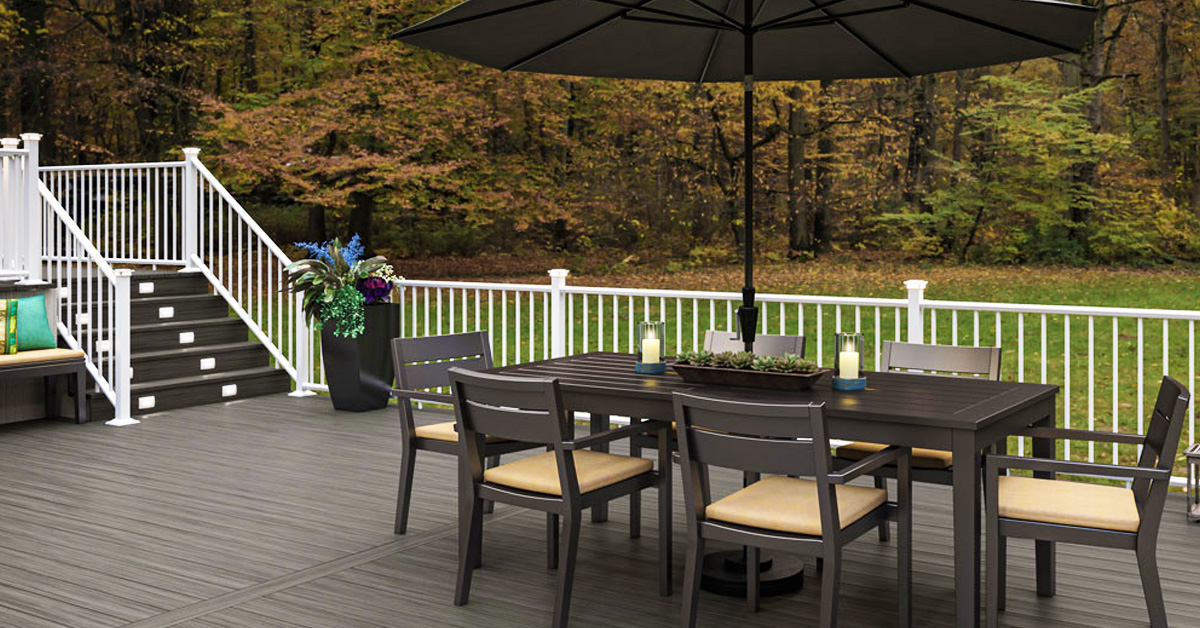 30 Apr

Add Value To Your Old Deck With These Tips

Posted at 10:00h

in

Decks

An unmaintained old deck can really be an eyesore. Every day wear and tear, combined with the degradation to wood decking and rails caused by our intense Iowa weather, takes a toll on the appearance, and safety of your outdoor entertaining area. And, really, it can happen over just a few years' time.

Pressure-treated wood is the most popular material for decks. And why not? It's very budget friendly, sturdy, and looks great. Unfortunately, the biggest drawback to a having a wood deck is the maintenance required to make it look good, and last a long time. 

Other types of wood decking materials, such as redwood, or cedar, also require a good amount of regular maintenance as well. Although composite decks require very minimal upkeep, they, too, can appear lackluster over time. Here are some ideas to add value, and spruce up the appearance of your tired deck.
Ways to Make Your Old Deck More Inviting
If your present outdoor living space is less than inviting you may be tempted to rip it out and start over. But, not so quick! Whether you're getting your old deck ready for a new season of family fun, or you'd like to spruce up your outside entertainment area to help add value when you put your home on the market, there are plenty of things you can do.
Make the Obvious Repairs
Inspect the boards for rot, especially after a lot of rain or snow. In the springtime snow can melt and refreeze, causing ice dams. The ice dams degrade the wood and threaten the structure of your deck. Replace any boards that show obvious wood rot.
Make an inspection of the deck-to-house connection, checking for loose bolts, and damage. Make sure your railing is sturdy enough to provide support, replacing any damaged boards or posts. If your present railing is in pretty rough shape, consider investing in a new sturdy and state-of-the-art cable rail.
Clean and Stain Regularly
If you haven't ever cleaned and re-stained your deck you'll be amazed by the results. Mildew, stains, and even that tired, grey appearance slowly detract from what was once a source of pride. With an investment of some time, a few supplies, and plenty of elbow grease, you can turn your dull deck back into one of your favorite places.
Replace All Deck Boards
Should your deck really be showing its age by way of extensive wood rot and degradation, it might be time to consider replacing the decking. Now may be a great time to invest in composite decking. This sturdy, long-lasting material requires very little maintenance, beyond sweeping and sporadic cleaning with a mild detergent. 
If you prefer to stay with wood, you can replace your rotted, or worn deck boards with new boards and recapture the beauty and luster of your family's favorite gathering space. Seiffert Building Supplies can provide building and project support as you need it. 
Accessorize!
Once you spruce up your old deck and add value to your outdoor entertaining area, consider some add-ons to provide some panache. Solar lighting, or subtle security lighting will give your deck a nice evening glow. Decorative post caps add style as well as a nice finished appearance. Drink rails and bar tops are another popular trend for your outdoor entertaining area.
Pergolas add value to your outdoor space, and, for the experienced woodworker, is a fairly easy DIY project. Adding a pergola to even just a portion of the deck, is often just the right type of accent to make a tired and lackluster deck look brand new.
If it's been awhile, consider replacing your deck table and chairs, and update with a colorful umbrella. Once your deck is looking like new, old, outdated deck furniture will stand out like a sore thumb! Add some built-in planters or fun patio pots and fill them with a lively collection of plants and flowers. An outdoor area rug makes a nice touch to your new-and-improved deck.
You May Need to Replace Your Deck
There's no doubt an inviting outdoor living area adds value to your home. Regular maintenance and care will help slow down any degradation, but depending on how long your deck has been around, it may require some more extensive repairs. Before you clean and stain a worn and weathered deck be sure to do a thorough inspection. For more information on replacing and repairing your deck, or railing, contact us today.