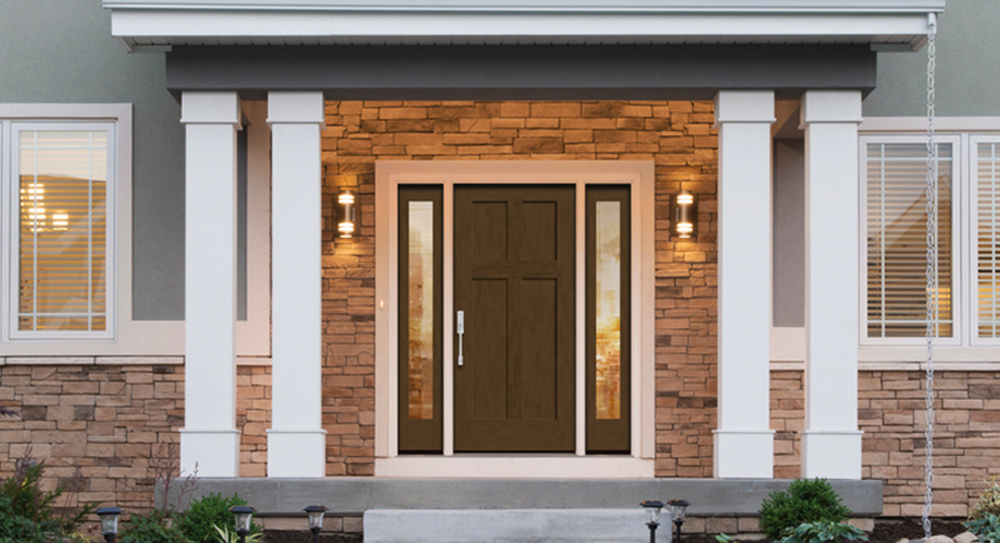 13 May

Change Your Home's Entire Look with New Doors

Whether you're planning to sell your home or just looking for a change, nothing boosts curb appeal as instantly as new doors. You can take a home from tired to trendy, low-brow to upscale and just about any direction you choose simply by updating your front exterior door.

And a new front door doesn't just change the look of your home, it ups your security and helps conserve energy. Sure you could just go ahead and repaint your old door but if your home's doors are more than a decade old the better option is to replace with something brand-new. Here are our tips to help you select the right doors that will change your home's entire look.
7 Tips for Selecting Your New Door
Selecting new doors for your Quad Cities home doesn't have to be frustrating. Here we breakdown all you need to know to make your most informed decision when replacing an old door.
Material:

Entry doors are most commonly available in three types of material; fiberglass, steel and wood. Todays doors are typically a combo of these materials and have a solid core. All material used in door construction is made with the homeowners security in mind. Almost all materials can be painted and are available with enhanced security options.

Hanging Design:

The most common hanging design is the three-hinge method. More and more homeowners opt for the modern hanging design which sets the hidden hinges on a pivot, allowing for a wider range of opening. For greater security, opt to have the hinges on the interior of your home.

Energy Efficiency:

Any new door will generally boost your energy efficiency. To get the most bang for your heating and cooling buck, make sure the design gives you the best seal with the door frame and closes securely with the threshold. You shouldn't see a strip of daylight anywhere around your doorframe. Beyond the seal modern doors are generally constructed in a sandwich fashion. These include a variety of materials layered for maximum security and insulation. Look to the R-value when choosing your door to understand its energy efficiency.

Security:

No matter the material or R-value of your new entry doors they all provide an equal measure of security. To improve the security of your exterior door, consider the type of locking system and door jambs. Deadbolts that are at least one inch in length with reinforced metal strike plates offer optimum security. If your new doors have windows, make sure the glass is both bullet and sledgehammer-proof. Ultra-secure locking systems may include keyless entry via smartphone, transponder entry, keypad or RFID entry.

Swing Direction:

Most entry doors are designed to open to the interior of your home. If you would prefer a door that opens out you'll need to make a special request.

Color:

Natural varnished wood, black or white finishes are traditional. However, the trend is toward brightly colored, high-gloss entry doors. When choosing a color for your new front entry door take into account the weather and climate around the Quad Cities. Also consider the amount of sun exposure your door will be subject to. Bright colors and darker may fade and require more maintenance than traditional selections.

DIY or Pro-Installation:

A modern exterior door generally comes as a kit with the door pre-hung for easier installation. Hinges may be pre-installed and bolts and deadlocks pre-bored. It is doable for those more experienced DIY aficionados. If you want to make certain your doors are installed properly, it's a good idea to work with a professional installer. Your door is an investment in security, energy efficiency and curb appeal.
Dynamic New Doors Aren't Just For Your Exterior
Your interior could probably use an update in the way of new, fresh-looking doors. And the good news is replacing an interior closet, bedroom or bathroom door is much more DIY-friendly than entry doors on your homes exterior.
The trend for interior doors has long been white with metal hardware in various finishes. This is still the popular option but natural wood tone doors are also desirable for some homeowners. Whichever style suits your fancy Seiffert Building Supplies is here to help. We offer plenty of options for interior and exterior doors. You can choose refinished or unpainted and finish them your way.
Seiffert Building Supplies also provides expert help, whether project planning or coaching you through your task. For new interior and exterior doors, windows, and all your project and building supply needs contact the experts at Seiffert Building Supplies.