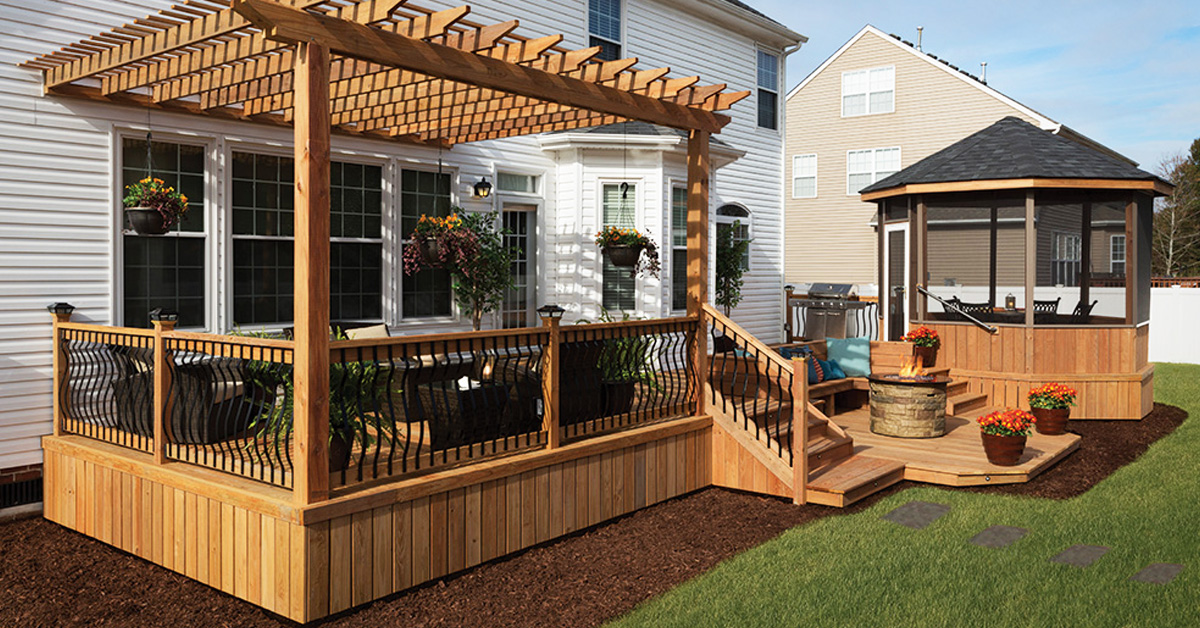 11 Jun

Deck Repair and Maintenance Tips

With the warmer days ahead, and many Quad Cities residents spending lots of days at home, it's time for annual deck repair and maintenance. Now that you can get outside and enjoy your days and evenings al fresco you'll need to make sure your deck is inviting as well as safe.

For family time, and for entertaining, your outdoor deck offers the ideal venue. Barbecues, picnics, or just relaxing with your preferred beverage, in your favorite warm weather living space, are some great ways to appreciate the warm weather days and balmy evenings. Ensuring your deck repair and maintenance is in check means you can do so without worry.
Deck Repair and Maintenance Checklist
Whether your deck is constructed from natural wood, or a low-maintenance composite decking material, it makes sense to do your deck repair and maintenance before the season begins. Here were offer some helpful tips, and a checklist to get you started.
Check the Structure of Your Deck
This is a very important step for homeowners with either wood or composite decks. Weather and wear can take a toll on all natural wood and composite decks will have some natural wood components. Look for signs of damage, splintering, rot, and mildew. Be sure to check for nails that have popped and are protruding. Examine screws, check joist hangars, posts, post connections, and especially the railing. Make sure nothing wobbles or feels weak.
Look for Wood Rot
Rotting wood can present itself in a few different ways and it's not always evident to the untrained eye. Of course it can be obvious as in gouging, splintering, bowing, and soft spots, after the rot has progressed, but there are some early signs of wood rot you should watch for in your inspection. Make sure you pay close attention to areas in which the wood is discolored. Look also for weak connections and loose areas. 
Replace Wood That Shows Signs of Rot
If you see any suspicious looking areas you need to replace the wood immediately. Wood rot is the result of moisture seeping into the fibers and causing mold, mildew, and fungus to spread. As they invade your wood, they also threaten the integrity of the surrounding wood. The only course of action to prevent wood rot from destroying your deck is to replace any boards that appear questionable. 
Don't be lulled into a false sense that your rot-resistant wood, such as redwood and cedar, are impervious to rot. You will need to inspect even the rot-resistant woods as they are wood products and, though less likely, can also succumb to wood rot. When it comes to rot, deck repair and maintenance extends to all wood products.
Examine for Signs of Mildew
In addition to rot, mildew and mold can build up on the surface of your wood deck. Catching it and treating it before any damage is done will make your deck repair and maintenance much easier. While bleach is often the go-to for treating mold and mildew, wood cleaner is the preferred product for deck repair and maintenance. The caustic nature of bleach can break down the fibers in your wood, as well as corrode the metal components and alter the color of your wood.
Clean Your Deck
Spring cleaning isn't just for the interior of your home, but is also a great way to spruce up that deck for the coming season. If the idea of cleaning and staining your deck is overwhelming, you can hire someone, however it's really an uncomplicated DIY project. For most decks it's an afternoon project.
Remove Old and Degraded Deck Stain
After your thorough inspection, and deck repair and maintenance, it's time to take a look at how your deck stain weathered the winter abuse. If your deck stain appears degraded, is flaking, or peeling, it's time for a refresh. You'll need to begin by stripping the old stain before applying the new product. Again, this is a fairly easy DIY project and will not only improve the appearance of your outdoor deck, but will also protect the wood and extend the life of your favorite space.
Consider Upgrading Your Deck
It looks like this summer will find many of us planning a staycation. If you tend to spend a good deal of time enjoying your deck it might benefit you and your family to upgrade. This might be as simple as new pottery and beautiful deck plants, or you could go big and add an awning, built in benches, lighting, or other deck accessories. 
Another way to turn a weary deck into a snazzy outdoor entertainment space is by replacing your old railing with modern, easy care, and beautiful deck railing. For decks with a view, cable railing is a splendid to show off your scenery. Low maintenance composite can be used to upgrade bowed, splintered, or rotted railing.
If deck repair and maintenance prove too much, if wood rot has taken over, or you just want to improve your deck, composite decking material is a sound investment. This will ensure your future deck repair and maintenance is minimal, and your deck will last for decades. Talk with one of our project support experts for more information.