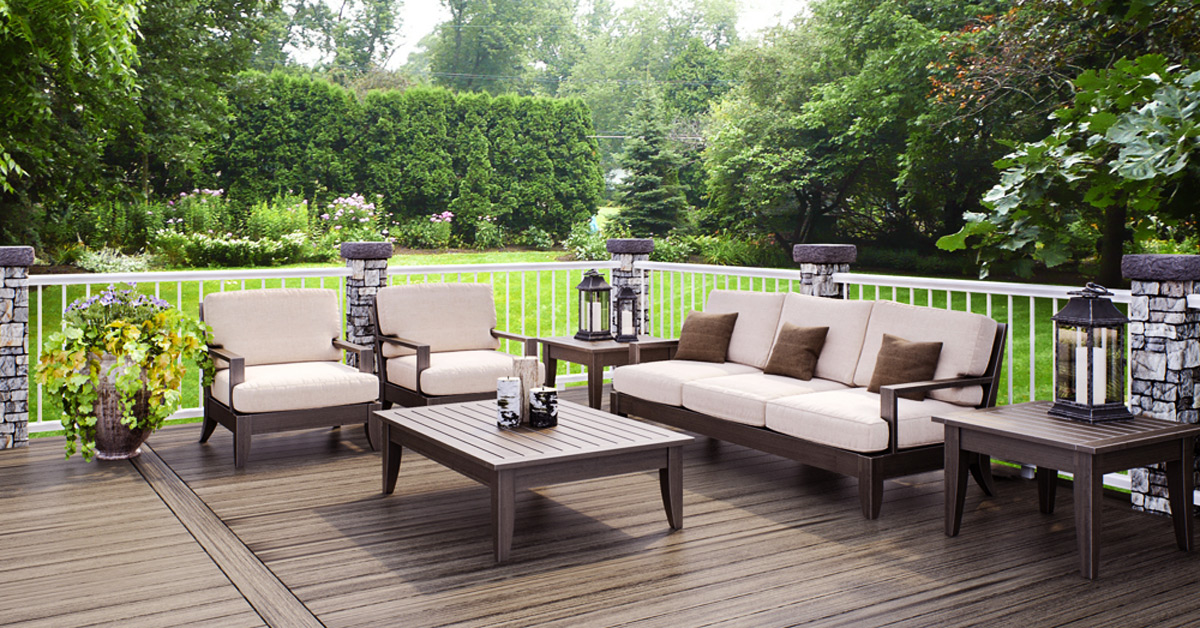 12 Dec

Comparing Various Decking Materials

Adding a deck to your home, or updating an existing deck, can add significant resale value and give you and your family a terrific way to spend more time enjoying the outdoors. When you use the right decking materials the return on investment for your deck is improved. Obviously cost is a major consideration, however given the winters in our area of the country, the cheaper options are not necessarily cost-effective in the long term.
Comparing Top Decking Materials
Selecting the right decking materials depends on many factors. Budget concerns are at the top of the list, to be sure. Depending on the decking materials you use, time spent maintaining your outdoor space can become a concern. Durability, sustainability, and appearance are also some of factors you should consider. Here we take a look at the most popular decking materials to help you choose the right one for your family's outdoor space.
Treated Wood Decking
Treated wood, or pressure treated lumber, remains the most popular material for outdoor decks. In fact it's used on nearly two thirds of all decks in the US. Treated wood remains popular for a several reasons.
Treated wood is very affordable. It's the least expensive decking option.
Treated wood is easy to acquire. Just about any lumber yard will carry it.
Treated wood is easy to use in your building projects.
This type of chemically treated wood is resistant to rot, fungus, and wood-boring insects, making it a very good product for your outdoor deck. 
There is a downside to using treated wood for your decking material. The wood tends to split, crack, or warp over time, depending on the severity of the elements to which it is exposed. This material also requires regular maintenance in order to prevent degradation and extend the life, and appearance of your deck. Pressure washing to clean your deck is required when you use treated wood, and you will need to stain your deck, or use a brush-on wood preservative product every two to three years.
Cedar Decking
For many homeowners, the only choice is cedar. That's because cedar does naturally what the chemically treated wood does by way of resisting rot, degradation, decay and insect damage. For those purists who want to avoid exposure to chemicals, working with cedar decking materials prove a fine choice. Cedar is rich in color, and depending on the quality of your cedar decking materials, keeps that lush look for years to come.
Unfortunately maintaining your cedar deck is a bit labor intensive. Yearly power washing is required with this natural wood product, and a coat of finish every few years prevents fading. Left unstained, your cedar will weather quickly, depending on exposure to the elements, changing to a faded silver-grey color. Untreated cedar decking materials are also prone to developing fine splits and may cause splinters. Using cedar for your deck will cost about three times as much as treated wood. In order to ensure durability and long life, you need to pay particular attention to the quality, making sure to select heartwood cedar.
Composite Decking
By far the fastest growing type of decking materials are the composites. Composed primarily of recycled plastics and wood fiber, not only is this material durable and essentially maintenance free, it is also considered more environmentally friendly. 
Composite decks never need sanding, staining, or refinishing, and come clean with soap and water. Composite decking materials rarely require pressure washing.  Depending on environmental influences such as weather, shade, and humidity, however, it's possible for mildew to appear.
Your low-maintenance, lower carbon footprint decking materials don't come cheap. This type of deck product is the most expensive of the three.  Considering this durable decking product is made to last a lifetime, and requires minimal investment in upkeep, it's no wonder composite decking is gaining in popularity.
Designing and Building Your Deck
There you have it, the top three materials for building your deck. Of course, your choice is a personal one, depending on the aforementioned factors- budget, maintenance, durability, sustainability, and appearance, but this comparison of various decking materials should help in your decision. Don't forget railings and additional components that also need to be considered. We carry multiple lines of decking materials to choose from. We also offer some of the top brands for railings and accessories. If you're not sure what you want, our project and design staff can help you in your selection.