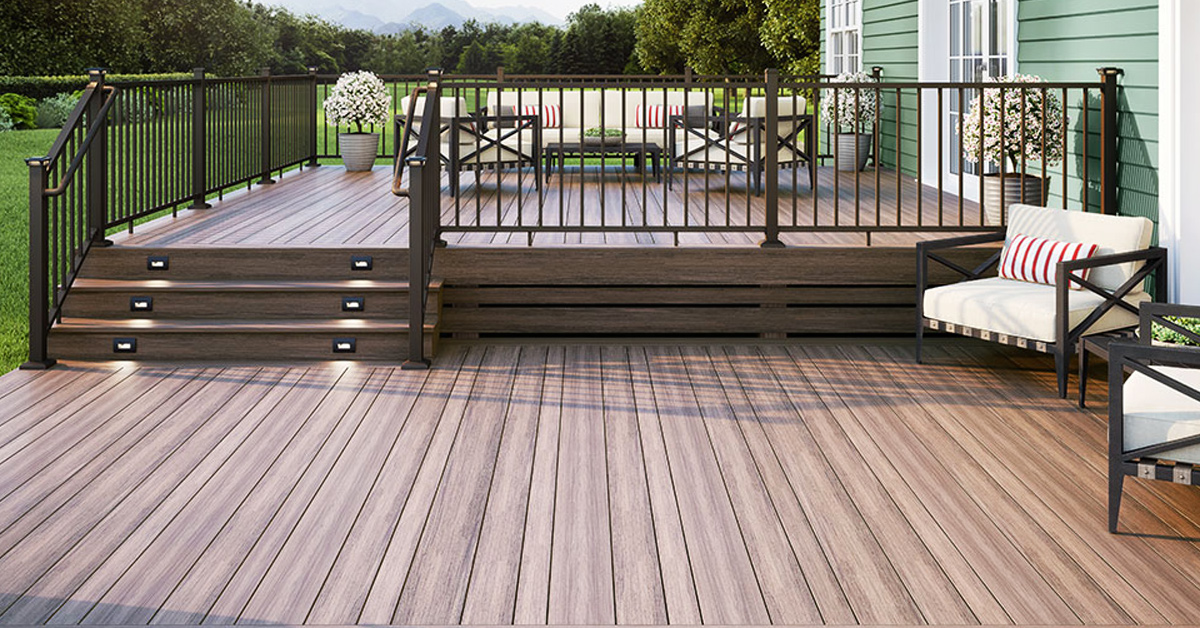 14 May

Different Quality Levels of Composite Decking

Composite decking has changed the way residents of the Quad Cities spend their free time relaxing at home. Maintenance free composite deck materials make it possible to enjoy your outdoor living space without concern for the upkeep of traditional wood decking. While all composite decking is virtually low-to-no-maintenance, there are quality levels of this innovative decking you need to understand before you make an investment in your new deck.

The benefits of a new, worry-free deck, and the different quality levels of composite decking, will add value to your house, to be sure. Additionally, your investment in this state-of-the-art material will add years of enjoyment, without the hassles of repairing and replacing warped, degraded, or splintered boards, staining and weatherproofing treatments, and basic deck maintenance that robs you of precious leisure time. And your composite deck won't attract termites, or other wood-invaders.
Quality Levels of Composite Decking
While there is no doubt composite materials will last long enough to justify the financial investment, it can be confusing to compare the quality levels of composite decking. These deck components are manufactured using several different methods. 
The most popular uses 80% recycled plastic and 20% wood fibers, typically made for scrap wood, making any of the quality levels of composite decking very earth friendly. The most durable composite deck material is a 100% PVC, which is considered top-of-the-line. Here are the four quality levels of composite decking and a breakdown of their differences.
Capped Polymer
This top shelf product is made of 100% PVC, with no wood fibers at all. It will withstand incredible punishment-harsh winters, baking sun, torrential rain and hail-and maintain it's beauty. This product is completely stain resistant and will keep its color for life. 
The boards are "capped", or wrapped in a layer of texturized coating, providing protection as well as the look and feel of real wood. This additional layer of protection is actually bonded to the core of the board for durability.
4-sided Capped Composite
This premium product is also extremely durable and long-lasting. When you choose 4-sided composite boards you'll find they are the same on the bottom as the top, meaning you'll have far less waste when constructing your deck.
Because the capping, or bonding, encompasses all 4 sides of the board this product is an excellent choice for upper level decks. The finished appearance beneath the deck has a superior aesthetic quality over unfinished. 
4-sided capped composite boards are completely stain-resistant, moisture resistant, and do a fair job of maintaining the color. While not quite as durable as capped polymer, this quality level of composite decking is structurally and aesthetically highly durable, meaning it will last for decades.
3-sided Capped Composite
3-sided capped boards are, just as the name implies, only bonded with that extra layer of polymer protection on 3 sides. This leaves the underside more vulnerable to the elements. Although far less vulnerable than cedar or pressure-treated wood boards, because of the addition of plastic, this type of material is still highly durable and low-maintenance. It will keep it's appearance much longer, and with far less care, than traditional pressure-treated wood, or cedar.
The 3-sided capped boards are not as stain-resistant, fade-resistant, or impervious to moisture as the higher quality level products. But, this product is a little more budget-friendly.
Specialty Composite with Protective Shield
This specialty composite decking is extremely affordable and offers many of the benefits of the higher-end products. True composite with a mix of repurposed wood fiber and recycled plastics, the boards are coated with a protective shield to help guard against mold, mildew, and moisture. 
As with all quality levels of composite decking, this product is virtually maintenance-free. There's no need to treat or stain your deck with specialty composite with protective shield.
Additional Considerations
In addition to the cosmetic and overall durability differences, the warranties extended for different quality levels of composite decking may have some bearing on your choice. Obviously, the higher end, higher quality product will come with a more impressive warranty, however you can expect all quality levels of composite decking to maintain their look and structure for a decade or more. 
Here to Help
Because the materials used to produce all quality levels of composite decking are as strong as they are good-looking, you are assured decades of long lasting beauty and durability. Whichever composite product you select for your outdoor living space, you can rely on Seiffert to be your source for all of your decking needs. Our project support team is available to answer any questions you may have, and help you determine the right quality level of composite decking for your outdoor lifestyle.