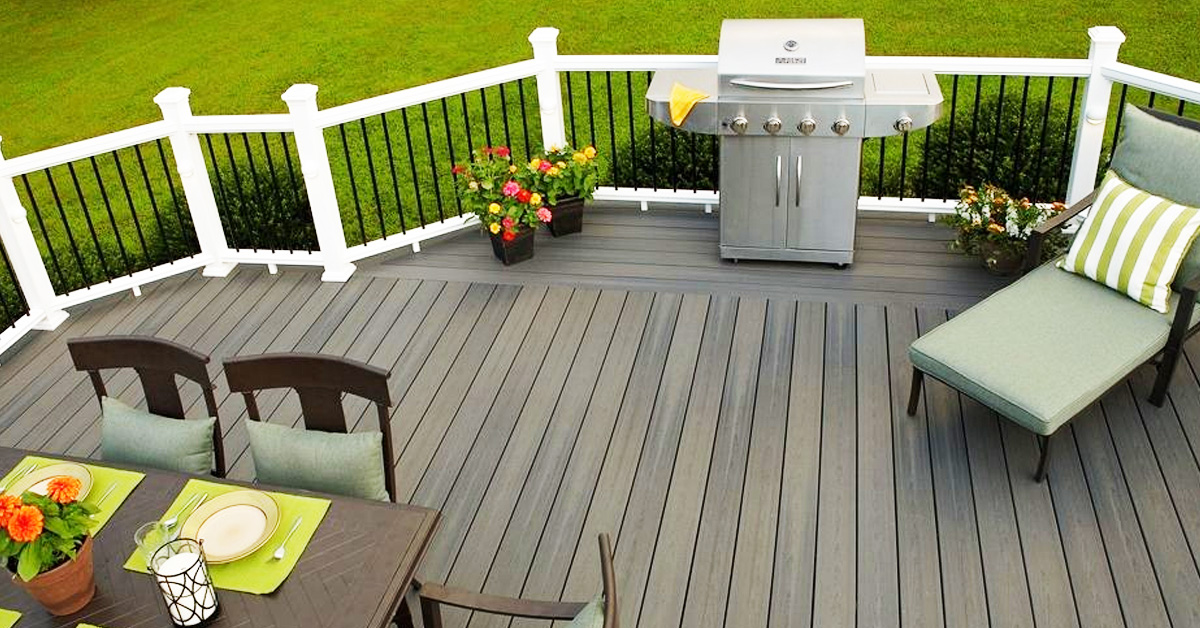 10 Jun

Eco-Friendly Deck Materials to Consider for Your Next Project

Eco-friendly deck materials are a popular trend right now, especially in the Quad Cities area. Concern for the Earth is a good thing and ensuring your home is as "green" as possible is the responsible thing to do. If you're adding on an outdoor deck or replacing or expanding your current deck why not opt for the most eco-friendly products?

Iowans love to get out in nature, especially in the warmer months. Gathering in your favorite outdoor space for barbecues, al fresco dining or simply kicking back with your favorite beverage is the perfect way to enjoy a balmy summer evening. But, depending on the construction of your deck your enjoyment could take a toll on the environment and could pose a threat to those who use it.
Common Wood Deck Materials
For decades, builders and homeowners constructed their decks out of lumber. Specifically, the hardier woods like cedar or redwood, but more often the builders use readily available and less expensive pressure treated wood. All of these types of lumber prove to be strong enough but require a certain amount of maintenance. In addition to painting, sealing and seasonal cleaning homeowners find themselves replacing boards fairly often. Boards, weakened from rot or warping, pose a threat to the stability of your deck and safety of your guests.
Strong wood products such as teak, mahogany and ipe are sturdy, durable and fairly impervious to the weather, but can be pricey and not at all earth friendly. In fact, some of these types of wood are not at all sustainable and ipe, in particular, must be from managed forests approved by the Forestry Stewardship Council. 
Eco-Friendly With So Many Benefits
Enter an affordable, durable eco-friendly deck material: composite wood. Many homeowners prefer this type of deck material for a variety reasons. It's generally low-maintenance, splinter free and has a very long life. Best of all composite eco-friendly deck materials don't contribute to deforestation and utilize recycled wood fiber and plastic resins.
In order for a product to be eco-friendly, it needs to promote sustainability. The lifespan, from origin to disposal, is a major consideration in sustainability. So those products that last sometimes more than 30 years are considered eco-friendly indeed. The average composite deck lasts that long. Wood lasts 15-20 years with proper maintenance. 
This environmentally superior product lasts so long because it withstands all kinds of weather and other stressors. Eco-friendly composite decking also keeps it's appearance for life. It's impossible to stain, doesn't succumb to mildew, mold and won't weaken under harsh winter ice and snow. Other than the occasional sweeping and mopping, there is no maintenance. That means no use of environmentally unfriendly fossil fuel based sealants and stains.
In the U.S. and across the globe plastic trash poses an environmental crisis. Wood waste from mills and old pallets is piling up. This product takes these materials, otherwise intended for landfills, and repurposes them in an amazing way. Eco-friendly deck materials should absolutely be part of your next project. 
Environmentally sound, long-lasting, comfortable on bare feet and maintenance-free are all benefits of this amazing deck material. But what about the aesthetic? These high-quality wood composite products are so remarkable similar in appearance to the real thing it's nearly impossible to tell a difference. They come in an array of styles and colors to complement your design. 
Posts and Railings Are Eco-Friendly Deck Materials Too
Composite planks and PVC decking materials transform your posts and railing as well. Make your support barrier as eco-friendly as your deck structure when you use this decking system. Want a seamless, uninterrupted view that's safe and a friend to the earth? Check out our cable railing. We have everything you need to create a sustainable, beautiful and zero-maintenance backyard oasis. 
Earth Friendly Materials and Professional Support
When it comes to making your home look spectacular and taking care of our environment you can trust Seiffert Building Supplies for all of your decking needs. We offer a full line of decking and railing options and anything else you may need to build your eco-friendly deck. Our professionals can answer any questions you may have, help with your design and provide project support. Contact Seiffert Building Supply and start enjoying your favorite space-the great outdoors!