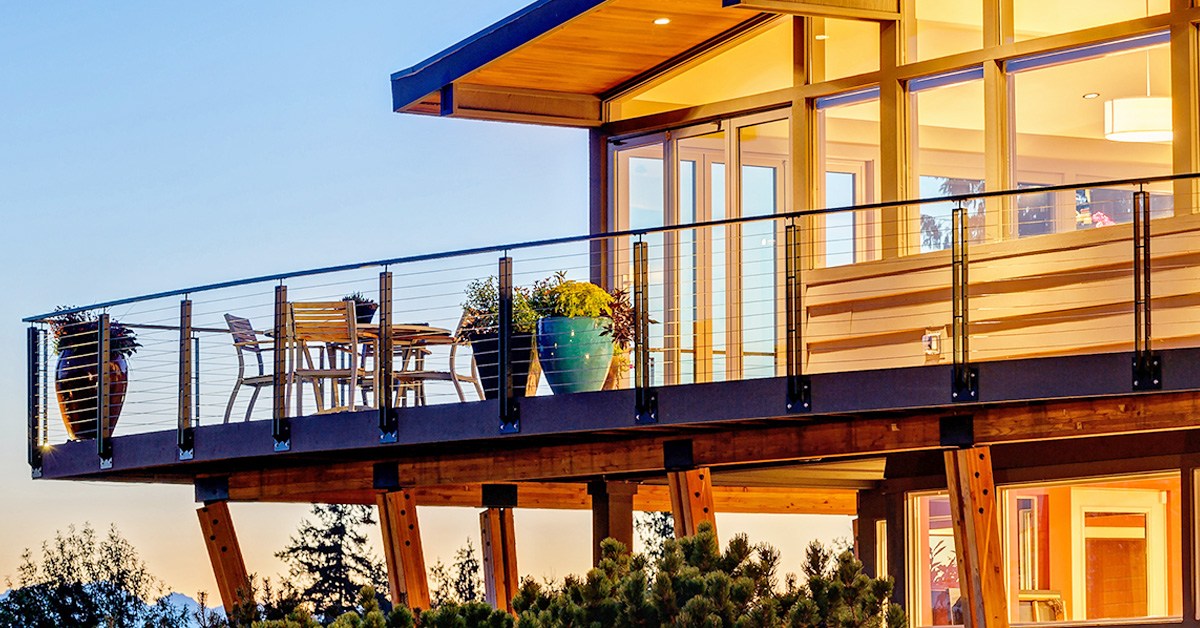 27 May

Everything You Need to Know About Cable Railing

Cable Railing is gaining in popularity with homeowners all across the Quad Cities. This functional, safe and low-maintenance railing adds a sleek and modern vibe to your exterior deck or terrace. The best thing about this product? It doesn't interrupt your view.

Whether you live among scenic grandeur or a simple suburban backyard an uninterrupted view feels much more serene. Thick, obstructing picket railings don't jest prevent you from seeing the world from your vantage point, they make your deck feel closed-off and tend to pen in smaller deck, making them, well, smaller.

Sleek cable railing around your deck blends almost seamlessly with the surroundings. And the minimalist design of this material goes with virtually every style of home. Install cable barriers around your deck and see for yourself the amazing ambience it provides.
What Exactly Is Cable Railing?
Cable railing, simply put, is a deck barrier system in which picket railings and balusters are replaced by stainless steel cabling. Your cable railing can be installed vertically between the top and bottom rails, as traditional picket design, or horizontally through the posts. When installed horizontally the posts must be fitted for the cable. The cables will require tightening, for safety, and typically the fittings in the posts accommodate this. 
Some homeowners tend to shy away from this versatile product assuming it will look too industrial or commercial for their home. While many commercial buildings appreciate the versatility, strength and security cable rails provide, today's residential cable railing has an aesthetic appeal as well. And what homeowner doesn't desire versatility, strength and security for their home?
4 Benefits of Cable Railing
We've already discussed stainless steel railing's ability to accommodate any home design and the fact that this amazing option offers an uninterrupted view of your surroundings. Here are four more reasons for you to consider installing cable railing on your deck or terrace. 
Unmatched Strength: Because this outstanding product is made with high strength stainless steel its resistant to virtually all types of weather conditions. Rain. Snow, ice, wind and even intense heat will not deteriorate this product. That's why maritime operations trust stainless steel railings. As long as your cable rails are installed properly and maintained they will last a lifetime.

 
Low Maintenance: For homeowners who value their free time this product offers the best solution. Cable railing requires the least maintenance of any rail material. The tensioning devices fitted into the posts mean your rails are always secure and provide the safety barrier families require. Your cables are easy to clean and require zero staining or painting, unlike wood or wrought iron pickets. For the homeowner who would rather enjoy their deck than spend weekends maintaining it cable railing offers the best solution.
Dynamic Design: Looking for the wow effect your home deserves? Look no further. Cable rails are sleek and modern and absolutely complement the latest in home trends. But the minimalist style of this product provides a simple, understated elegance no matter your home design. You can mix materials by incorporating wood posts or a decorative wood wrap for a less austere appeal. There are many different ways for you to enjoy and incorporate these railings.

 
A Worthy Investment: Finally, cable railing is an investment in your home that will only add curb appeal. The sleek, seamless design of this product is an impressive addition to your exterior space. Even if putting your home on the market is the furthest thing from your mind right now the day may come when you do decide to sell your home. Any potential buyer will never need to question the integrity of your decking system. It's obvious they build cable railing for the long run.
A Trusted Professional
At Seiffert Building Supplies we offer cable railing systems in precut sizes as well as custom. We offer our  cable railing and complete deck systems with Quad Cities homeowners in mind. These durable deck barrier materials are as strong as they are stunning. They send up to anything Mother Nature throws their way. 
 For more information on cable railing, project support or suggestions for your next project contact Seiffert Building Supplies. We provide everything you need to make your home a place of comfort and style.