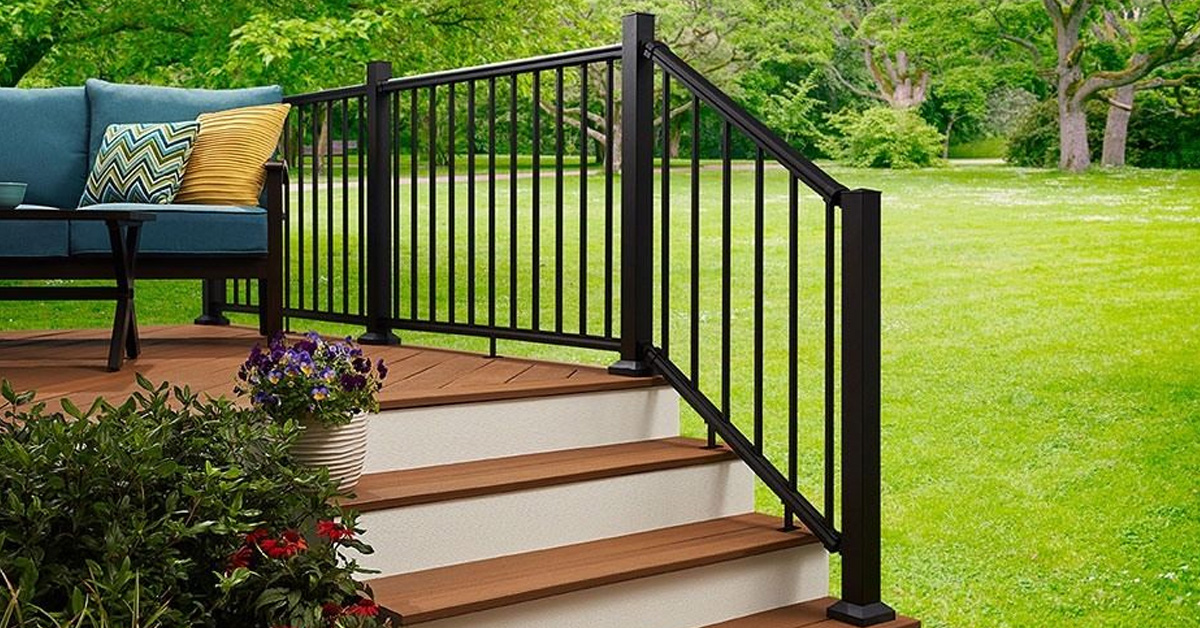 02 Apr

How to Choose the Right Deck Railing

Posted at 10:00h

in

Decks

When you choose the right deck railing for your home, it's essential that you take certain factors into consideration. Your deck railing is, perhaps, the most visible part of your deck. The aesthetic quality of your deck railing is very important, but so is the safety of your family and friends. Many municipalities have strict codes in place regulating deck railing for the purpose of safety.

Structure is another point to consider when you're choosing the right deck railing. Your deck must be sturdy enough to be safe, of the correct height, and protect stairways, landings, and all levels, in accordance with your local code. Before you get started on your DIY next project here are some tips to help you choose the right deck railing.
Height Matters
The height of your deck railing is dependent on your local building codes. Generally the range for deck rail height is 36 to 42 inches. This proves to be a "sweet spot" height for both safety and aesthetic quality. 
You'll also want to keep in mind balusters and posts may interrupt your view, if you are fortunate enough to have one. If you opt for the popular "cocktail railing" with the top rail serving as a bar top for your guests to set their drinks, or plates, this will also factor into the equation when choosing the right deck railing height.
Choose the Right Deck Railing Material
There's plenty to consider when selecting the material for your deck rail. You want to utilize materials that are sturdy and durable, those that can endure some of the Quad Cities' most volatile weather, and freezing temperatures, railing that is complementary to the rest of your deck, and materials that look pleasing.
Wood
Wood is always a popular choice for deck materials. It's affordable, easy to work with, and readily available. However, the maintenance required to keep wood looking good, and remaining sturdy enough to be safe, is substantial. Cracks and divots can cause water to penetrate the wood, freezing temperatures can result in ice dams, and the wood deteriorates before the next deck season.
Composite
Composite deck railing requires minimum maintenance, typically just cleaning, and is available in a wide range of colors and sizes to complement your style. Composite deck railing is splinter free, sturdy, and durable. It will withstand just about anything mother nature throws at it and bounce back beautiful, like new, when porch season returns.
Aluminum
Pre-assembled, aluminum panel rail systems have become very popular with their sleek design profiles combined with strength and durability. They typically come in a wide variety of colors and styles and, being powder coated aluminum, are very low maintenance. They're also very easy to install and come with lots of accessory options.
Cable
More and more homeowners are choosing cable rail for their deck railing. It's on trend and highly appreciated for a variety of reasons. Cable rail is maintenance free and lasts for decades. Cable rails are strong, corrosion resistant, and stand up to all kinds of weather. Cable railing is made up of posts, handrails, and wire designed to create an unobstructed view. This makes cable rail the right deck railing choice for those homeowners who want to show off their yards' appeal. 
More Than Just Deck Railing
Keep in mind that the right deck railing includes more that just the rails. Understanding what goes into securing and mounting your deck's protective and stylish railing helps you to plan your next project as thoroughly as possible.
Rails
Rails are the horizontal component of the deck railing system. Your rails are in place to secure the balusters, or spindles. Typically you will have one at the top and one at the bottom, between each pair of posts.
Balusters
The spindles that create the barrier between the top railing and the foot rail, or floor of your deck.
Posts
Your posts offer the main support for keeping your railing in place. For maximum support you'll want your posts no further apart than 72 inches on center. They can be as simple-looking or as ornate as your like, and are further embellished by post caps and molding.
Caps and Moldings
These pieces are purely decorative and used to give your deck railing a finished appearance. The cap fits at the top of the post, and the base molding fits at the bottom. These components are a good way to hide the rough, or raw, edges of your posts while providing a bit of style.
Consult an Expert Before Your Next Project
For more information on planning your next project and choosing the right deck railing for your home's aesthetic and safety, contact the project professionals at Seiffert Building Supplies. We carry a variety of decking materials and supplies, including composite and cable railing, as well as wood. Make your outdoor living space stylish, unique, enjoyable, and safe by installing the right deck railing.