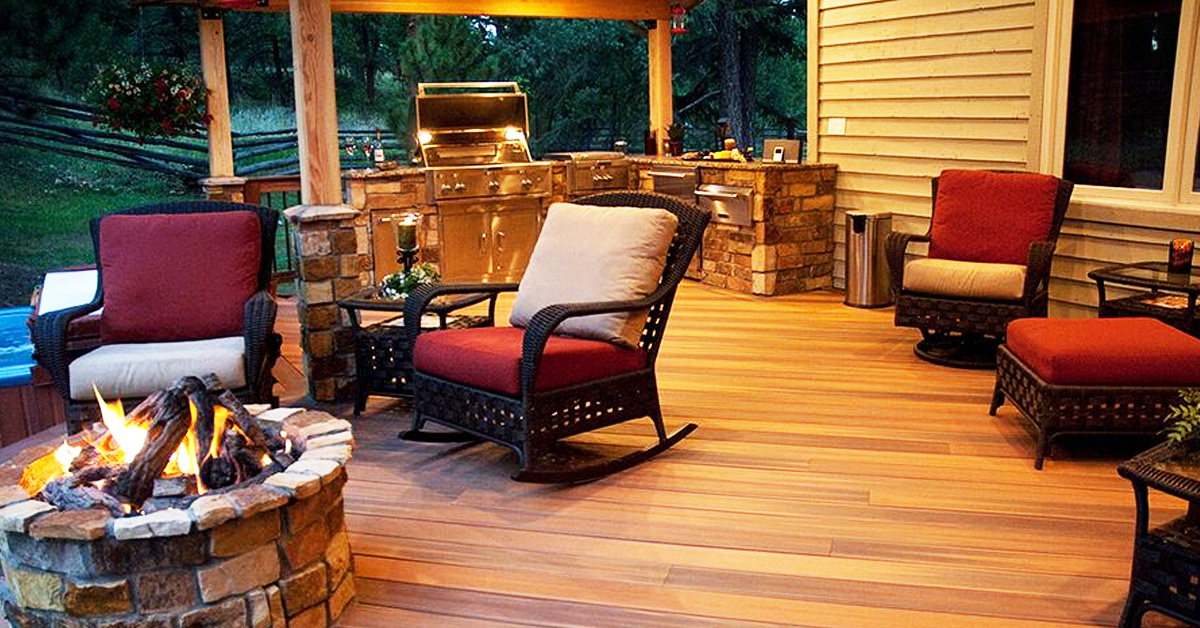 27 Aug

How to Create a Year-Round Deck

In our part of the country summer seems fleeting, and as the air begins to chill many in the Quad Cities reluctantly shut the door on outside time. It's easy to stay indoors when the mercury begins to drop, but if you enjoy your outside relaxation time, why not create a year-round deck?

We've put together a thorough list of ways for you to create a year-round deck. It's not necessary to spend a whole lot of money creating a comfortable outdoor space. You can customize these all-weather comfort ideas to suit your own needs.
Winter
Wintertime presents its own unique situation for this who enjoy being outdoors. The snow can pile up and make it impossible to use an uncovered deck. Also, winter weather can be very harsh on a wood deck. The snow can melt, ice dams can form in the wood, and once spring arrives you have some immediate maintenance and repair issues to deal with. 
If you want to avoid the hassle and cost of maintenance on your wood deck consider composite decking. After the initial investment this superior decking product pays for itself in time and money. Here are some things you can add to your deck to make it more user friendly in the winter:
Heat Source
Patio heaters, umbrella heaters and fire pits help you create a year-round deck. These handy heat sources make any outdoor patio or deck the place to be even when the mercury drops.
Light it Up
String lights and fairy lights chase away the often-overcast and gloomy winter weather. Lighted post toppers and LED candles are also a way to provide a warm, glowing ambiance when you create a year-round deck.
Cover Your Deck
Adding a solid roof to your deck helps you keep the heat contained and the snow out. For a moire budget-friendly way to provide some relief from the snow consider a covering for your pergola, or even an all-weather fabric awning. These may not be as insulating as a solid roof addition, but these options also help make your deck more comfortable in the wintertime.
Outdoor Curtains
Curtains for your outdoor space are available in a variety of styles and attach to most pergolas and deck coverings with little modification. Sturdy, Insulating fabric will provide an extra layer of protection against the chilly air. Just make sure you vent your heat source properly.
Hot Tub!
OK, we understand a hot tub is a luxury item or most homeowners. But, a hot tub provides years of comfort, warmth and fun. As long as you have the right substructure and your deck is strong enough you can add a hot tub to create a year-round deck oasis.
Spring
As winter turns to spring you will encounter some new seasonal issues that prevent you from enjoying your deck. While the warmth of spring doesn't automatically arrive when the calendar dictates, you'll still enjoy your deck more and more utilizing your heat source, and other comfort measures in place to create your year-round deck.
Insects
Everyone knows the Quad Cities have very aggressive mosquitoes. As the weather warms they tend to descend and they are mighty hungry! Of course bug-zappers are always effective.  But the latest and more effective way to prevent mosquitoes and other insects from crashing your party is by using a misting system. Set 15 feet around the perimeter of your deck the system emits a fine mist which will deter bothersome insects.
Furniture
There's nothing like greeting the days ahead with comfortable, weather friendly outdoor furniture. Invest in something that will last awhile. Make sure it's sturdy and resistant to harsh conditions. The right furniture is an investment that will last well beyond a decade.
Summer
Summer brings opportunity for continual deck time. When you create a year-round deck you can make it quite comfortable in spite of the humidity and high temperatures. 
Fans
For those decks with a solid roof a ceiling fan is a wonderful way to enhance the breeze. A small oscillating fan will also move the air and work to keep pests away, especially when you want to dine alfresco.
Outdoor Kitchen
Grills these days are so much more than a place to dump your charcoal for a weekend barbecue. Invest in a grill with storage, an extra burner or two, or a side smoker. You can cook outdoors all 4 seasons when you create a year-round deck.
Fall
The hardest thing about fall when you create a year-round deck is keeping it inviting as the trees lose their leaves and winter is imminent. 
Greenery
Find some evergreen plants to place around your deck. They're easy-care and weather friendly. Use brightly colored pots in fall's popular palette.
Cozy Up
By pulling your deck furniture in a bit tighter you'll present a cozy feeling. Use some lovely fall-scented candles and have some warm and cozy throws available for you and your guests.
Year-Round Deck Solutions
You can make create a year-round deck oasis by adding some simple touches and even some more grand additions. For more on how you can add months of usability to your deck contact Seiffert Building Supplies. Do it before the weather changes!