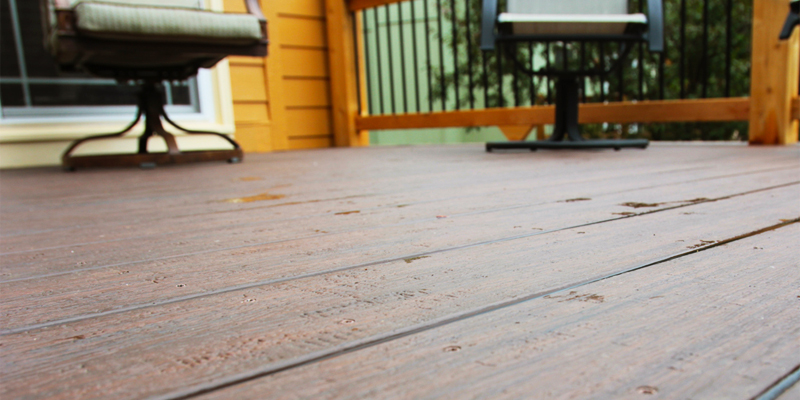 13 Jun

How to Make Your Deck Last Through All Seasons

Posted at 10:00h

in

Decks

Here in the Quad Cities we're no strangers to weather extremes. Days of torrential rain, drought-like summer conditions, or that seemingly endless Siberian Express that takes hold in the winter. These conditions can take a toll on your home's exterior, for sure. When it comes to your deck, both the weather extremes and simply years of seasonal changes can turn a lovely outside gathering spot into a dilapidated mess.

Your outdoor space means a lot to you and your family. A beautiful deck is more than just a place to barbecue burgers on a summer holiday, or watch as the leaves take on their fall colors. You gather there with friends to share news, memories, and maybe a cocktail or two. Your deck serves as a quiet place on which to enjoy your morning coffee, or simply relax for a bit. A beautiful deck enhances your life and adds to the value of your home in all seasons.

When you create that special place for your family to relax and entertain, you want to preserve it. With proper maintenance, your deck should be there for all seasons and many years to come. Protecting your deck from the harsh elements goes a long way toward preserving your cherished space and, if you keep up with it, maintenance doesn't need to be too time consuming. 
Finishing a Wood Deck for All Seasons
Finishing your wood deck is the only way to ensure a longer life, especially when the elements are harsh. Unfinished wood, even though it's pressure treated for durability and protection, will begin to degrade after a few years exposure to the seasons. Finished wood decks are protected against splintering and cracking, water damage, and uneven wear, as long as they're maintained regularly. 
You'll find tips for finishing your wood deck, to extend the life of your outdoor space throughout all seasons, here. Treated, a natural wood deck can last several decades. You have a few different options, such as painting your deck, or applying stain and sealant. You will need to practice maintenance regularly, every 2-3 years, to keep your deck durable and looking good.
Composite Decking a Great Option for Lifelong Beauty
For a no or low maintenance outdoor deck space, composite decking is an excellent choice here in the Midwest. A deck made with composite material has all the warmth in appearance of natural wood, but doesn't require nearly the maintenance to stay strong and beautiful. 
The composite material wears well through the seasons and will last, on average, around 50 years. Composite decking is also easy on bare feet, as it won't splinter, and there are even options that remain fairly cool even in the hottest summer sun. Composite decking repels water, preventing mold, mildew, and other degradation from affecting durability. Finally, beyond cleaning, your composite deck requires almost zero maintenance to look good, and last, even in variable or harsh climates.
Keeping Your Deck Ready for All Seasons
Composite decks can take a little bigger bite out of your budget at the outset. Since they're mostly maintenance free, however, you'll spend very little time or money going forward. Taking care to maintain a wood deck can cost around $500.00 per year when done properly, and this doesn't factor in the time spent doing the work. Keeping a wood deck looking beautiful is a commitment in time and money.
Not everyone is drawn to the composite decking and, depending on your budget and lifestyle, wood may be the way you wish to go. Even your higher end, hardier, wood, though, will need to be treated regularly. The boards can warp, splinter, and need to be replaced. Composite decking is ready to host your summer barbecue, family gathering, or morning coffee, year after year, through all seasons.