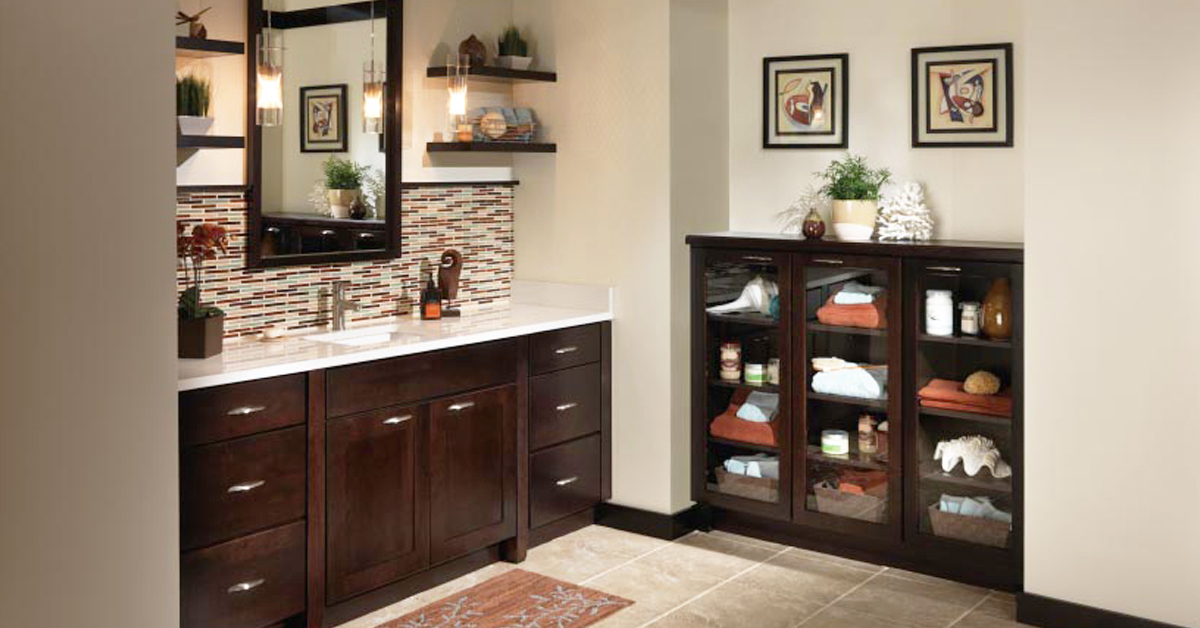 14 Apr

How to Maximize the Cabinet Space in a Tiny Bathroom

Finding ways to maximize the cabinet space in a tiny bathroom may seem like a daunting task. After all, unless you want or are able to do a home renovation you may not have much to work with. Or so you think. There are many ways to stretch a small space to accommodate those items that are necessary and improve your life. It just takes a little creative thinking.

In order to maximize the cabinet space in a tiny bathroom it's necessary to think outside the box…or cabinet. Adding different accessories and items that do double duty help free up cabinet space in a tiny bathroom for the necessities. By getting creative with storage hacks you can make a little space go a long way. Here we offer tips on how to maximize cabinet space in a tiny bathroom and not lose any of your chic and on trend style.
Prioritize This Prime Real Estate
The trick to expanding your cabinet space begins with prioritizing what you need in your cabinets. After all, your cabinet space is prime real estate. Do you have cleaning supplies stored inside your bathroom cabinet that you don't really use everyday? Maybe you could relocate those cleaners to another area of your home. Store them in the garage or basement, a broom closet or a similar area. 
Next begin the organization process with a purge of all you really don't need or use. Cosmetics that date back to the early 00's? Toss them! Any unopened duplicates of items you have that expire before you'll use them? Donate them! 
Take a good look at what is taking up your storage space and preventing you from being able to maximize the cabinet space in your powder room or tiny bathroom. Is it necessary for your  space? Do you really need all those towels or multiple rolls of toilet paper? Reimagine your space and always leave about 10%-15% of the space open to avoid an overstuffed cabinet.
Utilize Empty Wall Space
There are some really cool hacks available to help you maximize the cabinet space in your tiny bathroom. Some are so simple you may already have them handy. All you need is an area of your wall that's not being used. 
Dual Purpose Mirror Adds to Cabinet Space
Even tiny bathrooms need a mirror. Whether a small, modernized version of the ever-present medicine cabinets of days-gone-by or a full length mirror on hinges, a mirror that opens out to reveal storage is a great multi-purpose has to help you free up and maximize the cabinet space in your bathroom. 
Floating Shelves
 The area above your toilet is usually an empty space. Turn it into a storage area by installing floating shelves. These small shelves are perfect for stowing baskets to hold your toiletry and bath items like soap, bath bombs, and the like. You can put store washcloths and hand towels in baskets too. A toothbrush holder and even extra toilet paper are handy when stored on these shelves. A plus? Floating shelves are an easy DIY project.
Hooks Help Maximize Cabinet Space
Towels, hand towels, bath sponges and loofahs, bathrobes and even swimsuits for drying can all hang on hooks and be out of the way in your tiny bathroom. There are even hooks that adhere to the inside of your shower space. 
Towel Bars Aren't Just for Towels
 Hang some shower bars on that empty wall space and use hooks to adhere baskets to them. Store towels, extra toiletries for guests, kids bath toys, you can even stow styling tools like brushes, hairdryers, curling irons and flat irons in your baskets. 
Back-of-The-Door Storage
So, technically not empty wall space but usable space nonetheless. Hang a shoe caddy from the back of the door to maximize the cabinet space in a tiny bathroom. Use this handy accessory to sore everyday items that may take up space in your cabinets. 
Spice Things Up
Here's an unusual bathroom storage hack. A spice rack (without the spices of course) makes a great place to store smaller toiletries which otherwise use up precious cabinet space. There are all kinds of cabinetry storage options that can be adapted to fit bathrooms.
Consider Updating Your Cabinets
You can absolutely maximize your cabinet space with additions like utility hooks inside the cabinet doors or magnetic strips to hold metal containers for small items like cotton balls and hair accessories. But by updating your cabinets it's possible to enhance your storage a good bit. Today's vanity cabinets offer far more storage than ever before and upgrading your cabinets improves the aesthetic of even the tiniest bathroom.
We Offer Solutions to Maximize Cabinet Space in a Tiny Bathroom
Bathrooms, like kitchens and bedrooms, never seem to have enough storage space. For homeowners in the Quad Cities there are options. Seiffert Building Supplies is here to help you find the right one to maximize the storage space in a tiny bathroom in your house. We offer a full line of bathroom cabinets that offer surprisingly ample storage without cramping your space. Our design experts are here to help you with any remodeling or renovation projects to help maximize the cabinet space. Contact Seiffert Building Supplies today and let us help you.