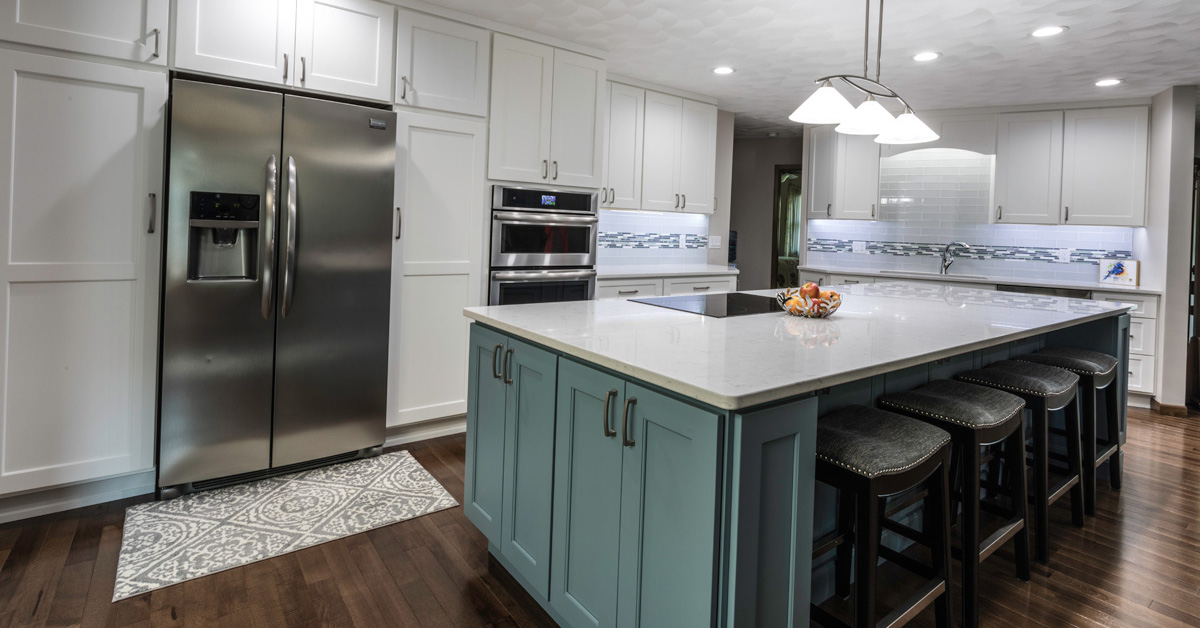 14 Jul

Kitchen Feeling Crowded? 5 Remodel Ideas to Open Up Your Space

Does your kitchen feel crowded? For most residents of the Quad Cities, and throughout the country, the kitchen is the most utilized room in the house. But some homeowners dread the look and footprint of their kitchens. Since you do spend a good amount of your time in your kitchen shouldn't you enjoy it? Here we offer six remodel ideas to open up your space and make your kitchen the most popular area of your home.
5 Remodel Ideas to Open Up You Space
Open floorplans, especially in the primary living areas of kitchen, family room, dining area, are here to stay. The trend that swept the nation a few decades ago is still among the most popular requests for realtors and builders alike. And why not? And open floorplan is visually inviting and physically fairly easy to accomplish. It's not always necessary to take on a big renovation. There are so many options to open up a kitchen that feels a little too crowded. Here we offer the top five.
1. Take Out a Wall
Removing a wall may sound intimidating to the average homeowner. After all, who hasn't seen the dreaded "we've run into a problem" scenario involving load-bearing walls on the popular home shows? For reference, a load-bearing wall supports the weight of the top part of your home and are necessary for your structure to remain sound. But taking out a wall is the quickest and easiest way to open up your space, especially in a crowded kitchen. 
The strategy behind opening up a wall is that it enables two spaces to become on large space. So if the room where your family gathers to watch TV or simply hang out is separated by a wall (non-load bearing!) just remove the wall. 
Now, taking down a wall can become an issue if any of your home's electrical, venting or plumbing runs through it. In that case you will need to remove and rework those mechanical components. If he project of removing a wall requires more than you can do or if it is load-bearing then, lucky for you, there are a few other options.
2. Remove Upper Cabinets, Island or Peninsula
A big trend in the 70s and 80s was the kitchen peninsula with an upper bank of cabinets. The architectural idea behind this was meant to create a wall, without making a wall. The trend lost its appeal and now it's just a very dated and crowded kitchen look.
The good news if you want to open up your space is it's very easy to remove the cabinets. Once the cabinets are gone the kitchen feels much less crowded and the sight line increases. Your back begins to feel better too! No more bending down to look between countertop and cabinets!
If you still feel crowded then remove the peninsula. You lose some storage but it really opens the kitchen. You can always replace the peninsula with an island in an area of the kitchen that doesn't separate the room, per follow these tips for more storage.
Speaking of islands, they were a huge trend for a long time. The result? Some homeowners (and builders) put them in kitchens even when there wasn't sufficient space. This created a logjam in the flow of your kitchen and also made your kitchen too crowded. If you have an island in a too-small kitchen get rid of it and open up your space.
3. Take Out the Soffits for an Open Space
Some builders installed soffits above kitchen cabinets as a design element. Once removed your ceilings look higher and your kitchen seems larger. Open up your space and remove those soffits. However, it's not always that simple. Some soffits were installed to conceal plumbing and ventilation ducts. In that case, just as with removing a wall that houses mechanical components, you will need to weigh the cost of reworking those items, if it's even a possibility.
4. Invite the Light and Open Up Your Space
For those homeowners who can't remove a wall or soffit to open up your space, consider letting in more natural light. Light always opens up your space no matter the size. Look into window installation, expanding your windows or even installing a skylight or sky tube light. You'll be amazed at the difference a little natural light makes.
5. Brighten Your Color Palette
White and lighter colors are still trending and with good reason. When you change out tired dark wood cabinets for white cabinets your kitchen immediately becomes more open. Install white quartz counters and see a difference as well. Not ready for new cabinets (they're more affordable than you think!)? Consider painting your walls and trim. You may even be able to paint your cabinets, but get the advice of a professional first.
Ready When You Are
Are you ready to open up your space and say so long to your crowded kitchen? Contact the professionals at Seiffert Building Supplies. We've been helping homeowners in and around the Quad Cities Area since 1892 and we would love to help you. Our innovative design team and knowledgeable staff are ready to help you open up your space with kitchen remodel ideas or with any other home renovation projects. Contact Seiffert Building Supplies today.