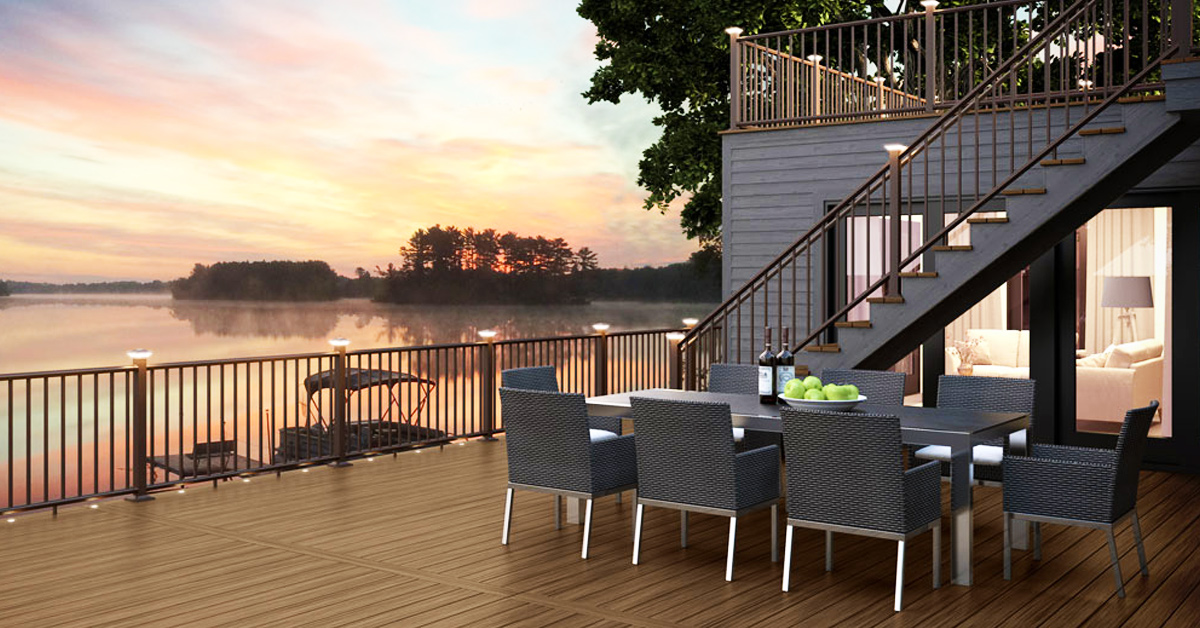 10 Sep

New Ideas in Decking Materials

New ideas in decking materials are revolutionizing the use of outdoor living space in the Quad Cities. The old adage "If it ain't broke don't fix it" is great advice, but while wood decking has long been the reliable favorite, composite decking is proving to be the more durable and long-lasting choice. 

As technology merges with environmentalism the building and home improvement industry is realizing new ideas in decking materials. Manufactured decking is beginning to close the gap between wood and composite decking, especially for homeowners who are environmentally aware, and also looking for a great return on investment.
New Ideas in Decking Materials to Transform Your Deck Design
The selection of decking materials has never been so vast. Your idea for a simple wood deck is sure too be transformed when you discover all the new ideas in decking materials. Im fact, you'll likely reimagine the entire design of your deck. These new materials can easily be used to customize your outdoor living space to best suit you and your family. 
The Evolution of Composite Decking
Composite means two or more separate, yet structurally compatible, substances that come together to create a new product. New ideas in decking materials center around the remarkable composite decking available today. 
When composites first hit the market in the 1990s these new ideas in decking materials revolutionized the industry. Appreciated for their low maintenance and good looks, composite decks rose in popularity. Decks were suddenly turned into a space to be enjoyed, to celebrate the warmer weather and relax with your favorite beverage. 
But, as it goes, composites did have their share of frustrating traits. Components such as screws, bolts and fasteners had to be reimagined to ensure timely and secure installation. Ideal installation was also dependent on time of year as colder temperatures would make the boards hard and difficult to install. Eventually the industry caught up to and solved any issues associated with the installation of composite decking.
The Next New Composites
As the popularity of these new ideas in decking materials grew, so did the demand. Manufacturers such as Deckorators, TimberTech and Fiberon began improving these wood and plastic composites, and repurposing wood scrap that would otherwise go to a landfill. Polymers were used to wrap the composite boards, improving on the already outstanding durability and providing the look, feel, and color of real wood. 
Composite decking adapts well to any design, opening up new ways for you to reimagine your all-weather entertaining and family living space. You can relax and run barefoot across your deck as you don't need to worry about splinters or rough spots. These new ideas in decking materials never need to be stained. In fact, we recommend you don't paint or stain, if you appreciate the low maintenance. Otherwise, there will be upkeep.
Wood Offers New Ideas in Decking Materials Too
For those who prefer pressure treated wood, there are new ideas in decking materials for wood as well. Different, hardier types of tropical wood are now being utilized to create and improve outdoor living areas. Many of the products are recognized for sustainability. 
The cost for these tropical hardwoods is slightly lower than that of composite decking, however the maintenance is time consuming and without regular care longevity is not their strong suit. Yearly staining and sealing, especially in harsher climates, is recommended to keep wood looking good and remaining structurally sound. 
New Ideas in Deck Rails
In addition to the decking materials that make up the floor of your favorite space, there are new ideas in decking materials for your railings as well. Cable railing assemblies are not only attractive but secure and easily customizable. Love your view? These rails don't interrupt your sight line, unlike wood railing.
High-quality cable rails withstand even the fiercest of midwestern storms and frigid temps as they are made from extremely tough stainless steel. Low maintenance and long lifespan make cable trails the ideal choice for your deck.
Here to Help
As decks become even more popular as the preferred living and entertaining area for families in and around the Quad Cities, there are sure to be new ideas in decking materials, designs and usage. Although it will be difficult to improve upon today's available options. 
For information on how you can get more pleasure out of your favorite space contact Seiffert Building Supplies. Our design and decking experts can assist you and are up-to-date on the latest and greatest new ideas in decking materials.