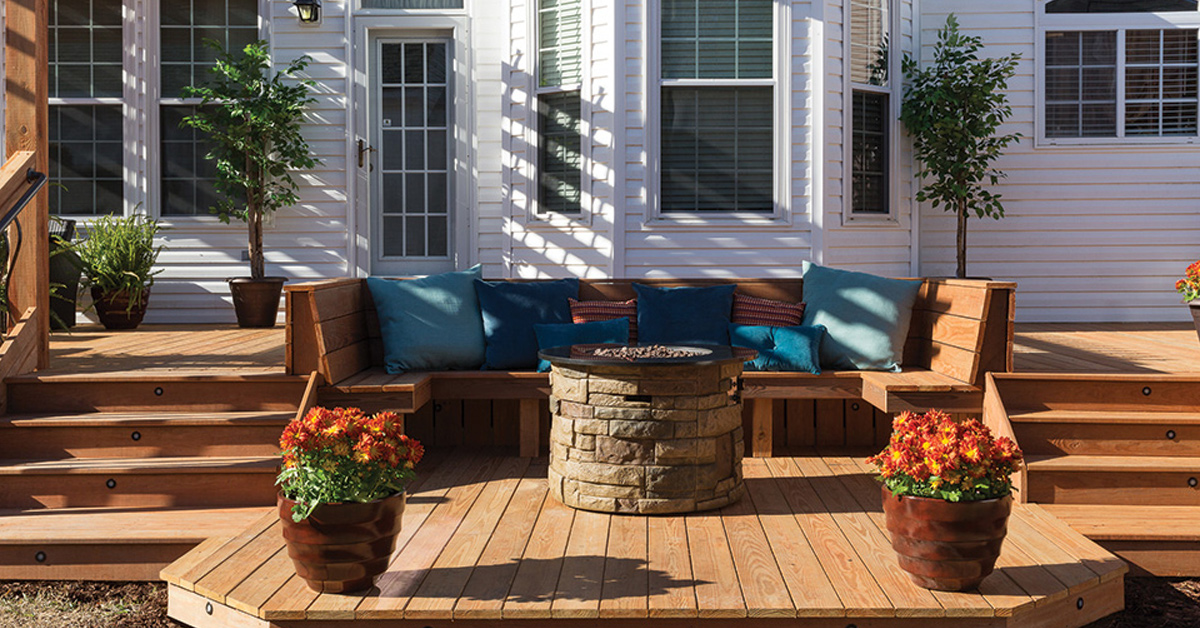 28 May

Types of Wood Decks and How Long They Last

When the weather is pleasantly comfortable, and the lure of the great outdoors too much to deny, wood decks make the idea spot to while away relaxing hours any time of day. The beauty of natural wood decks is undeniable. Lumber lends itself to a variety of sizes and shapes, making your deck as unique as it is inviting.

If you're thinking about improving your wood deck, or adding a deck for outdoor enjoyment, there's no better time than right now. Summer is fast approaching, and the family is eager to get outside, throw something delicious on the grill, and enjoy a meal alfresco. Wood decks offer the ideal spot for all of your summertime living and more.
Types of Wood for Wood Decks
Choosing the right type of wood makes all the difference in wood decks. Some lumber is better suited to our climate than others. Depending on the style of your outdoor living space, some types of wood are more aesthetically pleasing. Let's take a look at the types of wood decks and what they offer.
Pressure Treated Wood Decks
Pressure treated lumber remains one of the most popular options for wood decks today. This type of wood is treated in order to eliminate the risk for rot and insect damage. Pressure treated wood decks are, with dedicated maintenance, long-lasting; up to 15 years or more in many cases. The type of pressure treated lumber used for decking is extremely economical and downright budget-friendly. 
Like all wood decks, you can stain your pressure treated lumber to match your preference. You will need to seal and protect your deck regularly in order to keep it looking good and free from damage and degradation. Repair and replacement may be necessary as your deck ages, but overall, pressure treated decking materials are a practical material for all wood decks.
Cedar Decking
Many homeowners love the look and durability of cedar decking for their wood decks. It's not quite as economical as pressure treated lumber, but cedar is affordable. Cedar is naturally rot resistant. It is beautiful enough to remain unstained, and will weather to a soft grey color in time. Cedars natural ability to resist rot and insect damage means it hasn't been treated chemically. 
Cedar's natural defenses diminish as the years go by. Sealing the wood and replacing any damaged boards will help. Maintenance is less than half that of pressure treated wood's recommended yearly care.  With minimal maintenance you can expect to have your cedar deck last for about 20 years. 
Annual maintenance will ensure an even longer lifespan. Yearly inspections, repairs, and replacement of any damaged planks will prevent damage due to ice, snow, rain, and intense sun, from occurring. The greatest threat to cedar wood decks comes from the elements.
Redwood Decking
Redwood is a beautiful choice for your deck material. It does cost a bit more than even cedar, however its natural beauty and durability make choosing redwood an easy decision for many a homeowner. The rich reddish-brown hue of redwood is one of the main reasons for its popularity. Strength and durability are some other top reasons to choose this beautiful option.
Just like cedar, redwood's biggest threat comes from inclement weather. Making certain you repair any damage right away, replace boards, and seal your wood can extend the life of your redwood deck up to 30 years. 
Ipe Decking
Without a doubt, the most durable product for natural wood decks is a Brazilian hardwood called ipe (pronounced e-pay), a type of walnut. This decking material is practically 100% maintenance-free, and because of its dense structure and natural preservatives, lasts for decades. The striking deep brown and olive color of this wood can be maintained by applying a certain oil to the planks to safeguard fading.
This wood is rarely utilized for traditional wood decks, however, as it is extremely expensive. In recent years environmentalists have challenged the use of ipe in building. 
The Beauty of Wood
Homeowners all over the country gravitate to wood decks to extend their living to the great outdoors. Wood will always be the preferred material for most individuals as it offers a sense of welcome and warmth, while providing an aesthetically pleasing environment. 
The value of the top lumber used in building wood decks is relative. How long do you want your deck to last? How much maintenance do you expect to perform, and which type of wood suits your budget? Before you decide on which material is best for your deck stop by Seiffert Building Supplies and speak with one of our experts. We have a full selection of the most popular materials to create your favorite outdoor living space.