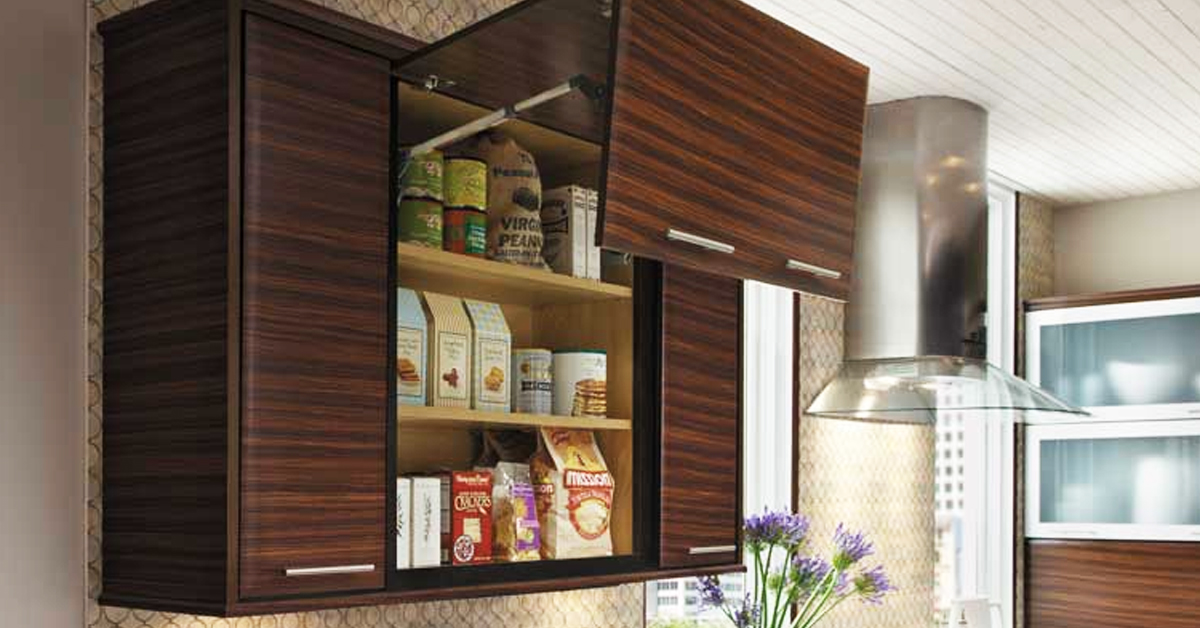 26 May

Unique Pantry Cabinet Designs to Keep Your Kitchen Organized

There are many different kitchen pantry cabinet designs, each one as unique as the homeowner. Every design brings something to the table in terms of kitchen organization. Here we take a look at the most popular pantry cabinet designs and how to use their unique attributes to keep your kitchen organized. You're sure to find the ideal pantry design for your new build or upgrade.

An ample and adequate pantry cabinet design is the first step kitchen organization. But you also need a pantry that's efficient. Something that makes it easy to get what you want or need to create your perfect holiday meal or a quick after-school snack for the kids. While the location of your pantry is another key to organization the pantry design largely depends on how much space your floor plan allows. Let's take a look at what Quad Cities homeowners consider their ideal cabinet pantry designs.
The Walk-In Pantry
Remember when a walk-in closet was the desirable upgrade to a master bedroom? Now the walk-in has moved to the kitchen. A walk-in pantry is easy to keep organized based on size alone. It essentially functions as more of a room within your kitchen than other pantry cabinet designs. A walk-in pantry provides oodles of space to store non-perishable food items, potatoes and onions and even many other accoutrements for making that culinary statement.
Among the pantry cabinet designs the walk-in is by far the easiest way to keep your kitchen organized. Clean, wide and well lit this type of storage area allows the homeowner to see exactly what is in there and, with the right organizational skills and tools, you can keep your walk-in as clutter free as your kitchen.
Butler's Pantry
Once the organizational advantage of the more prestigious among us a butlers pantry is fast becoming an addition to many homes outside of Downton Abbey. Many homeowners in the Quad Cities area recognize the advantages of having a separate space for kitchen storage.
The traditional butler's pantry is where the homeowner stored all the kitchen equipment and foodstuffs. This way meals were prepared out of sight of the guests. It served as a second kitchen of sorts. Today's butler's pantries are not quite as grand as all that. 
Most of the time the guests flock to the kitchen to enjoy conversation and perhaps a nosh and nice beverage. The current butler's pantry is simply an additional space for cabinets that hold the same things as a walk-in pantry. 
The butler's pantry requires some extra space, larger than walk-in pantry cabinet designs. But you'll have an easier time organizing your kitchen and the separate cabinet features provide a great opportunity for organizational designs such as more accommodating shelves that pull out, open shelving to see exactly what you have and a place to stow your counter-hogging appliances.
Space Saving Slide-Out Pantry Cabinet Design
The slide out pantry is the ideal design for homeowners who aren't sure they have the space or the need for a large and somewhat extravagant pantry cabinet design. A slide out design is installed within the kitchen cabinet layout and blends very nicely. They provide an amazing amount of storage. Both the traditional slide out pantry and the rotating door pantry cabinet design make it easy to see your inventory and keep your kitchen organized.
A Wall Pantry Cabinet Design
Wherever you have wall space in the vicinity of your kitchen you can create a unique pantry. It's a great way to use unused space and keep your kitchen organized. You have a couple of options depending on your preference. You can install a wall pantry directly into the wall like a closet or cupboard of sorts. These tend to become easily disorganized if you have a lot of inventory to store but for small families or those who don't have a need or too many pantry items, they can be a life saver.
The second type of wall pantry for unused wall space is a separate bank of cabinets. Custom cabinets are a great source of wall pantry cabinet designs. But there are also semi-custom styles that work beautifully to store your kitchen inventory in an organized way. They not only provide storage but they are easily incorporated into the design of your kitchen.
Built-In Cabinet Pantry
 Built-in cabinet pantry is a designated and customized space that is integrated into your kitchen design. This type of cabinet pantry design is customized to meet your specific and unique needs. It's a permanent location to house all of your non-perishable goods as well as seasonal dishwater and the like. As a part of your kitchen, the design of your built-in cabinet pantry should complement the aesthetic and keep your space beautifully organized.
Find Your Unique Design With Our Help
For more pantry cabinet designs, or anything you need to turn your current space into your dream kitchen, contact Seiffert Building Supplies. Our design team will work with you to find the ideal pantry solution for your home.