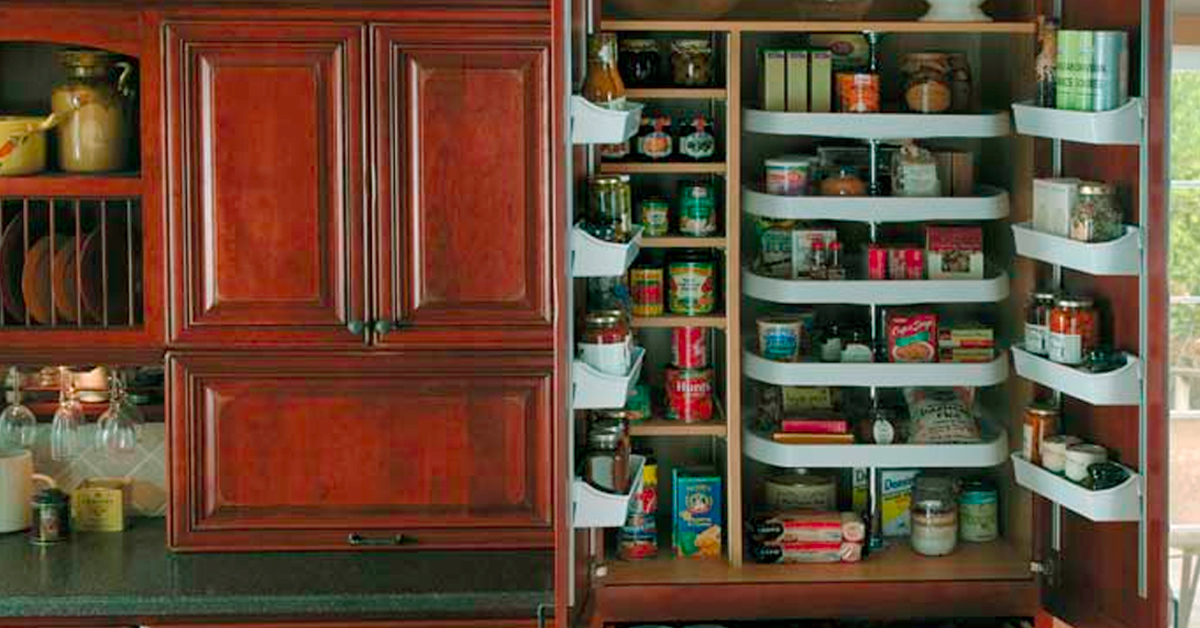 06 Jan

Improve Your Cabinet Storage with These 6 Tips

Limited cabinet storage in your kitchen is frustrating. Accessing your pots and pans require moves of acrobatic proportions, you reach around searching-feeling-for the item you need and eventually end up pulling out all the contents in your cabinet, then putting it all back.

So what's the best way to maximize your cabinet storage space? Organization is key but when your space is limited even the most organized homeowners fall victim to overwhelmingly overloaded cabinet storage. The best way to improve your cabinet storage is by replacing your outdated cabinetry with the newer state-of-the-art cabinets designed with storage in mind.

If now isn't the right time for such a project then we offer a few suggestions to improve your cabinet storage. 
6 Tips to Improve Your Cabinet Storage
Here are some ideas to pump up your pantry, give your linen closet a lift and most of all take your cabinet storage to a whole new level.
1. Take an Inventory
Go through all of your utensils, dishes and cookware. Toss what's broken and donate that which you don't use. Deep dive into your pantry items and get rid of anything that's expired or stale. Do you keep your cleaning supplies under the sink? Go through your cleaners and such to make sure you only have what you need or use. Bulk items take up a considerable amount of space. If you purchase in bulk divide items into smaller containers. 
2. Adjust Your Shelving
Most people have never adjusted their cabinet shelves but you can and you should. In areas such as the bathroom cabinets, where you store hair care products, lotions, body wash you can increase the storage space by adjusting your shelves so the bottles fit upright. Oversized drinking glasses or reusable water bottles are often difficult to store. Adjust your shelving and accommodate your oversized drink ware and cookware as well. Not sure how to adjust your shelves for more cabinet storage? Here's some help.
3. Reimagine Your Space to Increase Cabinet Storage
For long-time homeowners it's often difficult to re-organize your existing kitchen. After all, you've always put the canned goods "there" and the pots and pans where they "belong". But what if you reimagined your entire storage scheme? 
Install shelves that pull out so you can retrieve pots, pans, lids and those hard to reach items that seem to get pushed to the back off your cabinet. Pull-puts help with food storage container organization. Install a storage drawer with an organizer for your container lids and never worry about finding the right lid to fit your reusable food containers again. 
Install produce built-in bins in your pantry for those fruits and veggies that don't require refrigeration. A separate holder for potatoes, onions, squash, apples and citrus fruit keep your counters tidy and improve your cabinet storage.
4. Add Hooks
Hooks are a simple but genius solution for increasing your cabinet storage. Your mother or grandmother probably had cup-hooks inside the cabinet to store everyday coffee and tea cups. Install sturdier hooks in deeper cabinets for heavier items such as skillets and pots and pans. Put hooks inside your pantry for storing reusable grocery bags or bagged-in-bulk pantry items such as potatoes. Hooks beneath your sink, placed just inside the cabinet door provide a great place to stash dust cloths, towels or dishcloths in use; out of sight but easy access.
5. Unused Space Increases Cabinet Storage
When you think about it there is a good bit of unused space in the typical kitchen. Why not repurpose that space to help improve your cabinet storage? Take the space directly under your sink and install a small, shallow pull out behind the panels. You can use this to store pot scrubbers and sponges or any of your dish cleaning accessories. 
Unless your appliances are built-in, everyone has that narrow space next to their appliances like between the oven and kitchen counter or refrigerator. Install a narrow pull-out shelf for those items that seem to overcrowd your cupboards and pantry. Dog treats and pet food, baking sheets and cutting boards for example are easily stowed in this handy, out of the way spot. 
You can install a drop down spice rack beneath your upper cabinets to keep your spices handy and out of the way. "Toe-kick" drawers are an easy addition to your kitchen and make use of the space below your lower cabinets. They are shallow and a good place to store platters and baking sheets. These push-activated drawers are easily accessible using only the tip of your toe.
6. Uncommon Items to Extend Cabinet Storage
Repurposing useful accessories from other areas of your home is a great way to improve your cabinet storage. File holders and stackable trays from your office area accommodate lids for your smaller pots and pans or hold baking sheets and cutting boards for easy storage. 
A magnetic storage rack typically used in a garage area or shop token tools handy is easily repurposed in the kitchen. Attach it to the side of your refrigerator to hold items such as plastic wraps, lunch bags and small everyday tools such as scissors. Look around and see what you may have in other rooms that extend your cabinet storage.
 

Get The Most Out of Your Cabinet Storage From Our Professionals

For more ideas on how you can get the most cabinet storage in your kitchen contact Seiffert Building Supplies. We offer plenty of options for cabinet storage, from changing up your current design to making some improvements to the cabinets you have in place. Our design pros help you every step of the way. There's no need to let your lack of cabinet storage frustrate you or your family. Contact Seiffert Building Supplies today.