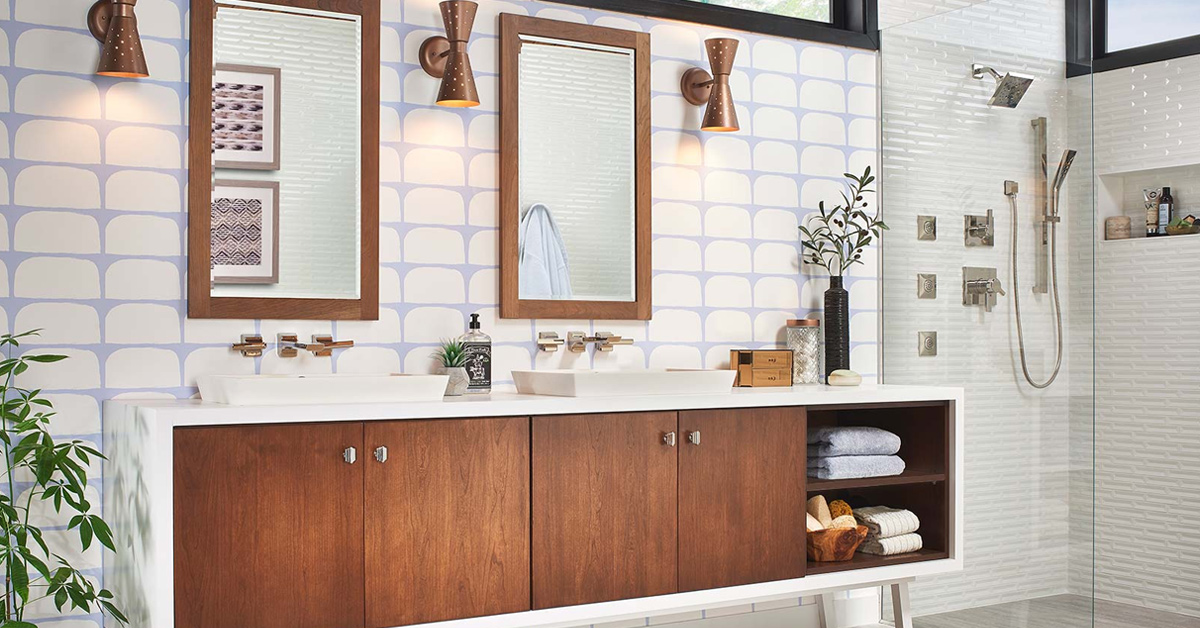 24 Sep

Update Your Bathroom to The Spa You've Always Dreamed Of

Do you one day hope to update your bathroom to the spa you've always dreamed of?  Design your own personal sanctuary where you can escape, relax and wash away the day's stress? You deserve all the zen you yearn for, and it's not only possible, it's relatively easy to do!

A bathroom transformation need not be an overwhelming undertaking. Creating the spa-like sanctuary of your dreams doesn't need to create a big mess, prevent access, or cause added stress. That defeats the purpose! Update your bathroom to your dream escape by making small changes that create an atmosphere of tranquility and indulgent luxury.
Tips to Update Your Bathroom to a Spa-Like Space
No matter the square footage, when you update your bathroom you can choose elements that promote that peaceful, easy feeling of a spa environment. Cozy bathrooms that have just enough space for the bare necessities have the potential to become the spa you've always dreamed of. Incorporate any or all of our tips when you update your bathroom and watch the magic happen.
Uncluttered Space
For spa-like ambience less is definitely more. When you have beauty products, hair tools and hand soap competing for space on your vanity, it's time to get organized. In order to update your bathroom to a relaxed and tranquil environment, it's necessary to inventory your clutter. Get rid of anything that isn't necessary, and for those items you use regularly, find a spot that's within easy reach but out of sight. Reimagine your cabinets and add to your current storage space. Decluttering is the first step to relaxation in any room of your home, but especially your own personal spa. Dispose of the clutter in your bathroom and the busy-ness that occupies your mind will follow.
Echo What You Find in Nature
Opt for earthy hues when you paint your walls. Nature inspired colors evoke a feeling of clean comfort and immediately transform your space. For smaller bathrooms the lightest colors work best. Light grey, linen and sage are ideal no matter the size of the room. White is acceptable also, but you don't want to create a too-stark appearance. Break up stark white by adding some texture. 
Lighting
When you think "serene space," garish lighting is not what comes to mind. Consider dimmable lights, or, if it's in the budget, recessed overhead lights or decorative and functional wall sconces. The right lighting immediately turns even the most utilitarian-looking bathroom into a pleasant and relaxed environment.
Natural Elements
Substances found in nature call to mind the outdoors and provide a sense of open space. A cedar or teak bathmat, unfinished wood towel bars, a freestanding driftwood ladder towel rack, an artfully placed plant set a natural tone. Your mind imagines a walk in the woods or a stroll along the beach-calm and serene.
Natural quartz countertops create the perfect vanity for the bathroom. Not only are they maintenance-free and long-lasting, they're quite lovely and come in a variety of styles. 
Aromatherapy using essential oils will further evoke the calm that nature brings. A diffuser is a fragrant way to fill the air with luscious and clean scents like bergamot, acacia, rosemary and mint. 
Soaking Tub
If your plans to update your bathroom include installing a new bathtub, consider a soaking tub, While a personal masseuse may be out of your budget you can relax and soak away the weight of the world in a tub designed just for that purpose.
Spa Shower
Maybe you're not a tub soaker and prefer a shower. You can still wash away the day in the most relaxing way by installing a massaging shower head. If you have the budget and the space consider an oversized shower with some additional shower heads. A rainfall or waterfall shower head is an addition you surely won't regret.
Cabinets and Shelving Make A Difference
The key to making-and keeping-your space light, airy and relaxed when you update your bathroom is storage. Storage begins and ends with cabinets and shelving, so make sure you plan for sufficient space to keep your new spa-like bathroom uncluttered and organized.
Natural wood cabinets are best when you update your bathroom with a relaxing, zen-like vibe. Either deep and rich, for the modern ambience of a high-end spa, or light, bare, and naturally soothing wood, depending on your personal taste. Go with simple hardware, fixtures and flat fronts to mimic the spa environment. 
Don't Forget to Treat Yourself
Update your bathroom to feel like the spa of your dreams but don't forget to treat yourself. When you want to feel like you're at a luxury spa a big, thick towel can do the trick. Climb out of your soaking tub, or step out of your shower, and wrap yourself in plush, fluffy cotton of the finest kind. Pure bliss.
A bath tray is a small investment and it's a great place to put your favorite beverage while you soak, your bath accessories or the latest novel. 
Pamper yourself with some soothingly scented bubble bath, or a fun bath bomb. Invest in some skin-softening lotion, body oil and all the accouterments of an at-home spa treatment. After all, the spa of your dreams is in the details-big and small.