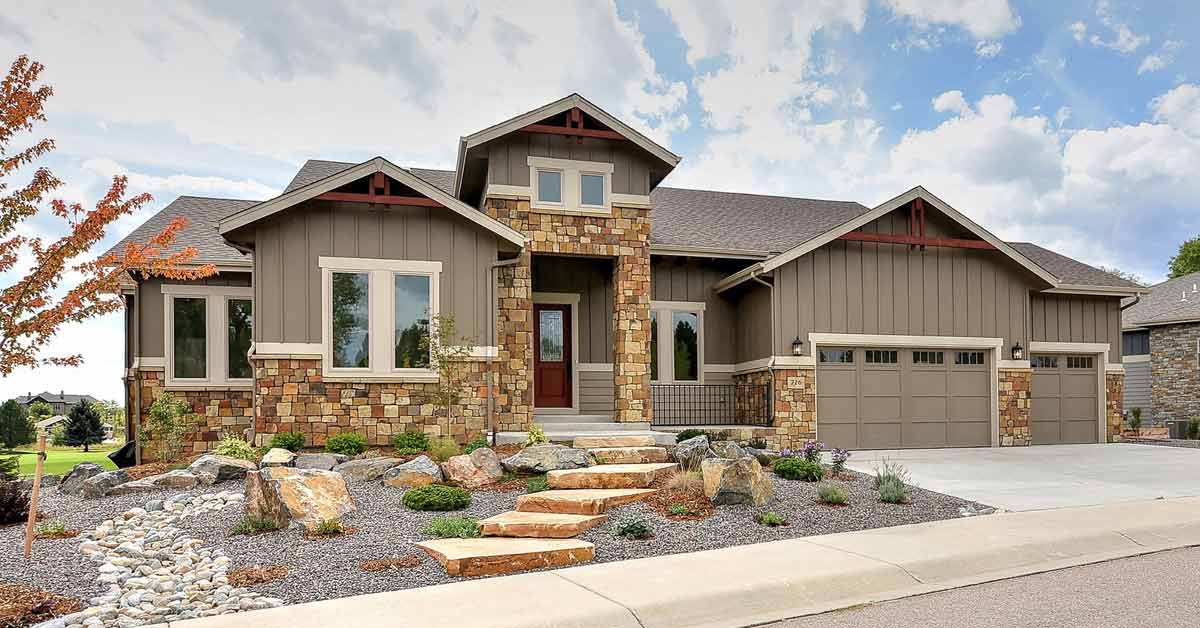 23 Mar

What Kind of House Siding is Best?

Your home's exterior protects the people inside as well as your possessions. It prevents degradation and let's not forget the curb appeal of a stylish exterior. A good-looking home exterior is a reflection on you and an investment in the value of your home. 
House Siding Options that Make A Difference
The major focus of your exterior is the siding. There are many different types, all with qualities homeowners in the Quad Cities appreciate. That's what makes selecting the right house siding a little overwhelming. We're here to break it all down for you. Here's a look at the top house siding options for your home, what makes them so popular and how they fit with your budget.
Vinyl House Siding
It's no surprise with vinyl house siding's affordability, versatility and low maintenance, that it is the top choice for homeowners and has been for many decades. Some homeowners shy away from the aesthetic but today's vinyl is not your father's vinyl house siding. 
The technology has changed dramatically even in recent years. Vinyl siding can be made to mimic the look of wood, with grain and natural wood colors that are a real fooler. And with a lifespan of up to 40 years vinyl house siding is a very worthwhile investment.
It is affordable and it's fairly easy to install. However, if you decide to approach installation as a DIY project you might want to re-examine your skillset. While it can be installed by a non-professional professional installation ensures the job is done correctly. Mistakes can add to your overall cost so go pro.
Wood
Wood is a traditional option and an all-around good choice. While there is some maintenance involved wood it is sturdy and, with care, retains its charm for many decades. With its rich appearance and natural style wood is pretty versatile. In fact with the bevy of options wood house siding suits all styles of home, from farmhouse to mid-century to cape cod, modern and traditional. 
Wood siding is available in clapboard, shingles and shakes. Clapboard siding is planked and installed horizontally, overlapping for a uniform look. If you're worried about durability or insect infestation go with a sturdier redwood or cedar wood siding.
Shingles also provide a neat, tidy and uniform look to your home's exterior. For a customized look and to give your home some added dimension cut your shingles into different shapes and sizes. The look is a bit more rustic and perfect if that is the aesthetic you desire. 
Shake siding is a decidedly specific look. It blends well with a stone veneer and the unique appearance of shake house siding significantly enhances the appearance of your home. 
Wood is naturally insulating and cedar is very sustainable, making wood an earth friendly product. Scraps from manufacturing of wood house siding are biodegradable or used as a component in composite wood siding.
Wood siding is pricier than vinyl but your return on investment is great. Especially considering it lasts far longer than vinyl when properly maintained. Cedar and Redwood are the most durable  wood house siding materials, but less robust pine is another option. 
Composite House Siding and Engineered Wood
Composite house siding is manufactured using wood cellulose fiber bonded with resin to achieve a very durable, highly insulating and aesthetically pleasing wood replica. It's pretreated with chemicals to ward off rot, fungus and insects ensuring the lifespan of your house siding will last a full three decades. Composite house siding typically comes pre-primed and ready to paint. Some manufacturers offer a pre-stained option as well.
Engineered wood is often confused with composite siding and is essentially the same thing except instead of wood fiber engineered wood uses actual strands of wood that have been treated so as not to bleed through and stain the boards. 
Composite siding and engineered wood siding are less expensive than their all-wood counterpart. These siding options increase your home's energy efficiency and they are earth-friendly alternatives to wood and recycle the wood scraps that would otherwise go to a landfill. Given their long life and minimal maintenance the investment makes composite an even more budget-friendly option.
Cement Fiber
Technically  cement fiber house siding is a type of engineered wood or composite siding but it does maintain its own category as far as siding options go. Cement fiber, as the name implies, is manufactured using wood fiber and cement and has been around since the mid-1980s. 
Cement fiber is heavier which makes installation slightly more difficult. It does require specialized tools and a softer touch as it tends to break more easily. This drives up the overall cost of the product. 
However, for all of its frailties, once installed cement fiber is strong enough to withstand all kinds of inclement weather, from high winds and torrential rains to hurricanes. It's impervious to rot and insects as well.
Your House Siding Experts
If you're thinking about replacement siding or siding for your new build contact Seiffert Building Supplies. Our project experts are there to steer you in the right direction and find the best house siding for your needs.