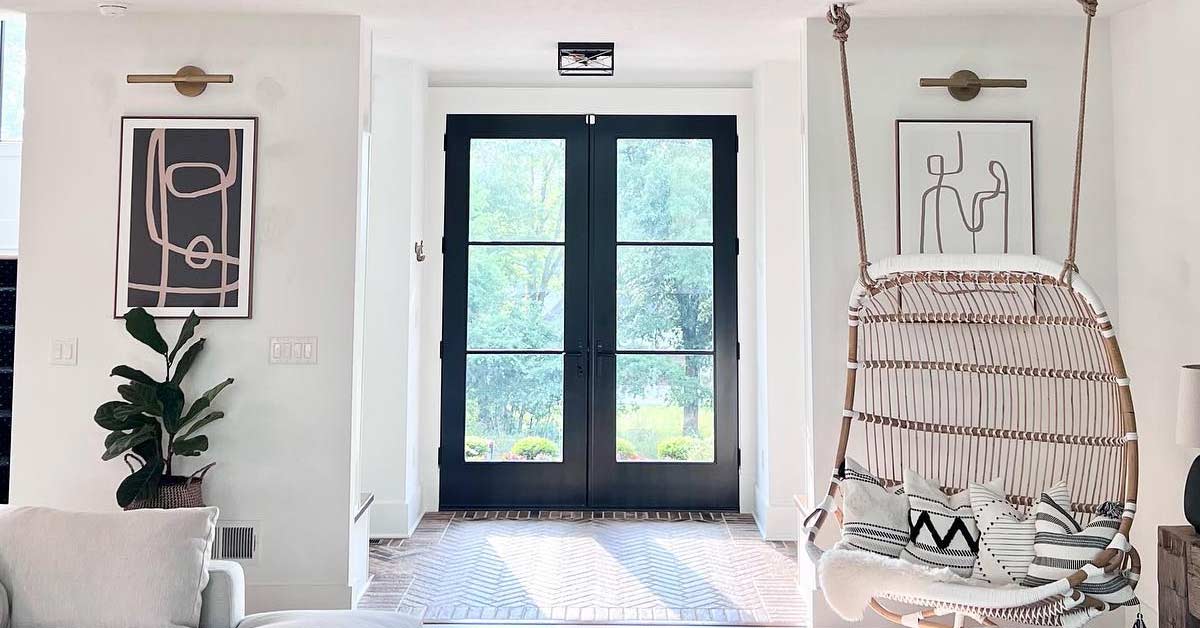 13 Oct

What to Consider When Shopping for a New Front Door

You ask a lot from an entry door. Probably much more than you even realize. And when you're shopping for a new front door there are some very important factors to consider. Especially for homeowners in the Quad Cities area of the country.

Here we break down the process of selecting your new front door. Material, style, efficiency and security are all very important to making the right choice. But so is budget. Follow our easy recommendations and shop smarter for your new front door.
Shopping for A New Front Door? Consider This
When it's time to replace your entry door the signs may be obvious enough; Curb appeal is just not there, you feel a draft when you walk past your door, or maybe it's on the "flimsy" side and you don't feel as though its secure. There are other signs that may not be so obvious. Do you need to wrestle with your door to get it to close? Is the style outdated and tiered-looking? Is there moisture between the glass panes? Dings in the surface? It's time for a new front door.
Here are some things to consider that will make your shopping a little easier:
Budget
Even the smallest upgrade to your home requires a bit of planning. Determining your budget is central to that plan. Higher-end products are the higher quality choice most of the time. That means your new front door will last much longer, offer better weather protection and energy efficiency. Of course the door experts at Seiffert Building Supplies can help you find the right entry door at the most affordable price point for your budget.
Pre-hung Front Door or Slab?
Almost all new print doors are pre-hung. This means they hang on hinges within a weather-stripped frame. A pre-hung door is an especially good choice if you are replacing the frame or enlarging the opening. You will need to determine which side your lockset is on in order to know if you need a right hand or left hand door. When you are facing the door from the inside you'll note which side your lockset is on, right or left, and that determines which door-right hand or left-you need.
If you decide on a slab door (the most basic and least expensive type) you will simply get a door that has no hinges or lockset. This is a better option for homeowners who have a non-standard size frame. It's recommended you have a professional install a slab front door as it does present some challenges.
What Material Works Best for Your New Entry Door?
Steel, wood and fiberglass are the most common materials for entry doors. While all three materials are effective to some degree there are specific advantages and disadvantages to each one. Wood is versatile. You can paint it whatever color you like. It's also trendy right now. But fiberglass requires far less maintenance. Steel is the most durable by far. There are doors that combine all three materials and offer a higher degree of insulating property. The material you select for your new front door is up to you depending on your style and budget. 
Energy Efficiency is Very Important
The primary function of a front door is to protect your home not only from uninvited guests but also Mother Nature's moods. When she is particularly feisty and the weather is is bone-chilling cold or blistering hot your front door can make or break your utility bills. 
Look for doors that have an excellent energy rating and get the strongest weather stripping to ensure a tight seal. Also be aware that most door manufacturers include insulation when manufacturing their doors. When you combine these features you will help ensure your home stays comfortable no matter the weather.
Express Your Style with Your New Front Door
These days just about anything goes when you're selecting a new front door. Id course your style of home and local trends narrow down your choice a bit. If you have a traditional home in a neighborhood of like homes you probably don't want a bright teal, midcentury door with diamond window insets. Of course that type of door exudes its own charm.
You should also decide on any extra features you'd like. Sidelights and windows allow natural light to come in and are a wonderful addition if your foyer area is particularly dim. Etched or decorative glass insets elevate the style of your new front door and boost your curb appeal. You can even opt for some custom hardware for bath security and finesse.
Find Your New Front Door With Us
At Seiffert Building Supplies we take pride in our dedication to our customers. For more than a century our Quad Cities neighbors continue to turn to their local go-to,  Seiffert Building Supplies. We have a full line of windows and doors as well as other products to make your home look and feel spectacular. For more on how to select a new front door for your home contact us today.