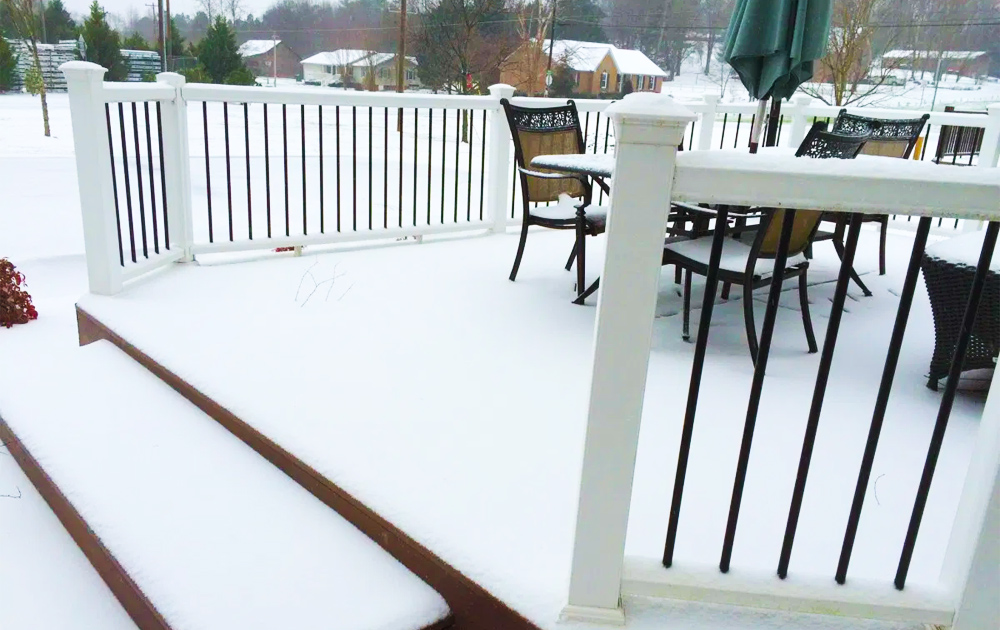 17 Oct

How to Protect Your Outdoor Entertaining Area in Winter

With an outdoor entertainment area, you and your family get the most out of the gorgeous spring, summer, and autumn weather here in the Quad Cities. Late springtime gatherings, summer celebrations, and those frosty fall evenings are all more enjoyable when spent in your own backyard. Your outdoor dining area is more than just a place to barbecue, it's an extension of your home, your hospitality, and your personal corner of the world.

When winter weather chases you back indoors, it's necessary to protect your outdoor area so you can look forward to another season of warm weather fun. There are a few different things to consider when preparing your outdoor entertaining area for the harsh Iowa winters. Here are some tips to help you preserve your outdoor furnishings, grilling area, decks and railings before the weather does major damage. 
Steps to Protect Your Outdoor Dining Area
There's no denying Iowa's winter months can be long, and brutally cold. Heavy, wet snow, whipping winds, and ice build-up take a toll on your home's exterior in countless ways. Frozen precipitation weighs heavy on your roof, and gutters, sleet and freezing rain do damage to your shingles and siding, and the salt you put down to prevent slipping degrades wood and concrete beneath. By taking proactive measures you can minimize winter's wrath on your home, especially your outdoor dining area.
Declutter:

 

Clear away any patio and deck accessories, such as planters and pots, outdoor shelving, storage bins, children's toys, and decor. After a season of melting and refreezing precipitation, your deck can become discolored due to moisture leaching from pots and planters left behind. Remove any outdoor wall art as well. Store these items safely in a shed, garage, or basement so you can reuse them next spring.
Clean Your Deck:

 

It's important to remove any mold or mildew before winter arrives. Wooden decks, especially, tend to attract mildew and mold. This can be extremely difficult to remove come spring. Not only do these fungal offenders cause ugly discoloration, but they can degrade and weaken your deck's structure. For a composite deck, soap and water or a mild household floor cleaner with a soft bristled brush are good cleaning materials.
Remove Snow:

 

As the winter months march on, snow can accumulate, often in huge amounts. Prevent the damage of the excess weight and moisture on your deck by removing the snow before it piles up. Use a push broom, though. Snow shovels can cause damage to the water-softened surface of your wood deck, and scrape, or damage, the surface of composite decks.
An Ounce of Prevention
Seal and Protect:

 

Thoroughly winterizing your outdoor dining area structure, such as decks and railing, requires preventative treatment. Minimize the damage to your wooden surfaces, caused by ice and snow, by applying a water-repelling sealant. There are many different kinds on the market. You may need to remove your wooden deck's prior finish in order for the most effective protection, but, come spring, you'll be glad you went that extra mile.

 
Consider a Tarp:

 

If your deck and outdoor dining area are separate from your home's entryway, consider covering the surface with a tarp. This won't prevent all moisture damage-wood will absorb the moisture in the air-however, it will greatly reduce ice damage. Ice can get into the porous wood surfaces of your decks and railing, expanding as it freezes, causing cracks to form. By covering the surface of your deck for the winter you will minimize this type of damage.
Beyond Your Outdoor Dining Area Decks and Railing
Cover or Store Outdoor Furniture:

 

Remove, and clean, your outdoor furniture, including cushions, and store safely in your garage or basement until the threat of winter weather is over. Collapse umbrellas, cover tables, and remove to an enclosed area, such as a shed, or garage.

 
Your Grill:

 

Before the snow and frost arrive, take steps to protect your favorite outdoor dining area appliance. Whether you have a gas grill or prefer old-school charcoal briquettes, the winterizing is fairly similar. Of course, for many Iowans, there is no end to grilling season. That's perfectly acceptable, but just remember to clean and protect between winter barbecues.
Best Decking Materials to Weather the Seasons
To ensure your decks and railing look like new next season consider using composite decking materials when building new, or replacing an existing deck. There are so many benefits to composite decking, in addition to being low-maintenance.
This revolutionary material is impervious to stains and mildew, and is even fade resistant. Composite decking won't warp, rot, or crack, and it's protected against insects, such as termites, or carpenter bees. As an option to replace wood decks, this material lasts a lifetime, and is environmentally safe. It's ideal for your outdoor dining area.